Why wait for summer in the city when you can celebrate spring in the city? Plan an urban spring break escape to one of the five below towns that range from booming metropolises to a desert standout and a seaside escape.
1. Phoenix, Arizona
A city trip to Phoenix puts adventure at your doorstep. Enjoy easy hikes along trails in the Superstition Mountains within Lost Dutchman State Park (where kids can learn about chollas and prickly pears on the native plant trail) or stroll under towering Saguaro cactuses at Desert Botanical Gardens. Take a piece of desert beauty back home with you, too, when you learn to make a decorative terrarium full of tiny cacti and succulents at Jade & Clover, the cutest little shop in the city's inviting Arcadia neighborhood (don't miss Postina, right next door, for a gourmet bruschetta feast).
2. Atlanta, Georgia
It's impossible not to smile straight back at the beguiling belugas that are among the favorite denizens at Atlanta's famed Georgia Aquarium. And for an outdoor nature experience in a cherished city park during your visit to the ATL, make sure to check out Cascade Springs Nature Preserve, with easy hikes that lead to a waterfall and the site of a Civil War battle. And what would a visit to Atlanta be without answering your craving for a Coke? You can learn about the bottling process of the world's most famous soda at World of Coca-Cola and sip the brand's new Starlight flavor there, too.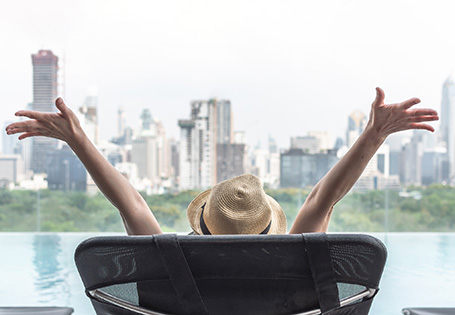 3. Charleston, South Carolina
For a city spring break trip that guarantees history and beach time, it's hard to beat a visit to South Carolina's grandest dame. Charleston invites visitors to explore its bricked streets on foot, strolling past the colorful homes of Rainbow Row or embarking on a Gullah Geechee Tour to learn about the city's rich Black history. When you're ready to let the kids cool off with a swim, make the short drive just south to Folly Beach, where they can learn to ride waves at Isla Surf School or you can sit at a table on the pier overlooking the sand and enjoy shrimp and grits or a flounder sandwich at Pier 101 Restaurant & Bar.
4. Baltimore, Maryland
Let the kids try their hands at stroking a stingray at Baltimore's award-winning National Aquarium, home to thousands of unusual animals that include puffins and tiny peacock mantis shrimp. Then let them experience what it's like to swim among a pod of dolphins during the amazing on-site 4D Film: Being Dolphin. A few hours exploring the Inner Harbor is another Baltimore highlight. And little ones will love paddling around in a Chessie Dragon paddle boat (or you can take the easier route and cover more ground on the water aboard a solar-powered electric pirate ship instead).
5. New Orleans, Louisiana
Boat tours along the Mississippi River aboard the Steamboat Natchez, historic street car rides down St. Charles Avenue, and, of course, powdered-sugary beignets by the boatload at the French Quarter's Cafe du Monde await when you spend spring break basking in beautiful New Orleans. Make sure to hightail it out of town, too, on a day trip to Honey Island Swamp, where can you speed through the morass on a flat bottom boat while scouting for gators and wild boars with Cajun Encounters Tour Company.