Summer is in full swing. If you're looking for ways to cool off at home or on vacation, look no further. Whether your seasonal vibes are a tropical getaway, mountain escape, or relaxing staycation, you can savor the taste of summer with these recipes for refreshing regional cocktails.
1. Piña Colada In Puerto Rico
The piña colada, Puerto Rico's national drink, was born in San Juan, though the exact location and inventor is still up for debate, with legends ranging from hotel bartenders to Caribbean pirates. Just pick up a bottle of San Juan rum and you can savor the flavor of the island anywhere.
While there are many ways to enjoy a piña colada, this local recipe is among the most authentic, courtesy of Caribe Hilton, one of the contested birthplaces of this famous cocktail.
Caribe Hilton's Original Piña Colada:
2 oz. rum
1 oz. coconut cream
1 oz. heavy cream
6 oz. fresh pineapple juice
1/2 cup crushed ice
Blend rum, cream of coconut, heavy cream, and pineapple juice. Then, add ice and mix for 15 seconds. Serve in a 12-oz. glass garnished with fresh pineapple wedge and maraschino cherry.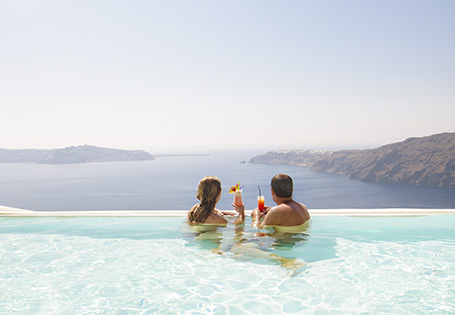 2. Wine Spritzer In Santa Rosa, CA
One sip will transport you to the cascading hills of California's wine country. Nestled in the heart of Sonoma County, Santa Rosa is famous for its sun kissed vineyards and 495+ wineries. Sonoma's wine tradition dates back to the early 1800s, when Russian colonists planted and cultivated grapes along the Sonoma Coast.
Sauvignon Blanc and Zinfandel are the region's most iconic blends, but you can craft this Golden State spritzer to suit any taste.
Santa Rosa Spritzer:
3/4 cup chilled Santa Rosa wine
1/4 cup chilled club soda
Pour wine of choice in a tall wine glass and top with club soda. Garnish with lemon rind or orange peel.
3. Tequila Sunrise In Mexico
From sacred beginnings in ancient Mexico to José Cuervo's prized export in the 19th century to a global industry today, tequila is an icon of Mexican tradition and culture. Named after the town of Tequila, Jalisco, home to one of Mexico's oldest distilleries, this legendary spirit inspires imbibers with the essence of sunshine and celebration.
For the most authentic flavor, whip up a sweet and smooth Tequila Sunrise with 100% agave tequila.
Tequila Sunrise:
2 oz. tequila
3 oz. orange juice
3/4 oz. grenadine
1 cup ice
Fill a highball glass with ice. Add tequila and orange juice and stir. Slowly pour in the grenadine so it layers on the bottom for a sunrise effect. Garnish with an orange wedge and maraschino cherry.
4. Mint Julep Lemonade In Kentucky
Home to the famed Bourbon Trail and Bardstown, the Bourbon Capital of the World, Kentucky produces 95% of the world's bourbon whiskey. The state's fertile land, natural blue limestone filtration, and Appalachian climate, combined with the whisky-distilling expertise of German, Scottish, and Irish immigrants, made Kentucky a prime destination for a booming bourbon industry. Sip on barrel-aged whiskey with this classic Kentucky Derby cocktail.
Kentucky Derby Old Forester Mint Julep Lemonade:
1.5 oz Old Forester 86
1.5 oz fresh lemon juice
1.5 oz simple syrup
1.5 oz water
8-10 mint leaves
Rub mint leaves inside of a Collins glass then discard the leaves. Shake bourbon, lemon juice, simple syrup, and water with ice. Strain over fresh ice and garnish with mint sprig.
5. Smoky Mountain Moonshine In Tennessee
Tennessee's home-brewed whiskey tradition dates back to the 18th century, when Scottish and Irish immigrants arrived in Appalachia. Moonshine gets its name from the innovative and infamous locals who secretly produced whiskey outside of the law. After Prohibition, moonshine gained widespread popularity for its high proof and low cost.
Today, moonshine comes in all kinds of flavors and cocktails, like this Banana Pudding Coffee from Ole Smoky Moonshine Distillery in Gatlinburg, Tennessee.
Ole Smoky Banana Pudding Coffee:
2.5 oz. Ole Smoky® Banana Pudding Cream Moonshine
7.5 oz Coffee (Hot or Iced)
Mix well and serve on ice.