From coast to coast and mild to wild, the U.S. is home to a myriad of amusement and water parks sure to appeal to all members of the family. Ride some coasters in the Lone Star State or take in a show in Tennessee. From the happiest place on Earth to the sweetest — buckle-up and take in the thrills, chills, and spills of some of the most iconic theme park vacation destinations across the country with this ultimate roundup of amusement parks.
1. Anaheim, California
Anaheim is home to some of the country's most revered theme parks. Nostalgia is a buzz at Disneyland Resort. Rediscover the magic of Disneyland and Disney California Adventure. While in Anaheim, experience centuries-old thrills at Knott's Berry Farm. Dubbed "California's Original Theme Park," what started as a small berry farm is now a renowned family-fun destination. While you're there, try the Boysenberry Fun Bun and other theme park treats
2. Dallas, Texas
With more than 45 exciting shows and attractions, Six Flags Over Texas is a must when visiting the Dallas-Fort Worth area. The 212-acre theme park boasts some of the county's most gut-wrenching, record-breaking amusement rides. And to beat the Texas heat, the area also plays host to a variety of spectacular water parks including Hurricane Harbor and NRH20.
3. Hershey, Pennsylvania
Known as the "Sweetest Place on Earth," the town of Hershey is more than just the birthplace of The Hershey Company, it's a storied attraction all its own. Experience the rollercoasters, amusements, and confectionary delights of Hershey Park. Be sure to also splash around at The Boardwalk at Hershey Park, an 11-acre water park located inside Hershey Park. Discover other sweet attractions in town.
4. Mason, Ohio
No trip to Mason is complete without a visit to legendary Kings Island. Adventure Express, Backlot Stunt Coaster, and Banshee are just a few of the park's most exciting rollercoasters. Parkgoers of all ages will find rides, live entertainment, and experiences for all thrill levels. Kings Island is also home to more than 50 water activities at Soak City Water Park.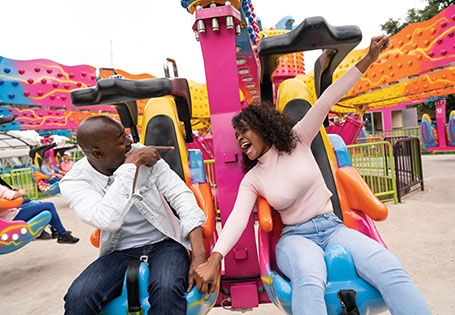 5. Orlando, Florida
Orlando is known the internationally as the "Theme Park Capital of the World." Step into the never-ending action of Universal Orlando Resort. Experience a one-of-a-kind opportunity to swim with dolphins at Discovery Cove. Discover rare white alligators at Gatorland, the "Alligator Capitol of the World." And immerse yourself in the enchantment of the Walt Disney World Resort. No matter which park you visit, check out the must-do rides for thrill seekers .
6. Pigeon Forge, Tennessee 
Nestled in the foothills of the Smoky Mountains is the fabled Dollywood Resort. Consistently ranked as one of the world's best theme parks, parkgoers are invited to "Love Every Moment" of their visit. No matter what time of year, Dollywood features live festivals and events, cherished rides and attractions, and show stopping entertainment for young and old alike.
7. San Antonio, Texas
There's more to San Antonio than the Alamo. Just outside the south-central Texas city lies Six Flags Fiesta Texas. With more than 60 rides and attractions, the park is the self-proclaimed "Thrill Capital of South Texas." For a maritime adventure, head over to SeaWorld San Antonio. The 250-acre park features family-friendly entertainment, extraordinary rides, and animal encounters.
8. Sandusky, Ohio
When it comes to theme parks, there's no place quite like Cedar Point. Rollercoaster aficionados will find satisfaction in the heart-pumping action of the park's most notorious coasters including the Corkscrew, Crosscurrent, and Gemini. The amusement park isn't just for mega thrill-seekers. Cedar Point offers a wide-range of kid-friendly attractions, live performances, and colorful events.