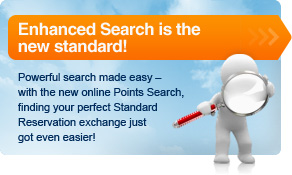 NEED MORE INFORMATION?
For advice about your Subscribing Membership and guidance on how to use your Points, RCI® Holiday Guides are ready to help.
call 1300 369 476 (AU)
or&nbsp&nbsp&nbsp 0800 569 476 (NZ)
Weekdays from 7am - 7pm
Weekends from 7am - 1pm
(Local times for Eastern Standard Time) Additional Contact Details

Poll

At RCI, we're in the business of getting you on great holidays, and that's why we've been making some great improvements to the search tool on RCI.com. Now it's as easy as 1, 2, 3 to find your next holiday!
To begin your search, login to RCI.com, click on the RCI Points® Holiday tab, and select Standard Reservation...


Getting started with the new Standard Reservation search is easy. Simply select the region or state you desire, your anticipated travel dates, and the minimum unit size suitable for your needs. If you know which resort you want to visit, you can also search by Resort ID.
After this first step, you're well on the way to finding your holiday...
Not sure what a Standard Reservation is? Click here >> for more information about Reservation Windows.

Once your initial search results are returned, you can sort them, and apply filters to help you find the right holiday for you. Bringing the whole family? Filter your search to only show 2-bedroom units! Looking for only RCI Gold Crown Resort® properties? Narrow your results by RCI Award! You can also click to see resort reviews written by fellow RCI members!
Wish List - Comparing resorts just got easier too!
Within the new online search tool, we have also introduced a Wish List function. When you find a resort that you like but still want to keep searching, simply click "Add to Wish List" and it will be saved. Once you have all your options saved to your Wish List, you can easily compare resorts, check out detailed information, and view pictures and videos that are available to ensure you pick the resort that is best for you!


After selecting the resort of your choice, you will be directed to a Resort Information page, where you will be able to view pictures and videos that are available, read important information about the resort, and see what unit types are available. Simply pick your desired unit, and you're almost done!
After you've selected your holiday, you will be directed to the improved step-by-step booking process. This new feature summarizes your holiday, and makes it easy to confirm your exchange. After that, all that's left for you to do is relax, and look forward to your trip!

Something to note! – NEW! When you book online, you will now receive a quick email confirmation containing the details of your trip.