LAS VEGAS, NEVADA
There's more to Las Vegas than casinos, shows, and the bright lights of the Strip.
---

RCI® TRAVELER: KELLY
July 8, 2019 | Stayed at The Cliffs at Peace Canyon (#6389)
A great accommodation choice for this area &
a veritable oasis in the middle of the Mojave Desert.
What do you do when you've exhausted your checklist of "must-see" Vegas hot spots? You've stood in front of the Bellagio Fountain Show more times than you care to admit and to be frank, the bright lights of "Sin City" are starting to disrupt your sleep schedule. Well, we've gathered some of our favorite things to do in Vegas that don't actually involve stepping foot on The Strip. I present to you: Vegas: Off the Beaten Path.
If you've had your fill of all-you-can-eat breakfast buffets and want to start your day with a bit of home-style cooking, look no further than
Rise & Shine
. This self-dubbed "steak and eggs place" is ideal to fuel up and send you off ready to face the day! And I did just that! How can you go to a steak and eggs place and not get their signature item? With that in mind, I tucked into a heaping plateful of eggs topped with sliced steak and a béarnaise sauce. Delicious!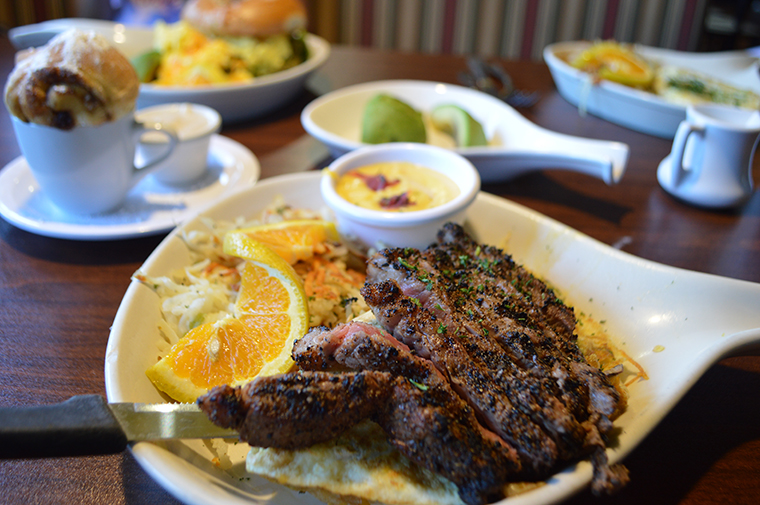 One of my favorite things to do on any vacation is carve out some dedicated time to reconnect with nature. Whether it be a morning walk or a bike ride through a park, it's always nice to move about in a new place. Since different locales often boast features unique to them, seeing the natural sites of a new destination is great way to explore even more of a particular location. Because Las Vegas is situated within Nevada's Mojave Desert, finding an outdoor adventure that would highlight the beauty of the desert was an absolute must for me. It was not hard to identify the place I would venture to for my outdoor excursion:
The Red Rock Canyon National Conservation Area
is situated about a 30-minute drive West of Las Vegas.
Did you know: The Mojave Desert is 48,000 square miles large and touches parts of California, Nevada, Arizona and Utah!
Red Rock Canyon is perfect for all levels of outdoors enthusiasts offering over 20 hiking trails of varying degrees of difficulty, rock climbing, bike tours, and a scenic 13 mile driving loop that meanders through the park. Throughout the conservation area can be found examples of desert flora and fauna, beautiful rock formations and even petroglyphs left by Native Americans. See if your eagle eyes can spot these glyphs on your own visit!
Fun Fact: The Red Rock Canyon gets its eponymous red coloring from the naturally occurring iron oxide found within the Aztec Sandstone that make up the rock formations and peaks within the Conservation Area.
After spending the better part of the morning and afternoon at Red Rock Canyon, you'll be in need of some fuel. A great place to stop is at
Lazy Dog
. I enjoyed a fantastic flatbread pizza that featured seasonal ingredients. This place loves to feature locally sourced products and highlight the season's flavors, so no matter what time of year you visit you can expect delicious options to await you!
A great accommodation choice for this area is a veritable oasis in the middle of the Mojave and away from the hubbub of The Strip – while still conveniently located so that you can absolutely get your fill of Vegas during your stay if desired.
The Cliffs at Peace Canyon (#6389)
have beautiful accommodations with one and two-bedroom options each complete with a kitchen, living and dining rooms, and a full entertainment center. The property also features an outdoor pool, hot tub, and grilling areas all set before a beautiful mountainous backdrop.
A fantastic day trip during your time in Las Vegas is a visit to the Hoover Dam. The full experience at the visitor center is wonderful. Upon entering the space you're invited to view a truly inspirational video that explains the marvelous engineering feat it was to construct the dam. After the video, you're taken via elevator to the lower levels of the dam to view the power plant and see the inner workings of this engineering marvel. Once you've finished with the Nevada side of the dam, you're able to walk across the impressive dam wall and reach the Arizona side! Be on the lookout for a plaque around the midway point – and you can straddle the state line, officially being in two places at once!
Did you know: The Hoover Dam was constructed with enough concrete that could build a 3,000 mile long highway? That is enough road to cross the whole of the United States!
We learned on our tour that in addition to providing power to the surrounding area, another interesting bi-product of the construction of the Hoover Dam is that an entire town was created as a direct result. Boulder City effectively grew from the desert to house the thousands of workers who constructed the dam, and their families. Historic Boulder City is home to a quaint main street lined with various shops and restaurants. We decided to grab a bite to eat at
Milo's Restaurant & Cellar
and indulged in sharing a charcuterie platter and treating ourselves to a glass of wine! For a sweet treat be sure to stop at
Grandma Daisy's Candy Store and Ice Cream Parlor
just a few doors down.
Okay, we know, it wouldn't be Vegas without setting foot in
one
casino. Yet, if you still find you cannot bring yourself to venture to the main Strip, then look to the Silverton Casino. This beautiful casino is literally steps away from another fantastic property,
The Berkeley Las Vegas (#DD68)
. Silverton is even complete with an aquarium that features a mermaid exhibit, as well as a Bass Pro Shop Outdoor World!
Fun Fact: Tucked into Silverton Casino's Shady Grove Bar & Lounge is a real 1950s Airstream camper that has been retrofitted to house mini-bowling!
Final Thoughts
There's more to Las Vegas than casinos, loud shows, and the bright lights of the Strip. The next time you plan your Vegas vacation be sure to venture off the beaten path and don't be afraid to try something adventurous! Exploring the area surrounding Las Vegas opens up more opportunities for the whole family to enjoy.