---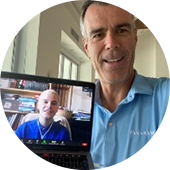 Adam is based in the U.K., and has been with LHS for four years. In his current role, he leads the training and development for his team and also coordinates the Customer Service engagement campaigns to ensure our LHS members feel loved.
– Olivier Chavy, President of Panorama
---
Olivier:
Thanks so much for talking with me! What has Love Home Swap been up to the last few months?
Adam:
I think it's been really good – Celia (Pronto) and I were chatting the other day – she's so great and it's wonderful to have her on board. Our product team has been releasing new things over this period. We've been quite active, reaching out to our members to check in on them, seeing that they're okay. We also recently acquired the Home for Exchange website, so we've been working to merge the two sites together. It's been quite busy with that.
O:
How are you staying connected with your colleagues or other teams while working remotely during this time?
A:
Through Microsoft Teams and Zoom. We do a full Zoom chat every Friday and share what we've been working on with everyone. We also have a group chat to stay connected throughout the week.
If anything, I feel like we're much more connected to our teams in London, Portugal, and Cork now than we were before the pandemic because we're all in contact all the time.
O:
What have you learned about yourself during the pandemic?
A:
I guess everyone's learned how resilient they are. I wouldn't have thought I'd have coped so well.
O:
Where would you like to go on your next trip?
A:
Well, I really love Paris – I would love to go back to Paris and visit the restaurants and bars. I'd hop on the Eurostar and spend a few nights there.
My dream trip would be to New York City – I've never been and I really want to go for a big city break!
O:
I love to hear about your passion for reading. Tell me more about poetry and literature.
A:
I have been trying to learn a bit of French, but I mostly read English literature and a few books in translation. I do have a favorite poet – Frank O'Hara. He writes a lot of free-verse. He's quite fun.
O:
And you own more than 1,000 books?! Do you have a favorite book?
A:
My favorite is probably The Collected Poems of Frank O'Hara.
O:
How did you get into country music?
A:
I think Dolly Parton is "the gateway drug" into country music – that sort of gets you used to it! Tanya Tucker, Loretta Lynn ... I love them all. I can send you my country playlist if you'd like!
O:
If you were stranded on a deserted island for three months, what item you would you take with you?
A:
Probably quite predictable – but I'd take The Complete Works of William Shakespeare. If you're going to have that much free time – you may as well learn some speeches from Hamlet!
O:
What are three words your colleagues would use to describe you?
A:
That's a good one. I think … anxious (but in a good way!), optimistic, and funny (hopefully!).
O:
What song would you say describes you?
O:
What app, website, or brand can you not live without?
A:
Twitter … I'm on Twitter all the time. I'm not necessarily tweeting, but just reading to get nuggets of information.
O:
If you were Managing Director of LHS, what would be your first decision?
A:
I'd like to make it more accessible to people who don't own their homes and allow people who rent to trade their spaces.
O:
Do you have any questions for me?
A:
What are you most excited about for our future?
O:
I'm excited about Panorama – and to really position ourselves as a hospitality and travel business versus only timeshare exchange. Timeshare exchange will always remain our core business, but I really want to diversify our business in the B2B arena.
O:
What do you think travel will look like in 2021?
A:
I'm a glass half full guy – so, I think very quickly faith will take over fear, and people will go back to travel. There is no better feeling than to travel, and see the world and the people you love. In terms of behavior, we've probably changed forever, but people will still want to travel and see the world. That's my hope!