---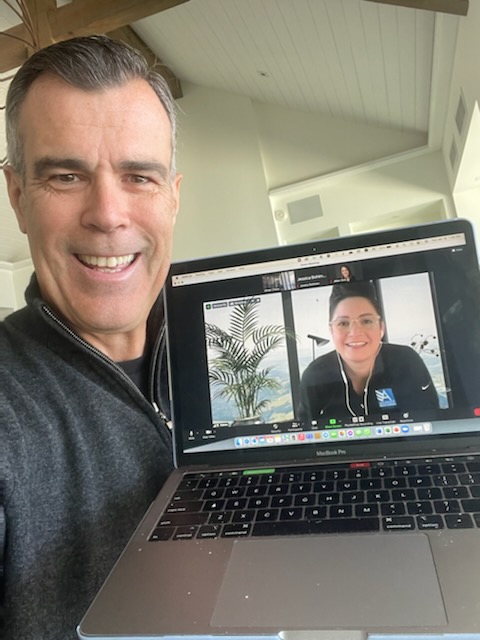 This month, I hosted a virtual Coffee & Selfie with Alecea Helton, Contact Center Manager for Alliance Reservations Network (ARN), based in Orlando, Florida, U.S. Alecea joined the company in 2016, and is responsible for supporting and developing her team members to be effective and customer focused. Alecea also provides strategic planning towards business development, while fostering strong, trust-based relationships with her team, vendors, and partners.
– Olivier Chavy, President of Panorama
---
An adventurous spirit, Alecea enjoys canyoning, spending time with family and friends, and is a foodie. If you find yourself in Orlando, she has great restaurant recommendations.
Olivier:
I hear you are adventurous, what kind of activities do you do?
Alecea:
I am! Lately, I've enjoyed canyoning. Anytime we travel, we make sure there is a canyon or arches nearby. My tallest canyon has been 200 feet.
O:
That sounds so fun — do you have all of the gear?
A:
We have the helmet and pads, but not the ropes, so when we go canyoning it is as part of a tour.
O:
That is great. So, tell me a bit about your role.
A:
I am the manager for the contact center of ARN. We are a team of 21 and growing. When I started, it was just myself and two others in the Orlando office, so we have grown significantly.
O:
How long have you been with the company?
A:
I started back in 2016. It will be six years in May.
O:
What is your favorite thing about what you do?
A:
Every day is so different. We can train all day, but sometimes you have to roll with the punches because there are so many scenarios we encounter on a day-to-day basis. The pandemic has been one of the biggest shifts in our world. We've had to become more efficient and think of ways to engage. For me, one of my newest and biggest challenges has been building culture within a remote team.
O:
What three words would your colleagues use to describe you?
A:
Fun, dependable, and passionate.
O:
What destination would you love to visit?
A:
Well, my wife and I just went to Moab, Utah, U.S., in October and Cabo San Lucas, Mexico before that. Our next trip is to Nashville to celebrate our anniversary and then we are planning to go to Iceland at the beginning of 2023.
O:
Congratulations on your anniversary! How many years are you celebrating?
A:
We are celebrating 19 years.
O:
What did you want to be when you were younger?
A:
I wanted to do voice overs and voices for cartoons and kids shows. My mom said when I was little I used to sit in front of the mirror and do different voices. Robin Williams and Jim Carrey were some of my favorites growing up.
O:
What is a secret no one knows?
A:
I love horrible movies. If it's bad, I'm watching it. My wife hates it, but I love it. B movies, Hallmark, I watch them all.
O:
What is your favorite song?
A:
What's Your Country Song by Thomas Rhett. If you like country, you'll get it. He's talking about all of the old songs in the genre.
O:
What is a song that you think represents you?
A:
Happy
 by Pharrell Williams. It's a great song!
O:
If you could have dinner with anyone, who would it be and why?
A:
That's a tough decision, but it would be between Dolly Parton or Lady Gaga. They're both so talented, giving, hard working and good-hearted people.
O:
I hear you are a foodie, do you cook?
A:
I don't. I am a great sous chef though! If you give me a recipe, I'm making it. I just tried Chicken Piccata for the first time and I realized why I don't cook. My wife is an amazing cook. She can go into the refrigerator and we could have three ingredients and she'll make something magical, it's unbelievable. My stepfather is an Italian chef, so I grew up spoiled with him making food for me too.
O:
What three things would you bring with you to a desert island?
A:
Well, I have two dogs so that counts as two. And I would bring my wife. The whole family has to come!
O:
What is your favorite book?
A:
Right now I'm reading a book about moon magic. It's about the phases of the moon and how it alters our mood and mindset, it's really interesting.
O:
What do you do for fun on the weekends?
A:
I like to stay productive. We go to the dog park every Saturday. We have a Shiba Inu and then an Australian Shepherd/Border Collie mix. I also like spending time with family, my mom and sister live nearby.
O:
You become President of Panorama tomorrow, what is your first decision?
A:
I would say adopting the 4/3 week because work-life balance is so important. We would work four days and then have three days off so we can spend more days in our lives outside of work.
O:
What is the best piece of advice you've been given?
A:
Peter Strack (founder of ARN) once told me, "luck comes from hard work." You have to work for everything you have, it doesn't come easy and it's not given to you.
O:
That is a great piece of advice. So tell me, do you have any questions for me?
A:
If you could choose to be anything besides the President of Panorama, what would you be?
O:
I like this question. I have always said that before I retire, I would want to be a director of a small hotel. Sometimes I miss being in the field — the morning briefings, touring the kitchen, the back of house, and working with all of the departments within a hotel. If I had a magic wand, I would prefer to be in a resort either in a mountain or a white sand beach and be a General Manager for a couple of years.
A:
What advice would you give me as I continue with the company?
O:
Spend 100 percent of your time doing your core job, 15 percent networking and 15 percent benchmarking. That does add up to 130 percent, but that is important. With networking, it's doesn't just mean what you receive. It is about establishing and keeping relationships so if your network calls on you, or you on them, they will be there for you. Benchmarking is key. Every time I travel, I try to go to a hotel and watch. I use my five senses — what do I see first, what do I smell, what do I hear. I like to observe how guests move through the hotel. When they walk in, where do they look, where do they go. It's not an easy exercise, but by watching and observing you can learn something new.