---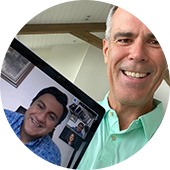 Alejandro started working for RCI LATAM in August 2013 as an Online Content Coordinator. In his current role, he is responsible for the digital marketing strategy in the region leading the development of omni-channel strategies to increase traffic and conversion through the website and call center.
– OLIVIER CHAVY, PRESIDENT, RCI
---
Olivier:
I'm sure you've been very busy lately. What are you most excited about the new RCI brand?
Alejandro:
I think I'm super excited that it completely changed our value proposition for our members. Moving from vacations to travel is very exciting — I believe it is a change that was really needed. To be able to be a full travel network is awesome and is a great challenge.
O:
How are you staying connected with your colleagues or other teams while working remotely during this time?
A:
Microsoft Teams has been a great way to stay connected. I also try to do one-one-one chats. We also use WhatsApp to stay connected and have some fun as well.
O:
Do you feel a stronger connection with your colleagues now?
A:
I believe we've increased our connection for sure. Since we're all working from home, I'm able to see my collegues' families and homes. I consider them more than just colleagues, but friends. I believe we have bonded much more than when we were in the office.
O:
What have you learned during this situation with COVID-19?
A:
I've learned that I'm ok with staying home and working from home. I used to think I always needed to be on the move. But I've learned to adapt and be still and enjoy reading and listening to audio books or doing puzzles.
O:
Where was your last trip?
A:
It was almost 2 year ago, I went to Puerto Vallarta and stayed for a week.
O:
Where would you like to go on your next trip?
A:
I think it would probably be to Italy because a friend is getting married in September 2021. I'm also looking forward to exploring other parts of Europe while I'm there.
O:
If you were stranded on a desert island for three months, what item you would take with you?
A:
My laptop and my cell phone. I think I'd leave my credit card! I'm also quite high maintenance so I'd probably also take some skin care and sun glasses! LOL!
O:
What are 3 words your colleagues would use to describe you?
A:
Perhaps they would say funny, energetic, and probably never on time for things!
O:
What app, website, or brand can you not live without?
A:
Probably Instagram and after that LinkedIn.
O:
I hear your cats have their own Instagram! Tell me about them.
A:
Yes! I have 2 kittens and their names are Pancha and Mittens — they're brothers. I got them when they were only 3 weeks old. I actually just got them a few more clothes and they look amazing. They even have their own Instagram account!
instagram.com/panchaymittens/
O:
What has been your favorite themed birthday party?
A:
I was planning this year to do a god or goddess themed, like Athena or something similar, because 30 is the year of the gods.
O:
How do I get an invite to your grandmother's Posada? I hear it's the party of the year!
A:
I'm getting very emotional right now. It's a very familiar traditional that my grandmother does. Every year in December, she organizes a Posada, which is a traditional festivity in México and she does it BIG! We enjoy drinks, Mexican food, as well as the most important thing, PIÑATAS!
It fills her with joy and energy. I believe we get a lot of energy because it makes her so happy – and it gives me so much joy!
O:
If you became CEO of RCI tomorrow morning, what is your first decision?
A:
I would redo the transactional part of the website! I love the new look and feel of it, but I would put a lot of effort into the booking experience so it's as simple as possible for our customers.
O:
What is your favorite thing working for RCI?
A:
I love that I'm doing digital marketing because that was my dream when I was studying in school. I also love working for a global company — very lucky to be able to connect with peers in other countries. It's also very cool that we're like a family — and it's not just a job.
O:
Do you have any questions for me?
A:
What type of advice would you give me in order to keep growing professionally?
O:
I'm very often asked this – 100% do your job description, 15% benchmarking, and 15% networking!
Alejandro started working for RCI LATAM in August 2013 as an Online Content Coordinator. After a year and half, he took on the role of New Product Development Supervisor, where he developed and implemented B2B2C products for Latin American developers, as well as lead the implementation of global projects in the region.