---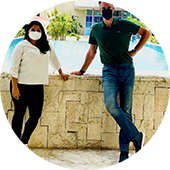 Ana Salais is an Account Executive, RCI Business Development for the Caribbean. She is from Torreón Coahuila, México, and joined RCI in July 2018 as an Administrative Assistant. After nine months she became Account Executive for the Caribbean Accounts. She is based in Cancún. Recently she has taken on increased responsibilities and manages many key accounts including Meliá, Xcaret, and Bahía Principe, among others.
– Olivier Chavy, President of Panorama
---
Olivier:
Ana! This is my first Coffee & Selfie discussion in-person since February 2020 — it's so nice to see you! I'm so excited.
O:
Tell me how the pandemic has been for you?
A:
It was hard, but I learned a lot. But I think it's been worth it because I've learned so much personally and about my job as well.
O:
What have you learned the most about your affiliates that you support?
A:
It's amazing to support our affiliates — I am the Account Executive for Xcaret and Melia, amongst other accounts — they are all very unique. The Mexican culture is so awesome — so it's been great to learn all about them. This week was the first time I was able to visit their resorts in-person, and it was so nice to see everyone.
O:
While we were all home on lockdown, did you start any new hobbies?
A:
I started to cook seafood and am an expert now!
O:
What is something about you that nobody knows?
A:
I think everyone knows almost everything about me — but at some point I wanted to study medicine. I even took pre-med in Mexico! But I found it wasn't really my calling. Instead I received my degree in marketing and advertising and earned a master's degree in business from Pace University in New York.
O:
What kind of animals do you have?
A:
My nephew gave me a dog for Christmas, Tomate! He is a Shih Tzu. It was a great gift. He is seven months old and is so cute. I try to take him for walks on the beach, but he is scared of the ocean.
O:
What are three words your colleagues would use to describe you?
A:
Hands-on, hard worker, and loyal.
O:
Where will you go on your next vacation? And where was your last trip?
A:
I want to go to any place in Brazil. I would love to learn more about their culture. My last trip was for the BD Summit in Orlando last year! And I was able to stay a few extra days to go to Disney World.
O:
If you could select one song as your life's theme, what song would it be?
O:
What app, website, or brand can you not live without?
A:
WhatsApp for sure! It's such a good way to connect around the world.
O:
If you could spend time with a celebrity for an evening, who would it be?
A:
Isabela Guirande, the writer. She is really interesting and her novels are really good.
O:
If you were stranded on a desert island, what are three things you would take with you?
A:
A book, a knife, and a picture of my family!
O:
What is the best advice anyone has ever given to you?
A:
Advocate for yourself. If you don't speak for yourself, no one will know! Nobody knows what you are going through better than yourself.
O:
If you were president of Panorama tomorrow, what is your first decision?
A:
I think my first one will be to add an office in Cancun — we miss it so much! I would love to be able to be in an office with all of my coworkers.
O:
Do you have any questions for me?
A:
Where do you see RCI in 5 years?
O:
First, I think we have done so much. Panorama is now the umbrella brand that includes all brands, including RCI. We are able to honor the legacy that's been built over the past 45 years, and RCI continues to anchor our exchange business. We have really enhanced so much of the value proposition.
It also depends so much on affiliates to sell and acquire owners — since we don't own buildings or infrastructure. But we have amazing people that will continue to service our members and clients. I see a bright future for RCI.
A:
What is happening with The Registry Collection?
O:
Great question — it's a sleeping gem, I would say. The more we ramp up in the recovery — the more it becomes a priority.
A:
How do you manage your personal life and work?
O:
I try to get to my emails before I go to bed at night. My work is my passion and I know we love what we do and sometimes we work a lot. I've definitely learned to switch off and on from time-to-time.