---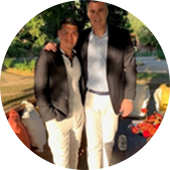 Christopher Lazo has been a member of RCI's Mexico team for the past four years. Though he is more introspective and quiet by nature, he has been one of our standout powerhouses, earning him the title as top producer in his area.
– OLIVIER CHAVY, PRESIDENT, RCI
---
Olivier:
Hi Christopher! I've learned so many interesting things about you. I understand that you love dancing, especially salsa. I'm so intrigued by this passion.
Christopher:
Salsa is a form of expression, there is so much feeling in the movements. I've been dancing salsa for five years.
O:
Fascinating. Not only do you like salsa, but you also really enjoy working out?
C:
Yes. I go after work, I enjoy them both. I do the gym during the week and salsa on the weekends.
O:
I heard that you have a two hour cxxommute to the office. So you work, you have three kids, you workout, dance salsa and you play music? You have a very busy life!
O:
Tell me more about your family.
C:
I try to give them the best that I can in life. I believe in giving them the best opportunities. Finding a balance with everything is important because I have my kids, and I also help take care of my parents.
O:
That is remarkable that you try to take care of everybody!
C:
Yes, that is so important to me. We are very family-oriented.
O:
This is very evident in the time that I have spent with you. Let's talk a bit about your journey at RCI. You become President of our company tomorrow, what is the first thing that you would do?
C:
I really admire the path that you have taken with the company, and many of those efforts are steps that I would have taken.
O:
What do you like most about what you do at RCI?
C:
I really enjoy everything but specifically, I love the contact and connections amongst our teams. We really care about one another, and we check in on each other and our families. RCI is my family.
O:
That's really nice to hear — RCI teams have such rich relationships. If I were to ask your colleagues to describe you in three words, what would they say?
C:
Serious, Focused, and Friendly.
O:
If you could have dinner with one person of influence, who would it be?
C:
Tony Stark from Avengers.
O:
That's great, it's a fun choice! You can only take one thing with you on a deserted island, what would it be?
C:
I would take my cell phone but not to speak with anyone, I would take it so that I can listen to my music.
O:
What is your greatest learning of 2019?
C:
Embracing and learning about different cultures. For example, I love what we have right here at the Global Top Guide Summit. We are from some many parts of the world!
O:
That is an incredible and important learning. Other than your family, what is something that you cannot live without?
C:
Authenticity, I have to stay true to myself.
O:
What does it mean to you to be recognized as a Top Guide?
C:
My family is my motivation, and I do everything for them. This is more of a personal achievement for me.
O:
Your kids have such a great example in you. How old are they?
C:
My oldest is nine, his name is Seth. My middle child is Siegfried and he is seven. My baby is Evan and his birthday is Dec. 30. He will be two years old!
O:
Wow, will you have a party for him?
O:
Do you have any questions for me?
C:
What would you define as RCI's true value proposition? Often, members draw comparisons to our competitors so it would be great to hear from you on our value.
O:
We are always working on enhancing RCI's value to our members. Specifically in Q1, we are launching new, cost-savings products. We are also expanding our platform to include flights, excursions, etc. Our goal is to have anything that is linked to hospitality and travel be provided through RCI.
C:
That's fantastic and exciting to hear!