---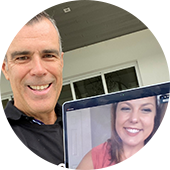 Devon joined the company two years ago, and excelled in a leadership role on the Brand team. In her current position, she has been an instrumental part of the development and launch of Panorama.
– OLIVIER CHAVY, PRESIDENT, RCI
---
Olivier:
As our Brand Director for Panorama, congratulations to you and team on the launch this week! What are you most excited about?
Devon:
There's so much to be happy about. It's been an entirely global effort. I'm looking forward to the reaction from our consumers, affiliates, and associates. It's so exciting to see it finally come to life ─ it's like watching someone open a birthday gift. I'm just excited to see the reactions and what our team will do with our new brand!
O:
You have done part of the brand development and rollout remotely working from home. How do you stay connected with your colleagues or other teams while working remotely during this time?
D:
I live on Zoom! Even before working from home, I had a lot of meetings with teams around the world, so I was familiar with staying connected virtually with people. Especially in times of planning and increased workload, it's important to make those connections and help everyone to feel invested. I want to make sure I'm as personal and personable as I can be.
O:
Do you feel a stronger connection with your colleagues now?
D:
Definitely. Everyone is willing to jump on a call or video chat — it's just how we do business now. We're catching up with each other and regional leaders daily. It's really creating a bigger sense of a global community. Even if we're isolated, we're more connected than ever.
O:
What have you learned during this situation with COVID-19?
D:
It's definitely causing emotions across the board. It's not just about business, it's personal as well. It's really made a lot of people stop and think about each other and about friends and family. I also think we're appreciating each other as more than just colleagues; there's a lot of humanity that's built into the work now. I appreciate the collaboration and effort to help each other when we need it.
O:
Where was your last trip?
D:
My last big trip was actually out to see our teams in Singapore and the Gold Coast. Candidly, it was my first international trip, and it was great to get out and connect with people while also seeing different parts of the world. It was a really high bar to end 2019 with!
O:
Where would you like to go on your next trip?
D:
I was planning a trip to Portugal before this happened, so hopefully I get to make that trip eventually! I did take a road trip recently. I grew up in New Jersey, so I drove from Orlando to New Jersey to spend time with my family and work remotely from the shores of New Jersey.
O:
What would be your dream RCI destination?
D:
I have a dream to go to Hawaii. I really love the beach and Hawaiian culture, and it's always been on my list. I'd also love to go to France. My mom loves French culture and food, so it was part of my upbringing. I'd love to take a tour of the whole country.
O:
If you were stranded on a desert island for a long period of time, what item would you take with you?
D:
Can I say two things? I'd need a notebook and a pen. My undergrad degree is in creative writing, and I write theater and production scripts as part of my production company. If I couldn't write, I think I'd go crazy!
O:
What are three words your colleagues would use to describe you?
D:
Passionate, selfless, and creative.
O:
What app, website, or brand can you not live without?
D:
I'm a die-hard Instagram fan. I think the way people use photography to tell stories and express themselves is really unique and beautiful.
O:
I hear you have a 3-year-old Maltese Poodle named Beowulf. Can you tell me more about his name?
D:
He is my 14-pound Maltese Poodle mix and I got him for myself as a Valentine's Day gift. He's named after my grandfather's offshore fishing boat. My grandfather passed away the year before I got Beowulf, and I wanted to somehow honor his memory and give him another chapter in his story. I just fell in love with this dog when I saw him. He's my sidekick.
O:
How important are your family and friends?
D:
They're the reason why I do what I do. I live to make my family proud. I grew up in a very close-knit family in South Jersey. I hope they see that the love that they put into me is what I put into my work.
O:
What's something your colleagues don't know about you?
D:
I grew up as a competitive and professionally trained ballerina. Because of that training, I can turn my feet backwards and walk like that. It's my party trick.
O:
What is a song that best describes you or makes your day?
D:
So, my "spirit animal" is Pink. One of my favorite songs she sings is "Try." It's really about not letting the fear of failure keep you from doing what you're passionate about. But, if you were to ask me which song I play the loudest in my car, it's definitely her song "Raise Your Glass."
O:
What do you dislike most about your job?
D:
No pressure here! In my job, there's an element of brand regulation to ensure the brand is consistent and powerful. But, there's also a balance of letting go. I sometimes make the comparison that it's a bit like raising a child. I have to make sure I've "raised" the brand the best I can, and then let it out into the world to flourish.
O:
If you became CEO of Panorama tomorrow morning, what is your first decision?
D:
You know, one of the things I like most about working for this company is that we get opportunities to get to know our leaders. Making connections is so important. So, I think the first thing I would do is implement a virtual café. I think it would help people get to know one another as people and not just as part of the business. From a business perspective, you can apply that same concept of connection in creating sales centers and rooms virtually to help create a bond to it.
O:
Do you have any questions for me?
D:
For your brand, what would your tagline be?
O:
"No Regrets." I tell my kids to always try things and don't live with regrets.
Prior to joining Wyndham Destinations, Devon had eight years of experience in advertising, media, design, and branding, including work with Walt Disney World and SeaWorld Parks & Entertainment. Devon has a B.A. in Creative Writing with a minor in Theater and Mass Media Studies from Hofstra University, and a Master of Arts in Mass Media and Production from The New School. When not at work, Devon runs her own theater company called Hi Eugene! Theater Productions. She has written, produced, and directed more than 20 shows in the Orlando area. Devon is a true "Jersey Girl" and loves hanging out with her 3-year-old Maltese Poodle named Beowulf (big name, small dog!).