---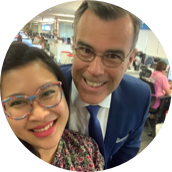 This month during my visit to Singapore, I had the opportunity to chat with Izyanty Asmary, a Team Lead in Customer Care. "I am very excited, to be honest," she began. "This is the first time we've done something like this so it's refreshing." I was excited to hear her story too.
– OLIVIER CHAVY, PRESIDENT, RCI
---
Olivier:
First of all, tell me about YOU. How long have you been with us?
Izyanty:
I have been with RCI for 6 years.
O:
What is your background and how did it bring you here?
I:
I was a regional manager for a retail company and I was basically handling the Asia Pacific market as well. I don't know if you know it but it's an Australian company called TYPO. I was doing a lot of marketing before that as well. I got married 6 years ago and I was travelling a lot so I thought it was time for me to settle down and start a family. I have a little girl now.
I:
She is 3 years old. Her name is Nyla.
O:
Are you originally from Singapore?
I:
Yes I am, however my grandmother is Chinese and my grandfather is from Indonesia.
O:
So tell me something about you from when you were younger that nobody knows — like a passion, music, dance…
I:
I loved the Spice Girls.
I:
Yes. I loved them. They were my idols when I was young. I wanted to be Posh Spice. I also wanted to be an air stewardess.
I:
Yes, I wanted to be in the cabin crew, and I eventually got hired by Singapore Airlines. By the end, I was working in Marketing for them.
O:
So tell me: Tomorrow you become CEO of RCI — what's your first decision?
I:
I would like to look at our technology — our systems. I love RCI, I love the culture, I love the people… and because of that, I would like to look at ways to help the people do their jobs to the best of their ability, and I would plan to start with our technology.
O:
If you were stuck in a deserted island, what would you take with you?
I:
That's a tough one…just one thing?
O:
Yeah, maybe your daughter?
L:
I would take my daughter, of course but I would also take a romantic novel.
O:
Good choice. What's a destination you want to go to?
L:
Right now I actually want to go to Turkey.
I:
For the culture, and I want to visit Rumi. I want to visit his place — the place that recites his poetry.
O:
But Rumi was from Iran.
I:
True, but the place he ran was in Turkey.
O:
I have two of his books in my office.
I:
I love Rumi — his practice of Sufism in particular.
O:
Fascinating! What do you like about Sufism? Is it about philosophy?
I:
The philosophy is very spiritual and it stems from Islam. It's all about love and the connection you have with the Almighty, and that's something beautiful because you can't explain it, you just feel the passion. That's how you connect to people, and I use it all the time.
O:
I like that. Where do you see yourself in 5 years' time?
I:
To be honest, I would actually want to head the Member Experience department. While it's customer service, it's very different at RCI. That's why I have been here for 6 years. It's not just handling member enquiries, I love the fact that I am able to find out the real cause of a problem. I like finding solutions and working with different departments and I would love to have a leadership role in the future because I want to see how we can take it to the next level. Customer service now is not like it was before, whereby you just handle general enquiries. It is about the personalization — how do you actually connect with people, how do you connect with other departments and how do you even connect with competing companies? How do you do better?
O:
Sounds like you've thought about this! So do you have siblings?
I:
I have two older sisters, one older brother and one younger brother. One sister is a teacher and one is a recent homemaker who lives in Sydney. My brother is a chef who took over my father's business and my younger brother just graduated.
O:
So your dad is retired?
I:
Semi-retired, he can't let go of the business.
O:
He must be very proud of his daughter.
I:
I believe he is more proud of his daughters than his boys.
O:
Do you speak to him every day?
I:
Of course, I see him every day because my daughter is there with him and my mom.
O:
Did tell your father that you had a conversation scheduled with me today?
I:
Yes, everybody was like "wow!" I have never done something like this before.
O:
Cool. Thanks for your time, this was fantastic. The Coffee & Selfie series is what I want to do with different roles throughout the business. Can I share your story on my social media and LinkedIn profile so my connections can get to know you better?
I:
Absolutely! I love social media, especially Instagram.
O:
One last thing I would like to do, let's call your father to tell him how proud he should be to have a daughter like you.
I wasn't kidding. We called Izzy's father and I raved to him about how wonderful, kind and intelligent his daughter is and how lucky we are as a company to have her with us. Of course, he already knew this, but I was honored to have been a part of this special moment. It was a pleasure to learn Izzy's story and I am so happy that I get the chance to highlight some of the talented associates within our organization!