---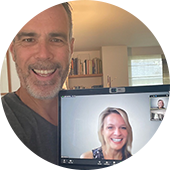 This month, I hosted a virtual Coffee & Selfie with Liz Christeson, Senior Director, Travel Services and Operations. Based in Indianapolis, Indiana, U.S., Liz joined RCI soon after completing graduate school at Indiana University Bloomington. She was previously commissioned as an Army officer and served during Operation Desert Storm. She continued to serve in the Army Reserves for 20 years, and retired as a Lieutenant Colonel in 2010.
– Olivier Chavy, President of Panorama
---
Liz was recently promoted to her current role — and will be responsible for developing and leading the operational team that will support the strategic growth of Panorama Travel Solutions. Liz has been an active participant in our Diversity Resource Groups (DRG), and led the first Veterans DRG in Indianapolis. Outside of work, she enjoys staying active by spending time outdoors with her family, hiking, and mountain biking.
Here's what Liz had to share!
Olivier:
I was so happy to learn about you! I am the new executive sponsor of the Veterans and Supporters in Travel (VAST) DRG so I'm excited that we'll be working together. How many tours have you done?
Liz:
I completed two tours, and stayed stateside. My mission in both cases — I was part of the group that supported the replacement operations. We were there to make sure the soldiers got to where they needed to go, their last-minute training, and any other medical requirements that needed to be addressed. 
The first time, I was a finance officer and carried around a big bag of money! We dispersed cash payments to the soldiers.
L:
No, not really. I'm so glad I did it and overall it was a good experience. I used my experience to instill a great work ethic with my sons. I did a lot of volunteering with their schools to try to be a good example for them.
O:
Congratulations on your new role!
L:
Thank you! I'm a little nervous because I haven't worked in the call center environment — but I'm excited about the future. I think it's good to have people doing new things.
O:
What are you most excited about?
L:
I think that it's all so new. Anytime you're starting from the ground up it's a unique experience. I certainly like to process improve and I've had a lot of experience there, but this is a case where I'm going to be creating the processes and certainly improving on them too as we learn more. I'm looking forward to using my past experience and apply it to something new.
O:
What have you learned about yourself over the past year?
L:
So I'm naturally an introvert, but I've definitely missed the social events. I can't wait to go to concerts outdoors and doing more with my friends and family. And I miss working with people in person. There's more of an opportunity to collaborate when you're in the same room.
O:
While we were all home on lockdown, did you start any new hobbies?
L:
I wouldn't say I started a new hobby — but I've started doing things differently. I'm sort of a gym rat and since gyms were closed, I changed my routine and did a lot of running outside. I also came across a lot of great videos for strength training workouts.
O:
What is your next running challenge?
L:
My son wants me to do a Spartan Race in Ohio in July, but it's so hot! So I'm not so sure about that.
O:
Where will you go on your next vacation? And where was your last trip?
L:
The vacation that I was supposed to take two years ago, that I've had to delay twice now, is a bike trip around Lake Constance in Europe. It's a six-day trip and you bike 30 miles a day and stop in little towns through Switzerland and Austria and explore. I like to have active vacations. My last trip was to Aruba and it was wonderful — it was actually a couple of months ago. It was surprisingly still pretty busy, but they did a great job with COVID safety measures.
O:
What is a secret about you that nobody knows?
L:
Probably that I've driven a tank twice in the Army! I had the opportunity a couple of times when I was training in the ROTC.
O:
What are three words your colleagues would use to describe you?
L:
Analytical, driven (some might say obsessive!), and thoughtful.
O:
If you could select one song as your life's theme, what song would it be?
L:
So there is a song called Sunny Days by Jars of Clay. I always think of it as my theme song. It's all about having a good attitude — today may not be your day but tomorrow will be better.
O:
If you were stranded on a desert island, what are three things you would take with you?
L:
I'm going to be practical as I have some experience with the military, and I also have a group of friends and we go canoeing in Minnesota which is kind of like being on a desert island. I would bring a water filtration system, a tent, and something to make a fire.
L:
I have a cat! I love animals. I'd love to have lots of dogs and cats if I could.
O:
If you could spend time with a celebrity for an evening, who would it be?
L:
Probably Dolly Parton! She just seems like so much fun and so down to earth — and I'm sure she has so many stories and I think that would be a blast.
O:
What app, website, or brand can you not live without?
L:
Google! Anyone that knows me will tell you I'm a Googler. That's one of my themes — "just Google it". The second would probably be Amazon.
O:
What is the best advice anyone has ever given to you?
L:
Happiness is a choice, and everything else is just perspective.
O:
If you were president of Panorama tomorrow, what is your first decision?
V:
I would first want to consult with the experts! But I think I would implement a mandatory hour of learning every week for associates. I'm a lifelong learner and I love to learn — and I think it would be great to instill that habit.
O:
Do you have any questions for me?
L:
Since I'm getting ready to move into this new role with Panorama Travel Solutions, what do you think is going to be the key to our success?
O:
Short-term, I think probably solving some of the bugs. And then fine-tuning the marketing campaign. Since it is a new product, we need to create product awareness. We need to drive volume to the product. And then, be patient. When you launch a new product it takes time. And I hope you will make some mistakes because it means you tried and learned. And finally, just be yourself as a leader. If you are able to share your happiness and passion that you've shared today, you will do great!
L:
What is your favorite thing about working for the company?
O:
The people! Every day I learn from others.