---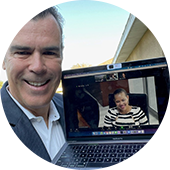 Nombulelo Sompane is a Call Centre Guide for RCI in South Africa. She joined the company as a Save (Member Retention) Guide and moved to the Spacebank (Deposits) Team in 2014, and is now working in Outbound.
– Olivier Chavy, President of Panorama
---
Olivier:
It's so nice to virtually meet you! Thank you for chatting with me today.
Nombule
Thank you so much for having me — it's an honor to have this opportunity.
O:
Tell me — what have you learned about yourself over the past year?
N:
I've been reminded that family is so important. Getting to spend more time with my loved ones has actually been a gift this past year. When working in the office, it would take me two hours to get to and from work with public transport — so four hours on the road each day. Working virtually has given me so much more time at home with my family, and I've definitely enjoyed the flexibility.
O:
While we were all home on lockdown over the past year, did you start any new hobbies?
N:
Not really any new hobbies, but I had a new baby boy in April! Looking after him has kept me busy. He's 10 months old, and is just so cute. Teething already! He's so full of life. I'm grateful to have had this time at home with him and my 10-year-old daughter.
O:
How do you stay connected with co-workers while working virtually?
N:
WhatsApp, Facebook, Instagram, and phone calls to check up on each other. A phone call makes a huge difference to see how people are doing.
O:
What are three words your colleagues would use to describe you?
N:
Fun, bubbly, and positive.
O:
If you could select one song as your life's theme, what song would it be?
N:
I was extremely positive growing up. I love life, and believe that you can always find something good in any experience.
O:
I hear you enjoy watching travel shows. What is your dream vacation or next vacation you'd like to take?
N:
Yes! I love traveling, but I've only traveled in-country. I would love to go anywhere overseas — I've never been out of the country.
O:
What app, website, or brand can you not live without?
N:
I can't live without WhatsApp. It helps me communicate with people that I can't live without!
O:
If you could spend an evening with one celebrity, who would it be?
N:
I would select John Legend — and he could sing me some of his music.
O:
If you were president of Panorama tomorrow, what is your first decision?
N:
I want to continue ensuring all of our members are treated equally, and that every interaction with our members is similar. They are our family.
O:
What do you think makes RCI Johannesburg so unique?
N:
I believe it's us, South Africans. And also loving what we do makes it very easy. Even if you're facing a difficult member — as long as we give them our attention and time to explain their side, we can help them with anything.
O:
Do you have any questions for me?
N:
After COVID-19 passes, when can you come to visit us? We would love the chance to see you!
O:
Trust me, as soon as we can travel again — I will be the first one on a plane to visit! I actually lived in South Africa for quite a while, in Mauritius Island and my boss was based in Stanton (near Johannesburg), so I used to visit every month. I loved it there!
Nombulelo is full of positivity and energy, and is amazing with our members and always has the biggest smile for anyone around her. She is one of the first people to respond with a 'thank you'. She says her favorite part of her job is that she gets to interact with so many members daily while booking them on vacations!