---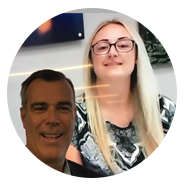 Nora Dennehy is now Team Lead for Love Home Swap (LHS), where she'll manage 11 LHS agents across two sites in Cork and Portugal. Nora joined RCI in 2007 as a UK Market Guide. Her passion and drive will be a great benefit to RCI.
– OLIVIER CHAVY, PRESIDENT, RCI
---
Olivier:
Good Afternoon Nora! Thank you for chatting with me today. I'm excited for our time together!
O:
If you become CEO of RCI tomorrow morning, what would be your first decision?
N:
From what I have witnessed during my time with RCI, I would really invest more into our online platforms. Our website could be more user-friendly for our members. It really should not be difficult to book a holiday, and often time, that is a lot of our feedback. If we could make it a better service online, it would make it much easier for our members.
O:
Very true, you are 100% right. We are working very hard on strengthening our platforms. Good feedback. Tell me a secret about you that nobody knows.
N:
It's not much of a secret but I am known for loving reality television. I actually got married on reality TV. Whenever there are reality TV opportunities, I am always applying. Maybe that is my next career choice. Who knows?!
O:
Wow that's great, I have to know more. This is the first time that I have ever met someone who has been on a reality TV show! What was the name of the show?
N:
It was a TV show called "Don't Tell The Bride" where one of us arranges the wedding in secret, and the other one knows nothing about it. I planned the wedding for two weeks, away from my partner, who had no idea. In two weeks time the big reveal happened, and I got married in a casino. This was very unsual in Cork because it was the first wedding in a casino.
O:
So you are a local star! If I ask your colleagues to describe you in three words, what would they say?
N:
Efficient, approachable, and flexible.
O:
That's good! What has been your greatest learning so far in your career.
N:
There has been quite a few to be honest, but the big thing for me is that I participated in a global exchange in 2015. I went over to America to the Indianapolis office for five weeks. It was like another world, seeing their various operations and the efficiency and size of the call centers. It opened my eyes and inspired me to the direction I wanted to go in my career path.
O:
So I heard about the possible opportunity for you to return to Indianapolis at the end of the month, what are you most excited about?
N:
I look forward to reconnecting with all of the people who were so welcoming during my first visit.
O:
So aside from your love of reality TV, what are your other hobbies?
N:
I am a very competitive person, so I like and play sports. I play basketball and soccer at the moment. I actually went over to Leon to see the Women's World Cup Finals.
O:
Yes it was a good game. I know at least 10 RCI people who went to see the game, team members from Vineland and from corporate.
O:
If you could select a theme song for your life, what would it be?
N:
Dolly Parton, "Working 9 to 5". Mostly because it is a very busy time right now at Love Home Swap. More often than not, I am working outside of the office at home.
O:
You seem to really enjoy what you do. Tell me about a favorite Customer Obsession moment.
N:
Oh I have many over the years, but more recently there was a lovely story of an English couple who lived in Australia for a long period of time who were considering moving back to the UK. And in the UK there was a couple who wanted to live in Australia but they wanted to see what it would be like first. Our team arranged for the two couples to exchange homes for six months. They both loved it, and they were able to find exactly what they wanted through their swap experience.
O:
Speaking about travel, I'm curious, what is your dream destination?
N:
Dubai, mostly because I'd love to witness the extravagance and beauty
O:
Wow. When you visit, please email me. I can share some great travel tips as I lived over there for three years. Funny, had we crossed paths back then, we could have swapped our apartments. You in Dubai and me in Cork.
N:
That would have been great, why not spend your vacation in Cork!
O:
Brilliant! You know you are a go-getter — you went from RCI to Love Home Swap. What inspired you to make this transition?
N:
It was something so new. It was a challenge. I'm good at sales, and this role was very sales-focused at the time so it ended up being very easy for me.
O:
Really great that you stepped out of your comfort zone! I know you have to go soon, do you have any questions for me?
N:
What has your transition into your role been like?
O:
Good question. When I arrived, the Chariman asked me to go slow for the first 90 days. Of course I managed to squeeze 90 days into a couple of weeks. I moved very fast, very soon. RCI is a people-driven company, so for me the transition was easier than expected since I come from Hospitality, which helped because you have to love people. It is so important to me to focus on our people. I want to hear from you, what you have to say about the business and your ideas. We quickly worked on and launched the Spark initiatives to reignite RCI. I'm sure you have heard about our acquisition of Alliance. This has enhanced our value and opened the door to new lines of business, outside of the timeshare world and more B2B. Fiona Downing, RCI's Sr. Vice President, Development & Operations, will begin road shows to explain the vision and strategy. Just last week, I shared our bi-monthly strategy and brand progress updates to explain our plan and path ahead after the acquisition.
N:
Thank you for that detail. Putting you on the spot and switching to Love Home Swap. Which concept, RCI or Love Home Swap, do you find better for the future?
O:
I think we did some damage to Love Home Swap. We tried to make it too corporate, we took away some of the start-up DNA and mindset. It is time to reinvest time and money to put back into the business as a standalone in terms of management, leadership, creativity, and mindset. It needs to get back to its roots of being a start-up. We are working on this, very hard. Now that we have gotten through the acquisition and are executing on our key areas of focus, Love Home Swap is now a top three priority. Now one last question from me. What do you love the most about your job?
N:
The satisfaction. I love that the entire time that I have been here, I have never once not wanted to come to the office. I am very pleased with that — with how much I enjoy my job!
O:
Yes, I sense your incredible passion! Let's swap our favorite quotes. What is yours?
N:
"Maybe it's not a mistake, just a lessoned learned."
O:
Mine is, "walls of bricks are here to show you how hard you want this to happen." This is from a guy called Randy Pausch. If you have time one day, take a box of Kleenex and watch his last lecture. It is an amazing video, full of hope and joy.
O:
This has been so enjoyable, Nora, truly. Thank you so much!
N:
And, thank you so much Olivier
What an interesting, and delightful conversation that I enjoyed with Nora. She is a wealth of knowledge about our business and her ideas are right in-line with trends that we are seeing in the Hospitality industry. I look forward to hearing more from Nora, and so many of you, who have a fresh perspective and forward-thinking solutions or ways to add value to our business. We want to leverage the talented experts and visionaries — YOU — that we work alongside every day!