---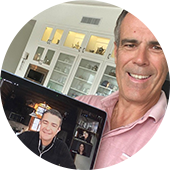 Pedro is based in Denver, Colorado, in the U.S., and joined the ARN team in January 2020 after almost 13 years of a successful career at Expedia. In his current role, he oversees the TripAuthority product, ensuring proper supply partnerships, supply aggregation strategy, UX/UI optimization, Customer Service processes, Business Development, and enhancements to the TripAuthority platform.
– Olivier Chavy, President of Panorama
---
Olivier:
Thanks so much for taking the time to chat with me! You are still pretty new to ARN, joining in January of 2020. What have you learned lately about yourself during the pandemic?
Pedro:
I always thought of myself as being resilient — but it's hard to really know that until you've been tested. Now that we've been going through this and working extra hard, dealing with a lot of stressful things, you realize you really are resilient.
O:
How do you stay connected with your colleagues or other teams at work?
P:
So I've been based out of my home for a very long time. I've been a remote employee longer than I've been an office employee. Pre-Covid it was more just on the phone versus video chats. But we're on Skype all of the time — and I'm finally connected to the RCI team on Microsoft Teams. I do miss in-person and the casual conversations in the office — they lead to great discussions and innovation. I think most of all I miss meeting with customers and clients in person during this time — it's always so valuable to meet in a room with them with your white board, really planning and developing solutions, and learning about what they want — it's so valuable.
O:
What are three words your colleagues would use to describe you?
P:
Problem-solver, driven, and analytical.
O:
I smiled when I read this about you! You have a chocolate lab, and guinea pig and a rabbit?
P:
Trust me, I didn't pick it - LOL. My kids just love rodents! I was born and raised in Guatemala — and we didn't have guinea pigs as pets. But here in the U.S. they seem more popular. My 12 -year-old wanted a guinea pig, her name is Daisy. And my wife also had one when she was little. The rabbit and the guinea pig live in the house in cages — but we let them out so they can hang out and sit with the kids, almost like a cat!
O:
What is your dream vacation?
P:
Probably visiting all of Spain with the family — the other option is renting a cottage in a village in Scotland somewhere and drinking whiskey. If it were just me, I would take my bike and ride all over Portugal!
O:
So yes, I heard you enjoy biking — that is also one of my passions. Tell me about that!
P:
I primarily do mountain biking now — but I've done it all. I've raced, road and cyclocross, BMX, competed in downhill, cross country, enduro, and marathon mountain biking. I've been on two wheels since I was two years old! I've been surrounded by motorcycles since I was born, with my dad competing in Trials and my grandfather riding up to Alaska on his BMW every summer.
O:
If you were stranded on a deserted island for three months, what three items you would you take with you?
P:
A machete, a fire starter, and a satellite phone!
O:
Tell me something about you that nobody knows?
P:
So some people may know, but one time I was the mascot — Elsie the Cow — in a Borden Dairy milk commercial! My brother-in-law was producing it and he needed someone inside the costume.
O:
If you were president of ARN or Panorama, what would be your first decision?
P:
I think this is on the roadmap, but because of all the growth initiatives we're going to be working on over the next few months, we have to align brands, capabilities, and functions to be sure we achieve them, as well as communicate roles and responsibilities very clearly. I'd try to focus on how we streamline the resources to ensure we can fulfill all of the growth initiatives and make things efficient.
O:
Do you have any questions for me?
P:
How are you feeling about the next six months?
O:
So I'm feeling really good. If we don't have a second lockdown and continue to have a decent ramp up and recovery, I think the next six months could be a game changer for Panorama.
P:
At your level you get pitched a lot of ideas that seem to be game changers – but how do you sort through them all to identify the meaningful ones?
O:
Very good question — I think my job is to be looking 18 months ahead of everyone else, and to see what projects could bring us incremental revenue, but more importantly those that can build upon our strong foundation to make us even more ambitious — and complement our existing foundation.