---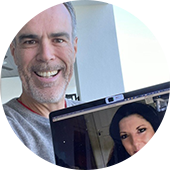 Sueanne is responsible for managing the desktop support team in the region. She has also served as the region's qualified Mental Health First Aider since late 2017, and was the joint winner of the 2020 Regional Rapid Responsiveness Award for EME.
– Olivier Chavy, President of Panorama
---
Olivier:
Hi Sueanne! So I was reading a little bit about you, and I've been looking forward to speaking with you. First, you've done something I would NEVER be able to do — jumping from a plane!? And not once, but twice?
Sueanne:
I am insane! Lol. But it's not as daunting a second time. The first time is all about the new experience and you don't really get to enjoy it. The second time was even better because I knew what to expect! I did both of my jumps over the Great Barrier Reef in Australia and it was just amazing — and I would do it a third and a fourth time!
O:
And traveling is a big part of your life, so 2020 must have been a bit frustrating?
S:
So, I was very blessed actually — I turned 40 in Feb. 2020, and I was able to travel to San Francisco for a trip — we also spent a week in Napa. The moment I returned to Ireland, we were on lockdown. It's definitely torture not being able to travel — but as soon as the world opens, I will be traveling again!
O:
What is your dream vacation or next vacation you'd like to take?
S:
Has to be South Africa — would love to do a safari.
O:
Tell me a bit about your role with RCI?
S:
I'll celebrate 21 years with the company this year (I started when I was 12 J). I began working part-time for Sentinel Card Services (sister company many years ago) while studying IT in college. I worked there for a year, and then left on my J-1 Visa to travel to Boston, MA, USA, and then returned to the organization. I started as a service desk analyst, then desktop, compliance, and finally into a global role last year. Recently, I returned in-house to become the Desktop Team Lead for EME.
O:
What have you learned about yourself over the past year?
S:
Over the past few years, I've learned that nothing is impossible! The biggest obstacle I find is doubting your ability. In 2020, we learned there is no limit to what we can do as a team. Like everywhere else, we had to face the reality of a work-from-home solution – and we weren't ready for it — but we got our users working remotely. Resilience is really something we've had to call upon.
O:
How have you stayed engaged with clients and co-workers while working virtually?
S:
We have many daily calls. I also work out at lunch time with my colleagues virtually every day! Coffee and chats, 1:1 meetings, and occasionally we make time for virtual drinks on Zoom after work to stay connected.
O:
What are three words your colleagues would use to describe you?
S:
Kind, empathetic, and strong.
O:
And tell me about your time in the Irish Volunteer Army — that's very cool!
S:
I wasn't much of a disciplined child – so I joined when I was 16. I was there for 4 to 5 years and ranked Corporal. I learned so much, and it really grounded me — it was a phenomenal experience.
O:
Tell me something about you that nobody knows?
S:
I am an open book — everyone knows everything!
O:
If you could select one song as your life's theme, what song would it be?
O:
If you were stranded on a deserted island for three months, what three items would you take with you?
S:
Spotify music for sure, because with music you can do anything. It's a complete mood change! I would bring some rum and diet coke — and my pillow that I've had since I was a baby.
O:
If you could spend an evening with one celebrity, who would it be?
S:
Michael Jackson — I loved his music growing up. I went to a concert in 1987 or '88 in Cork,and was just amazed by his talent.
O:
If you were president of Panorama, what would be your first decision?
S:
I would obviously look to invest more in IT because that's the nature of my job — I think we are definitely behind in our technology. There is so much out there that could help support our call center teams to make their jobs a bit easier. I would also invest in our website, and would look to invest in more than just timeshare and broaden our inventory — which obviously we are working on!
O:
What do you like the most about our culture?
S:
Diversity and inclusion. There is no one different and we are all one family. The culture is just amazing, we all work together and we don't judge. People show up for one another — it's a family. I am so proud of that!
O:
Do you have any questions for me?
S:
Psychology is very important in my life. Growing up, there is often someone each of us can refer to as a game changer in life … who was that person for you and why?
O:
Great question. It's not a specific person, but for me it's a specific moment. It was my mom on her death bed…which his sad, but nice because I learned so much on that day. I learned that you don't leave with your assets or things, but you leave with your memories. And I had to wait 54 years to learn about it. And it was a great learning experience. Since then, I spend much more time and energy building up memories and moments versus buying things. This has been a game changer for me. It was one of the gifts she gave me — and it makes me smile.