---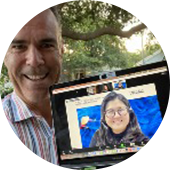 This month I hosted a virtual Coffee & Selfie with Vanessa "Van" Ma David, Senior Operations Manager for RCI in Clark, Philippines. She has been with the company for six months, and is loving her new job! – Olivier Chavy, President of Panorama
---
Olivier:
So nice to meet you. And you've only been with us for 6 months! What made you join our team?
Vanessa:
The location is very near my hometown in Clark. I started working in the call center industry, but I always worked in Manila, which is far away, or other regions. But once the pandemic started, I decided I wanted to go home after being away for almost 15 years. So I was very fortunate to find this opportunity so close to home!
When I learned that the role had to do with travel and servicing our members, it definitely fit because I love traveling so much. I started traveling a lot in 2006.
O:
What do you like most about your new role?
V:
I think I mostly enjoy positively influencing our members and associates.
Not all Filipino people are privileged in traveling like I have been, so I'm fortunate to be able to share my travel experiences and help educate our team. Maybe half of our team have actually traveled, and it's sometimes a challenge to sell and service our members when you haven't experience travel yourself. So I try to educate and inspire our associates every day.
We all have different talents and skills, but I'm proud that I can bring my experiences to my job.
O:
Where was your last trip?
V:
Europe in December 2019, and I traveled to seven countries and then had to return because of the pandemic. My last destination was in France — to Paris! I think I enjoyed the Netherlands the most. The houses were so wonderful. It was so peaceful.
O:
What is the most adventurous thing you've done while traveling?
V:
Probably skydiving in Sydney, Australia, and bungee jumping from Macau Tower in China!
O:
What have you learned about yourself over the past year?
V:
I think I learned that not everyone is prepared. It's definitely been a wakeup call. I realized during the pandemic that many people needed help. My neighbors were having some challenging situations — I had a lot of groceries stocked up, so I began sharing with my neighbors and grocery shopping for them.
I also learned that there is no limit to kindness — it's about giving away things without expecting anything in return.
O:
While we were all home on lockdown, did you start any new hobbies?
V:
So a little background... I lost my parents in 2018, and realized I needed to make some changes in my life. I started eating healthy and going to the gym. During lockdown, I started playing badminton. And I'm also teaching myself how to swim. And I've lost over 100 pounds!
V:
I have two cats, they're both Persian, and four dogs! A Dalmatian, a Shih Tzu, a Husky, and a Terrier.
O:
How do you have a Husky in the Philippines with the weather?
V:
You definitely have to get creative if you don't have an air conditioner! All you need to do is get an electric fan, with ice in water, and they'll lay in front of it! Lol. I just love him — it doesn't seem to bother the Husky.
O:
What are three words your colleagues would use to describe you?
V:
Funny, organized, and creative.
O:
Where will you go on your next vacation? And where was your last trip?
V:
I would love to go to Iceland! I'd like to also go back to Egypt and Israel. In 2020, I was scheduled to go to Japan, but it was canceled.
O:
If you could select one song as your life's theme, what song would it be?
V:
The reason is this. When my mom passed away because of cancer, everything fell apart. I had to give up working in Manila because I needed to go home to help my family. I couldn't find a job in Clark for maybe five months, and was very discouraged. I had to work at the public markets selling dried fish, and borrowing money from friends.
I finally got a job, and then my dad had a stroke and sadly passed away. After all of that, I had many things to manage personally, so I think that is the perfect song that motivated me to stay strong.
O:
What app or website do you use the most?
V:
I'm not a social media person! But I mostly use LinkedIn — I love to help people to find new jobs.
O:
If you could spend time with a celebrity for an evening, who would it be?
V:
Most likely Bill Gates.
O:
If you were stranded on a desert island, what are three items you would take with you?
V:
A book, sunscreen, and water!
O:
What is the best advice anyone has ever given to you?
V:
It was my lola recently. She is 91 years old. When my parents passed away she took care of me. She told me "Do not forgive someone based on how you feel about them, because you won't be able to heal yourself."
O:
If you were president of Panorama tomorrow, what is your first decision?
V:
I would start a program where associates can trade roles. Some of our associates likely don't understand why certain decisions are made, and I think that would be really helpful. I would also get out of my desk and spend time with my associates and their family members. I love to learn so much about our associates.
O:
Do you have any questions for me?
V:
If you were not President of Panorama, what position would you have for one day?
O:
I would like to be a chef! I love cooking — I learned when I was younger. It's a very difficult job, but if I needed to start a new job I would do that.
V:
If you had a magic wand, what is one thing you would like to change in this world?
O:
Understanding. I would like to break the walls of people not understanding and supporting the beliefs of others.