---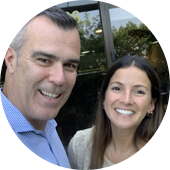 Valentina was a go-getter from the very start of her time at RCI a few years ago. She quickly demonstrated strong abilities in marketing, and the local team has been fortified by her talent and her ability to enhance the development of our digital retention programs. Valentina was recently promoted to Marketing Supervisor for Latin America. She is based in Uruguay, but her impact has been widespread throughout the region. Valentina is incredibly passionate about her work at RCI, and is a member of our Spark Collective team. I hope you will reading about her journey and perspective on life. – OLIVIER CHAVY, PRESIDENT, RCI
---
Olivier:
Hi Valentina! Glad to be sharing your story. I really like this question because it helps us get to know you. Tell me something about you that nobody knows?
Valentina:
I used to be a singer.
O:
Wow! Be careful, we have a special event later this week, we might have to pull you on stage to sing for us!
V:
I actually found it be more stressful than enjoyable. In fact I quit my first job because I wanted to get my college degree and because I had an opportunity to sing once a week at one of the most well-known hotels. I'm sure that you know it – The Conrad Hotel.
O:
Yes I do, Conrad was one of my hotels in my previous life!
V:
It ended up not happening but I did start singing professionally where I performed at events such as company holiday parties. I actually started singing because one of my best friends told me about American Idol auditions that were going to take place in Argentina. She went to the audition but I decided not to try out. However, I was inspired to explore singing as a career for about 7 years.
O:
Good that you explored your first passion. Now for your professional career, I am curious to know what your first decision would be if you become CEO of RCI tomorrow?
V:
I would ensure that we are a step ahead with technology enhancements for the benefit of our members. For example, we use WhatsApp. This is great, and even though we are becoming experts at utilizing it now, truthfully we could have used it two years ago. I also think we can transform how RCI collaborates with partners to create the full vacation experience. RCI needs to be their first option, no matter what type of experience they are planning for.
O:
You are so correct. In fact, that's a major focus for us right now. We are working to become more vertically integrated and will soon take care of our members from home-to-home.
V:
Yes, the way we are moving forward as a company is very exciting.
O:
In three words, how do you think your colleagues would describe you?
V:
I think they would say that I am funny, a dreamer, and an octopus.
V:
Yes. When I was interviewing with RCI, I told them that I can handle multiple projects and responsibilities simultaneously.
O:
That's a good description. I really like that! Where do you see yourself in 10 years?
V:
I would love to be in charge of a new area focused on the customer experience, with two core teams. One focused on analytics and customer insights, and the other team would be focused on implementing enhancements and personalizing the experience for our members. This would be my dream professionally. And, personally, I look forward to starting a family and continuing to be very happy. Always remaining happy is a main objective for me in life.
O:
I agree, and with happiness, it's good to never have regrets. I often share this advice with my loved ones — to never have regrets. I think the worst thing would be to get to the end of life with regrets. If you could only take one thing with you on a deserted island, what would it be?
V:
Other than my family and my husband, I would take a drone. It's strong enough to take me back to my family when I need to have that connection, and then can take me back to the island when I need some alone time.
O:
This is the first time someone has responded with a drone, very smart! By the way, congratulations on your recent promotion! What has been the most rewarding experience so far at RCI?
V:
Learning how to lead a team of talented and amazing people. It's been great empowering them to excel. They have experience that is different from mine, and I've grown professionally in learning from them.
O:
What do you do on the weekends for enjoyment?
V:
I cook a lot. Risotto is my specialty. I love being around my loved ones, riding bikes with my husband through the promenade, and listening to music, of course.
O:
When was the last time that you traveled and where did you go?
V:
It was on our honeymoon, and we went Spain and Croatia. It was really fun!
O:
What is your dream vacation?
V:
Our original honeymoon plan was to go to Asia (Bali, etc.), but due to weather, we decided to change the location. I would love to go to Asia. In June, we are going to London because my sister-in-law will have my second niece, and during that trip we will also go to Albania.
O:
If you could select one song as your life's theme, what song would it be?
V:
I love a band called One Republic, and their song "I Lived" has powerful lyrics. *sings a few lines from the song*
O:
That's really nice, you have a great voice! Tell me about your family.
V:
My brother is in London, he is 33 and, is pursuing a Ph.D. in Economics. I am so proud of him. I have the best parents in the world. They are enjoying this stage in life as grandparents.
O:
Will your parents go with you to London for the birth of your second niece? How often do you speak with them?
V:
Oh yes, they will. I speak with them every single day. I could not live without them.
O:
That's wonderful to hear that you are so close knit. Do you have any questions for me?
V:
I did my homework, and always read your communications that you share. You've had a great career. What impacted your path and who inspired you the most?
O:
I am very much inspired by my kids. 10 years ago I took my youngest son skiing, and now when we go, he surpasses my skiing skills. He goes faster than me. My oldest son is in hospitality in the hotel business. And we are at a stage in life where I learn just as much from him as he does from me. I also was really inspired by working in operations, in the field with clients. I loved exceeding their expectations. I am fortunate to have been inspired by many people within the hospitality industry, and even today, I am still passionate about what I do. One of my greatest enjoyments comes from doing these Coffee and Selfies, where I get the chance to meet so many fascinating people like you. It really is amazing and has made such an impact on me.
V:
That is so wonderful. I agree with you. I am also passionate about what we do here at RCI. And, thank you so much for including me in your Coffee and Selfie series. My last question is, what is a typical day in the life of Olivier Chavy?
O:
I never go to bed at night with email in my inbox. It is very important to me to stay connected and responsive. I am very much in contact with our global teams around the world, and have meetings or virtual conferences at all times throughout the day. I interact a lot with the great teams around me. I feel like I have the best opportunity in the company because I am able to meet all of the wonderful talent that we have at RCI. That's been a real honor for me. Great questions, and most importantly, I've enjoyed spending time with you.
V:
And thank you so much again Olivier!
Valentina has really excelled within our marketing group in Latin America, and I am so glad to hear all of the positive sentiments regarding her contributions and uplifting nature that she brings to our organization. She is sharp, savvy, and very in-tune with our organization's needs. It is exciting to look forward to what lies ahead in her journey at RCI.