Come experience the splendor of Shenandoah Valley. A paradise for nature-lovers, a treasure trove for history buffs, and an award-winning foodie destination, this valley in Virginia has something for everyone. From breathtaking landscapes and historic downtowns to enchanting natural wonders and cozy vineyards, Shenandoah Valley is your vacation destination for unforgettable memories.
Whatever "peaks" your curiosity, you'll find it somewhere within the bordering Allegheny and Blue Ridge mountains. Tackle your travel bucket list head-on with the 10 best things to do in Shenandoah Valley. Will you cross them all off — or forge your own path?
1. Cruise Scenic Skyline Drive

Enjoy mountaintop views without breaking a sweat. America's famous Skyline Drive is a must-do for your vacation itinerary. Running 105 miles north and south through Shenandoah National Park, the route runs along the crest of the stunning Blue Ridge Mountains. Along the way, scenic overlooks and visitor centers give you and your family plenty of opportunities to stop and explore.
all regular road-crossers on Skyline Drive. While you're cruising down Skyline, make sure to pay a visit to Skyline Caverns — a geological marvel more than 50 million years old. Accessible via guided tour (offered daily), you'll see underground streams, stalactites, stalagmites, and other rare geologic formations. See if you can spot the spiky crystal formations resembling orchid flowers far beneath the surface.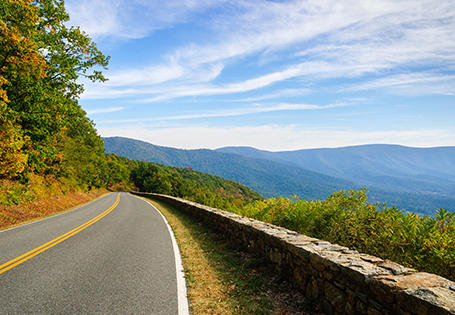 2. Explore Luray Caverns

Speaking of caverns, you'll want to explore the largest caverns in the eastern United States — Luray Caverns. Within a natural wonder of towering stalagmites, stone columns, and limestone chambers with ceilings 10-stories high, immerse yourself in a labyrinth of rock giants and stalactites that feels like another world. More than 400 million years old, the caverns have been open to the public since the 1870s.
Dream Lake, the largest body of water in the caverns, is so clear it creates an optical illusion — the stalactites hanging above it are so clearly reflected in the water's mirror-like surface, that they appear to be stalagmites growing underneath the lake's waters. Deep within this intricate cave complex, the stalactites "sing" with the help of the world's largest musical instrument, the Great Stalacpipe Organ, which gently taps the stalactites, making them vibrate and produce sound. Once you're back above ground, you can enjoy three additional attractions — the Car & Carriage Caravan Museum, Shenandoah Heritage Village, and Toy Town Junction, all included with admission to the caverns.
3. Hike A Shenandoah National Park Trail

With over 500 miles of trails, you can choose your own hiking adventure in Shenandoah National Park. Check out the National Park Service's recommended day hikes for a list of short hikes, long hikes, family-friendly hikes, waterfall hikes, birdwatching hikes, kid-friendly hikes, and even hikes to avoid crowds. Try the popular Rose River Trail, a 4-mile loop to Rose River Falls, one of Shenandoah's most popular waterfalls; or the challenging Whiteoak Canyon Trail, a 9.5 trek that takes you through multiple waterfalls and plunge pools.
Once you've worked up an appetite, savor regional fare and breathtaking views at historic Big Meadows Lodge, located at milepost 51 along the park's Skyline Drive, and enjoy amazing scenery and a delicious dinner on the terrace. Make sure to end the meal with a delicious local favorite — Shenandoah's signature blackberry ice cream pie!
4. Wander Downtown Staunton

No trip to Shenandoah Valley is complete without a visit to the vibrant city of Staunton. Nestled in the heart of the Blue Ridge Mountains, Staunton has all the charm of a historic small town, packed with the arts, museums, and cuisine of a cultural hub. Historic Main Street is lined with plenty of things to do, including shops, galleries, and restaurants.
There's also a thriving performing arts scene, including the American Shakespeare Center and Blackfriars Playhouse, and open-air historical exhibits and reenactments at the Frontier Culture Museum (a living history museum akin to Colonial Williamsburg, but on a smaller scale). Pay a visit to the Woodrow Wilson Presidential Library and Museum — dedicated to the 28th president of the United States, who was born and raised in Staunton; the Antique Fire Engine Museum, home to the oldest motorized fire engine in the world; or the Virginia Scenic Railway, offering twice-daily sightseeing excursions through Shenandoah Valley in the comfort of a restored 1940s passenger car.
5. Admire The Natural Bridge

Within the bounds of the Natural Bridge State Park you'll find the Natural Bridge, a geologic landmark for which the park is named. This 215-foot-tall natural limestone arch is an iconic Shenandoah Valley monument and a National Historic Landmark. The Natural Bridge is a magnificent display of nature and one of America's oldest tourist attractions — it was once owned by the third President of the United States, Thomas Jefferson.
Natural Bridge State Park is home to more than just the Natural Bridge — it also houses beautiful forests and lush meadows, plus views of the surrounding Blue Ridge Mountains. The park is also a gateway to outdoor activities like hiking, biking, kayaking, and scenic sightseeing. Within the park, you'll find Natural Bridge Caverns, perfect for exploring deep underground; and Twisted Trails, an aerial ropes course and zip line adventure, perfect for exploring up in the forest canopy.
6. Sip Local (Adult) Beverages

There are many alcoholic beverages produced in Shenandoah Valley, from beer and wine to cider and even whiskey. For an adults-only good time, sip your way through the valley and sample the best the area has to offer. Visit Halcyon Days Cider Co. and sample cider made from heirloom apple varieties you won't find at your local supermarket, grown on their onsite orchard.
Make your way to Star in the Valley Estate Winery and sip on small-batch wines made with grapes harvested from some of the oldest mountains in the world. Head to Copper Fox Distillery and taste world-class whiskey distilled onsite and hand-crafted with locally sourced ingredients. Visit Brothers Craft Brewing and learn all about the brewing and bottling process during an immersive craft beer tasting and tour. Just make sure to sample responsibly and have a designated driver to ready escort you back to your resort.
7. Hunt For Shenandoah Treasures

The Shenandoah Valley is full of small towns and villages, and you'll find many an antique store or artisan shop full of treasures, selling collectibles, handcrafted items, and other diamonds in the rough. At Clementine Vintage, a delightful Shenandoah Valley shop full of new and pre-loved items, search for antique steamer trunks, repurposed furniture, kitchenware, jewelry, and trinkets galore.
Visit Massanutten Country Corner, a roadside artisan outpost, where country charm abounds and handcrafted gifts are the name of the game — plus farm-fresh produce, meats, dairy, and more. Explore a wide variety of items from dozens of local vendors at the Shenandoah Heritage Market — the area's largest country market — and find treasures from Civil War memorabilia and Amish-made furniture to handcrafted quilts and homemade fudge. For a shop-'til-you-drop experience, wander the 135,000-square-foot Factory Antique Mall, aka the ultimate treasure trove of vintage furniture and other collectibles (it's the largest antique mall in the U.S.).
8. Stroll The Fields At White Oak Lavender Farm

Experience the beauty of White Oak Lavender Farm, a family-owned and operated agrotourism venture that began in 2008. In addition to growing over 8,000 lavender plants, the farm is also home to a small vineyard, and the wine they produce is infused with different varieties of lavender, making for a deliciously unique sipping experience.
Do a self or guided tour of the farm's Discovery Area, which is where you'll find interactive gardens, farm animals, a distillery, drying barn, and small pond — the lavender is u-pick, and they offer seasonal classes for making lavender wreaths and wands. Visit the farm's gift shop and browse an array of delightful treats and gifts, from ice cream and wine to farm-produced essential oils and soaps. Make sure to pop into the Purple WOLF Tasting Room (WOLF is an acronym for the farm's name), where you can sample their 13 varieties of lavender-infused wine, produced with their own varietals.
9. Indulge In Some Delicious Route 11 Potato Chips

A favorite among locals and visitors, Route 11 Potato Chips is a Shenandoah Valley staple. Route 11 prides itself on crafting exceptional chips using small batches of "unhurried potatoes" — their trademarked motto. Their factory also implements sustainable practices like donating potato peelings to feed local cattle. Choose from a variety of delicious chips — think classic flavors like "Lightly Salted" and "Sweet Potato" plus creative delights like "Chesapeake Crab" and "Mama Zuma's Revenge."
Their Shenandoah Valley factory is open to the public every day except Sunday, and you can watch the chip-making process through glass windows in the factory's viewing area. Sample the different varieties of chips while you watch — they're so delicious, no doubt you'll end up bringing a case or two with you when you leave! Make sure to pick up some Route 11 flair from the gift shop before you go, so you can look as cool as the locals do.
10. Sample Delicious Local Cuisine

Experience a taste of Shenandoah with every bite. Skip the chain restaurants and treat yourself to fresh, local flavors for every meal of the day, plus a few snacks in between. For breakfast, visit Cinnamon Bear Bakery & Deli and try some of their fresh, house-made cinnamon rolls or other scrumptious pastries; or family-owned L'Dees Pancake House and sample their specialty pancakes in flavors like apple-cinnamon, chunky monkey, turtle, and blueberry-banana.
For lunch, check out Pure Eats and enjoy a burger made with fresh local beef and a milkshake made with ice cream from a local dairy, or Blue Wing Frog for rustic artisanal fare — they make EVERYTHING from scratch, including their salad dressings, condiments, stocks, and breads. For dinner, the Apple House serves up local barbecue with in-house smoked, pulled pork and a view of the Blue Ridge Mountains on the side; and for a fine-dining option, the Local Chop & Grill House serves handcrafted cocktails plus locally sourced ribeye, sirloin, and filet mignon (reservations strongly encouraged).
Where To Stay
These comfortable resorts and hotels in the Shenandoah Valley offer spacious accommodations and proximity to local attractions like the ones above.
Clarion Pointe Harrisonburg — Harrisonburg, Virginia
This comfortable hotel offers hotel-style suites with modern decor and amenities like an outdoor pool, fitness center, and complimentary continental breakfast.
The Summit at Massanutten — Massanutten, Virginia
This RCI Gold Crown resort offers two- and four-bedroom suites with all the comforts of home, plus 12 on-site dining options, a day spa, indoor/outdoor waterpark, two 18-hole golf courses, and more.
Massanutten's Mountainside Villas — McGaheysville, Virginia
This RCI Silver Crown resort features two-bedroom townhouse-style suites with their own private sauna and hot tub, and onsite amenities like a waterpark, swimming pools, hot tubs, sports courts, restaurant, playground, and more.
The Pines — Mt. Jackson, Virginia
This RCI Silver Crown resort offers one-bedroom suites and three-bedroom chalets adjacent to the ski slopes and mountain biking trails of Mt. Jackson, plus amenities like a swimming pool, sauna, and mini-golf.
Senedo Springs — Basye, Virginia
This RCI Silver Crown resort features comfortable one- and two-bedroom suites, plus an onsite sauna and hot tub, with close proximity to popular ski runs and golf courses.
Travel Your Way. Every Day.
RCI is more than exchange, it's a global travel network covering all your vacation needs from end to end. Enjoy up to 60% off 600,000+ hotels around the world, get deals from all major car rental companies, and take advantage of 345,000+ activities, tours, excursions, shows, and More.
When planning your next Shenandoah Valley vacation, RCI has you covered. Get started and learn more about your travel benefits today.