Striking footbridges have been cropping up lately from Singapore to Portland, Oregon, drawing locals and tourists alike. When cars don't factor into the equation, architects can tap all kinds of creative impulses, dreaming up bridges that unfurl like fans or glitter with LED lights. Many also provide one-of-a-kind vantage points, be they of lush forests or historic city centers. In short, these bridges combine the best of form and function.
Henderson Waves Bridge
Singapore
Slinking along from one forested hilltop park to another, Henderson Waves Bridge gets its undulating shape from ribs of steel and yellow balau wood sourced from sustainable farms in Southeast Asia. Bench seating tucked into the curves creates sheltered alcoves for admiring the panorama of trees and city skyline—118 feet above bustling Henderson Road. Stroll the bridge as part of the 3-mile Southern Ridges trail, or turn up after 7 p.m., when the LED lights are blazing.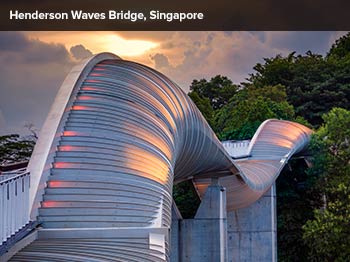 Langkawi SkyBridge
Malaysia
When is a bridge a destination in its own right? When you have to catch a cable-car ride—the world's steepest—just to reach it. That's the case here atop Mount Machinchang, more than 2,000 feet above sea level, where the SkyBridge opened, in 2005 (much of the prefab structure was brought in by helicopter). The cable-stayed bridge bends around a single support pylon, providing a shifting perspective of rain forest, waterfalls and ocean as you cross it. Recent upgrades include a glass-bottomed middle section that's sure to get your adrenaline pumping.
Pedro e Inês Footbridge
Coimbra, Portugal
A zigzag shape gives this bridge a disjointed look, as if the two ends, coming from opposite banks of the Mondego River, won't manage to meet in the middle. And that's fitting given that the 14th-century Portuguese lovers Pedro and Inês were fated not to be together. Jagged pieces of pastel glass cover the balustrades, filtering colored sunlight onto the walkway. The overall effect is to add some modern flair to the well-preserved medieval university town of Coimbra.
Merchant Square Footbridge
London, England
This London bridge cascades with a dazzling grace—five steel beams descend in the manner of a handheld fan being folded. Unveiled in 2014 by Knight Architects, Merchant Square is the latest footbridge with wow factor to open along the Grand Union Canal, in Paddington Basin. (The nearby Rolling Bridge opts to make way for boats by curling up into a ball.) The convenience and visual appeal of these structures is helping enliven the mixed-use neighborhood, where a boutique hotel, a garden and an event space are in the works.
BP Bridge
Millennium Park, Chicago
Millennium Park has become a favorite among Instagrammers, thanks to public art, like Anish Kapoor's reflective bean-shaped Cloud Gate sculpture. And the striking design of Frank Gehry's first-ever bridge rivals these large-scale works. The 925-foot walkway, sheathed with scale-like metal plates, snakes along from the park to the Daley Bicentennial Plaza. Not only is it a convenient way to rise above traffic-clogged Columbus Drive while delivering city skyline and lakefront views, but it also muffles the noise from cars below.
Tilikum Crossing
Portland, Oregon
Portland's first new bridge in 40 years makes room for foot traffic, bikes, light-rail trains, buses, streetcars … all modes of transport except cars. Tilikum means "people" in the local Chinook language, and the structure links two former industrial neighborhoods where Portlanders increasingly choose to live and hang out (the South Waterfront and Central Eastside). Yet it also pays tribute to nature. The white cables' angles mimic the outline of Mount Hood, and osprey-nesting poles await at both ends. The LED lighting even changes according to the Willamette River's temperature, height and speed.
Webb Bridge
Melbourne, Australia
Local artist Robert Owen and architects Denton Corker Marshall came up with a web-like design inspired by aboriginal fishing traps and baskets. They incorporated elements of the original rail bridge to create this updated version, across the Yarra River in Melbourne's burgeoning Docklands area. (Take a breather at one of WTC Wharf's alfresco riverfront restaurants.) Since its 2004 debut, Webb Bridge has attracted pedestrians, cyclists and the occasional wedding party posing for photos within the bridge's cocoon.
Capilano Suspension Bridge
Vancouver, Canada
The bridge, suspended over Capilano Canyon, just north of Vancouver, dates from 1889 and was constructed simply of hemp rope and cedar planks. If vertigo starts to set in as you walk the 450-foot-long, 230-foot-high span, take heart from the knowledge that steel cables embedded in concrete now shore it up. Besides, it's a well-trod path taken by many of the 700,000-plus folks who visit the park annually. Other, more recent attractions include the glass-bottomed CliffWalk and Treetops Adventure, a series of viewing platforms amid old-growth trees.
Puente de la Mujer
Buenos Aires, Argentina
For his first project in Latin America, Spanish starchitect Santiago Calatrava modeled a bridge on the silhouette of a couple in a tango lunge. But making that connection takes a stretch of the imagination; at first glance it's more likely to bring to mind a harp. Still, Puente de la Mujer (Bridge of the Woman) became an instant icon when it opened, in 2001. It also fit right in with the revitalized Puerto Madero neighborhood, where the streets are named for notable women and stylish porteños come to play at night, when the white bridge is illuminated.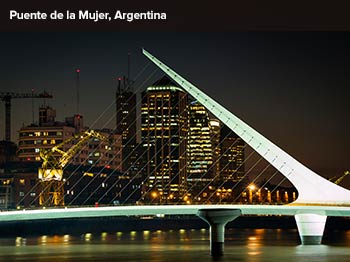 Moses Bridge
Halsteren, Netherlands
Much like its biblical namesake, this bridge parts the water—specifically, the moat leading up to Fort de Roovere, one of a series of 17th-century fortresses in the southwest Netherlands. Moses Bridge grants access to the historic site while creating an optical illusion that appears to preserve the traditional purpose of a moat: hindering enemy access. (The span, which is even with the water, effectively vanishes when seen from a distance; head on it looks like a narrow trench.) Dutch firm RO&AD used a nontoxic coating to waterproof the wood and installed pumps to prevent any flooding of biblical proportions.
NOTE: Information may have changed since publication. Please confirm key details before planning your trip.