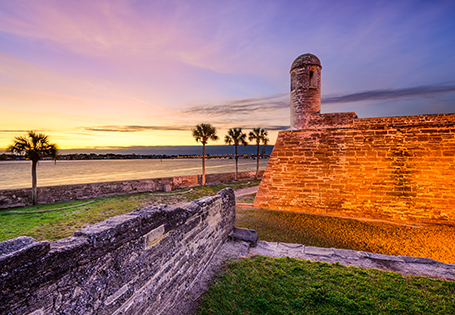 If you'll be traveling near one of the 423 national park sites across the country in August or September, take advantage of these entrance fee–free dates in 2022: August 4 (anniversary of the Great American Outdoors Act) and September 24 (National Public Lands Day). What can you do at a national park? All the typical activities, of course, like hiking, biking, fishing, swimming, and boating. But with so many different National Park Service sites — like seashores, scenic rivers, forests, and historic sites — you might be surprised to discover some I-didn't-know-you-could-do-that activities.
1. Dig Into Hands-On History Lessons At Castillo de San Marcos National Monument In Florida
As the oldest masonry fort in the continental U.S., Castillo de San Marcos showcases the coquina-stone fort, a historic site built between 1672 and 1695. Designed to protect the city of St. Augustine from invading British troops, the fort is sprawled over 320 acres of waterfront property along Matanzas Bay. Witness living history reenactments on the fort's gundeck as park rangers in period dress fire muskets or cannons. Explore the Spanish guard rooms, artillery quarters, and chapel. Tour bomb-proof military rooms that once housed cannonballs, gunpowder, and weapons.
2. Try Stargazing At Craters Of The Moon National Monument And Preserve In Idaho
Designated an International Dark Sky Park in 2017, Craters Of The Moon offers extraordinary viewing of starry nights. Join in seasonal Star Parties (held each spring and fall) with telescopes and sky-viewing expertise provided by the Idaho Falls Astronomical Society. Or take advantage of summer's natural lightscape by going on a ranger-led full-moon hike. Created by a volcanic eruption roughly 2,000 years ago, this National Park Service site sits on lava fields, allowing you to explore mini-volcanoes, lava tubes, and cinder cones.
3. Play Archaeologist At Chaco Culture National Historic Park In New Mexico
Get an up-close peek into ancestral Puebloan tribal culture at Chaco Culture National Historic Park, a UNESCO World Heritage Site that showcases Puebloan engineering marvels and ancient historic sites. Stop at the museum to glimpse artifacts and exhibits about the people who lived here between 850 and 1250 A.D., then take a tour, meander the hiking and biking trails, or sit in on an evening campfire talk. Join a ranger-led walk of Pueblo Bonito or take a self-guided tour of six major sites located along the nine-mile Canyon Loop Drive, including Casa Rinconada, Chetro Ketl, Hungo Pavi, Pueblo del Arroyo, and Una Vida.
4. Go Spelunking At Mammoth Cave National Park In Kentucky
Escape the summer heat with a journey into the cool caverns of the world's longest known cave system. Set against the backdrop of rolling hills and deep river valleys, Mammoth Cave National Park offers an array of underground guided tours, from the Domes & Dripstones Tour (think stalactites and stalagmites) to historic tours and exploring-by-lantern adventures. Depending on the season, cave temperatures can range from 54 degrees Fahrenheit in the deep caves to more than 90 degrees near the entrance. This UNESCO World Heritage Site and International Biosphere Reserve invites you to explore thousands of years of human history and biodiversity.