Few things are more relaxing than a warm-weather visit to a quintessential lake town. From serene shores to picturesque views, there are hidden gems to be found throughout the U.S. and Canada. Not only are these towns right on the shores of some of the countries' most beautiful lakes, but they promise plenty of fun even out of the sun with delicious restaurants, a variety of shops, entertainment, and so much more on your next lake vacation with RCI.
1. Lake Dillon, Colorado
Among Colorado's renowned ski runs and majestic mountains, you'll find Lake Dillon. This large, freshwater reservoir invites visitors to take advantage of seemingly endless outdoor adventure plus a thriving arts and shopping scene.
2. Niagara-On-The-Lake, Ontario
In Canada's wine country, Niagara-on-the-Lake offers the charm and history of a 19th-century village. From whitewater rafting and horseback riding to winery sips and historic sites, this area brings together a mix of charming and modern touches for a vacation to remember.
"My wife and I celebrated our 35th wedding anniversary in the Niagara region in Canada. We stayed five nights at the Hilton Garden Inn on York Road through RCI. We toured the wineries, shopping mall, Niagara Falls, and Niagara-on-the-Lake. The inn was comfortable and clean, and the staff was wonderful." —Tim, Hilton Garden Inn Niagara-on-the-Lake #RM70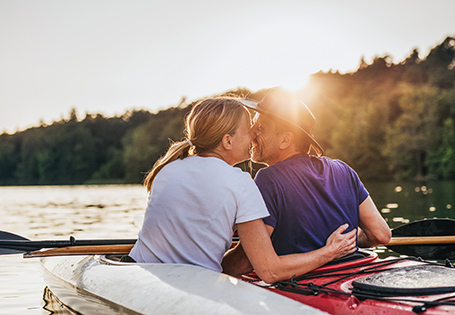 3. Lake Chelan, Washington
Head through the Cascades to the bold blue waters of Lake Chelan, known for its average 300 days of yearly sunshine. Enjoy endless water sport options including kokanee fishing and water skiing, plus low-key wineries growing more than 20 types of grapes.
4. Lake Placid, New York
Take in views of the Adirondacks on a visit to Olympic-famous Lake Placid. With great hiking spots, world-class alpine skiing, and endless biking trails, this sky-high locale offers a great mix of athletics and R&R (that is rest and relaxation!) for the ultimate getaway.
"Traveled to Lake Placid to celebrate our 40-year wedding anniversary. Great time in a very nice little villa and walking distance to Lake Placid. We hiked various peaks and shared a glass of wine on top of Indian Head Mountain." — Dennis & Laura, Lake Placid Club Ledges #0326
5. Hot Springs, Arkansas
Jump into the 143-degree, mineral-rich waters in Hot Springs, Arkansas. Known for once hosting visits from Babe Ruth and Al Capone, Hot Springs is famous for its horse racing, mountain biking, and close proximity to Lake Hamilton, a favorite among large-mouth bass fishermen.
6. Breezy Point, Minnesota
Explore the beauty of the Northwoods with a stay on the shores of crystal-clear Pelican Lake. If you're looking for a four-season hideaway, Breezy Point is the perfect setting to get away from the hustle and bustle of everyday life. Planning a summer trip? Keep an eye out for the lake's namesake, the American white pelican, with its massive 9-foot wingspan.
"My husband and I drove from Colorado to Breezy Point Timeshare in Minnesota. We relaxed, did some kayaking and water walking, and tried the paddleboats. We went to Crow Wing State Park and saw some beautiful mine lakes, hiked around, and had a picnic. We tried several breweries and enjoyed a variety of craft beers. Our favorite was an oatmeal cookie beer from Jack Pine — delicious!" — Rebecca, Breezy Point Timeshare #5542