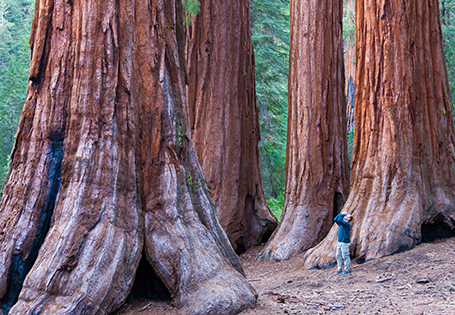 Yosemite National Park is an astonishing marvel, an other-worldly landscape that has infatuated visitors for more than a century. Whether you visit in spring, summer, fall, or winter, this majestic national park, one of the historic wonders of Northern California, will capture your heart with its brilliant natural beauty.
Originally inhabited by Native Americans, the region was discovered by European explorers in the mid-1800s. Concerned that development might ruin the pristine beauty of the area, naturalist John Muir and a group of influential Californians persuaded Abraham Lincoln to grant Yosemite Valley and the Mariposa Grove to the state as public land. Eventually this parcel and another 1,500 acres would become Yosemite National Park. Today the park has grown to nearly 750,000 acres, of which 94% is designated as wilderness.
Start your visit in the heart of the park, Yosemite Valley. Roughly seven miles long and a mile wide, it features granite walls rising up in every direction, waterfalls splashing over sky-high cliffs, and lush, fertile landscape on the valley floor. At Yosemite National Park Museum, gain a historical overview of the park and learn more about John Muir, who once said, "Everyone needs beauty as well as bread, places to play in and pray in." Muir convinced Theodore Roosevelt to expand the park in 1903, thereby preserving its natural beauty for generations to come.
Many people think of El Capitan when they picture Yosemite National Park, and indeed the 3,000-foot granite monolith that rises up from the valley is awe-inspiring. If you're lucky, you'll see climbers making their way up the sheer rock face.
For those who prefer to keep their feet on the ground, plan to hike on one of the many beautiful trails that abound in the park. Many say the prettiest hikes are in the northern half of the park around the Tuolumne River and the surrounding meadows. Down in the valley, Glacier Point Trail is a popular trek. Casual hikers often choose to take the bus to the overlook on top, where you can view a moonscape-like vista and Half Dome, another iconic rock formation. After you take in the view, descend back down to the valley at a leisurely pace. (Note: Glacier Point Road is closed for repairs in 2022, so hiking the 9.6-mile trail roundtrip is the only way to get to Glacier Point.)
Don't miss exploring the ancient sequoias in the Mariposa Grove near the southern entrance to the park. Some are two thousand years old! Many have names and colorful histories to match — the Grizzly Giant, General Sherman, the Fallen Monarch, and the Clothespin Tree are just a few examples. Look for the tree named after Galen Clark, an early park supporter, who helped maintain the integrity of the giant sequoia grove.
Combine your visit to Yosemite with a few days in nearby Tuolumne County, which hugs the northwestern border of Yosemite National Park. It's where much of the 1849 California Gold Rush occurred, and strike-it-rich stories abound in the county's gold-mining towns. Don't miss Railtown 1897 State Historic Park in Jamestown, where you can ride behind a historic steam or diesel locomotive for a 45-minute train ride through the heart of California's scenic Gold Country.
In nearby Columbia State Historic Park, you can step back in time to a real Gold Rush town. It looks like a movie set, but in fact the whole town is authentic. On Main Street, old-timey businesses — still in operation — include a mercantile store, book shop, bakery, saddlery, and candy store. In summer stagecoach rides are available, as well as family activities like panning for gold, music, and storytelling.
For more information and current updates about Yosemite National Park, visit nps.gov/yose. Advance reservations are required to visit or drive through the park during peak seasons and travel times, so plan ahead. For information about Tuolumne County and California's scenic Gold Country, visit visittuolumne.com.