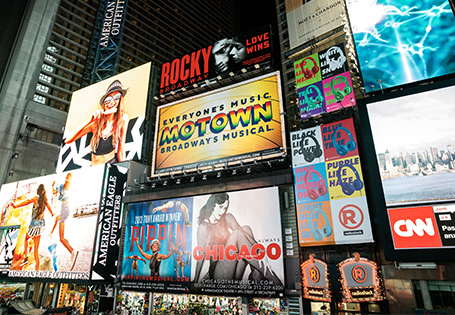 There is nothing like the experience of seeing live entertainment on stage. Finding your seats in a giant auditorium, waiting for the lights to dim, watching the curtain slowly rise, and feeling the tingle of electricity in the dark as you wait for the signal that the show is about to start. It's an awe-inspiring experience beloved by many, and is one of the most fun things to do on vacation.
Whether you're watching live music, a stage production, a variety show, or something else entirely, live performances always outdo the pre-recorded versions of themselves. There's a major difference between seeing it on a screen and seeing it in person, and the latter is always superior. Most metropolitan areas have theaters that host live productions, and those productions are usually well-worth seeing. Next time you're on vacation, check out options for live entertainment in your area. Your inner muse will thank you for such an entertaining vacation activity.
Broadway Musicals — The Show Must Go On
No doubt you've seen the classic 1960s film West Side Story, and you probably streamed Hamilton on Disney+ during the Covid-19 shutdown. Maybe you've seen the Hollywood versions of Chicago, Phantom of the Opera, Les Misérables, Rent, or even Cats. There are movie versions of nearly every major Broadway play, and yet millions of people worldwide haven't experienced the live versions of these classic stories. Watching a Broadway musical live, in New York City, is an experience not to be missed, and is an amazing vacation activity when you're visiting the Big Apple.
Stunning backdrops, intricate costumes, and amazing vocal talent are hallmarks of Broadway shows, and when you watch one live, in person, you can truly feel the emotion in the room. You'll cry watching Maria's heart breaking as her beloved Tony is killed, or get a chill as you watch the Phantom skulk about the shadows of the theatre watching Christine. A Broadway production is the experience of a lifetime, whether you're on the mezzanine or front and center in the atrium. And you don't actually have to be in New York to see one — some of the most popular Broadway productions actually tour major metropolitan areas. Whether you see it in NYC or Chicago or anywhere else, you won't be sorry you splurged on the big show.
Cirque du Soleil — The Circus Of The Sun
If you can dream it, they can do it. The sky is the limit for Cirque du Soleil, the world-renowned producer of the world's largest contemporary circus. From amazing aerials and jaw-dropping acrobatics to acts of daring and the occasional fire juggler, you'll be in awe as you watch highly-trained performers accomplish seemingly impossible feats time and time again. From its humble beginnings in the early 1980s in Canada to its present status as a world-wide sensation, Cirque du Soleil has come a long way. Initial productions took place under the "grand chapiteau," or big top, like a traditional circus, but there is nothing else traditional about it.
Cirque eventually evolved into also offering permanent shows, establishing Mystère at Treasure Island in Las Vegas in 1993 (which has been running five nights a week ever since). Today, the Circus of the Sun has 10 active permanent shows (six in Las Vegas and individual shows in Riviera Maya, Mexico; Hangzhou, China; New York City; and Lake Buena Vista, Florida) and nine that are continuously on tour (including five in the grand chapiteau). Their newest production, Mad Apple, premiered at New York-New York Hotel and Casino in Las Vegas in May 2022, and has already been the toast of the town. Featuring unique elements like an onstage bar, stand-up comedy, a trampoline slam-dunk contest, and an aerial acrobat who is suspended by her hair, Mad Apple (like all Cirque du Soleil productions) will not disappoint.
Blue Man Group — They'll Rock Your World, Blow Your Mind, And Unleash Your Spirit
Who are these three men, why are they painted blue, and why don't they speak? These are questions asked by many, but remain unanswered. Blue Man Group are widely-known for their bizarrely-spectacular live performances on stage, incorporating music, art, and dance, as well as a wide variety of props and instruments (including lots of splatter paint). They're unique, they're mysterious, and they come in groups of three (always mute, always blue). They create outlandish instruments out of PVC pipe and other oddities, they drum on EVERYTHING, and they utilize a peculiar combination of drumming and paint to create vibrant explosions of color.
Blue Man Group started with three blue guys in New York City, and after skyrocketing to fame, have expanded into a troupe of more than 70 blue men worldwide (still always performing exclusively in groups of three), splashing more than 18,000 buckets of paint each year in their permanent shows. The company has ongoing shows in New York City, Las Vegas, Boston, Chicago, and in Berlin, Germany. Their longest running permanent show has been housed at the Astor Place Theatre in NYC for more than 30 years! On your next vacation to a city with a Blue Man Group show, splurge on tickets to one of their strangely-mesmerizing performances — they really will rock your world, blow your mind, and unleash your spirit! Fun Fact: More than 23,000 drumsticks have been broken during Blue Man Group performances to date.
Disney On Broadway — Making Magic Onstage
Some say the Walt Disney Company has the Midas touch — everything they touch turns to gold. Their live on-stage versions of some of their most-popular movie productions are no exception. The first Disney On Broadway production was Beauty and the Beast, which premiered in 1994 to critical acclaim and widespread success. Beauty and the Beast filled playhouses and sold out shows for 13 years before retiring, and Disney On Broadway's subsequent shows have achieved similar triumphs. If you love a good old-fashioned Disney cartoon, you'll definitely enjoy the On Broadway live action versions of the classic tales.
Current Disney On Broadway shows include stage productions of the Lion King, Aladdin, and Frozen. All three are available for weekly viewing at Disney's permanent home on Broadway in New York City, the New Amsterdam Theatre, as well as on tour throughout major metropolitan areas across the U.S. (with limited international engagements as well). Disney On Broadway also produces Disney On Ice, an ice-capades-style production featuring a plethora of beloved Disney characters on ice skates, and Marvel Universe Live, an epic stage production featuring Marvel superheroes performing daring feats of bravery. The next time you're on vacation, chances are there is a Disney On Broadway production happening somewhere nearby, and it'll definitely be one of the best things to do on vacation.