By Alissa Miller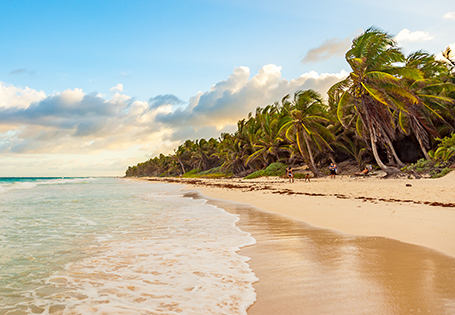 Near the tip of the sunny eastern coast of Mexico's Yucatan Peninsula, just 40 miles south of the party hub of Cancun, lies Playa del Carmen, a pristine hidden gem along the Riviera Maya coastline. It's a cosmopolitan waterfront town known for its stunning beaches, world-class golf, and sustainable ecotourism in abundance. Of all of the ecotours and nature experiences in the area, none are more popular or well-known than Xcaret. Named after the nearby Mayan archaeological site, Grupo Xcaret (the Xcaret Group) has been widely recognized as one of the top tourism groups in the area. As the owner and operator of eight eco-parks, three hotels, and multiple eco-tour groups, you get the whole enchilada with Xcaret.
Hotel Xcaret Resorts: An All-Inclusive Eco-Vision
The original development of the Xcaret Group was designed with sustainable ecotourism at the forefront, and the vision was to create a totally new kind of all-inclusive. With that goal in mind, guests who stay at any Hotel Xcaret resort receive not only all-inclusive food and beverages, but all-inclusive ecotourism as well. Guests have unlimited entry at all eight of Xcaret group's eco-parks, each with a unique theme and incredible options for outdoor adventure beyond anything you've ever dreamed of. Hotel Xcaret resorts are designed to honor the art, nature, and history of Mexico, and their goal is to help you experience a perfect balance of relaxation, sophistication, and fun.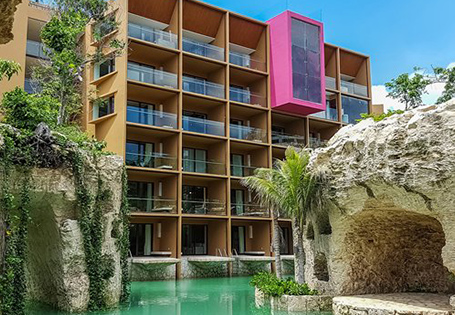 Hotel Xcaret Mexico: Meaningfully Mayan
The Hotel Xcaret Mexico was designed to be a tribute to the culture of the area's ancient Mayan people, as well as to the cultural heritage of Mexico. This dazzling beachfront resort is large (900 suites to be exact), and in addition to the broad spectrum of all-inclusive benefits, features premium amenities like 12 onsite culinary experiences (i.e. high-class restaurants), three deluxe gyms, paddle and tennis courts, an open-space functional training circuit, yoga lessons, meditation sessions, and non-motorized aquatic activities like paddle boarding and kayaking. The onsite Muluk Spa (an exclusive Hotel Xcaret chain) is an eco-integrating operation that bills itself as a "mystical sanctuary," using a fusion of ancient techniques and modern high-quality natural skincare products. The interior decor of Hotel Xcaret Mexico features design pieces that were created by local talent from vulnerable communities, as part of the Xcaret Group's commitment to local social development.
Accommodations: Hotel Xcaret Mexico SPA Section at Mexico Destination Club #DJ09, Hotel Xcaret Mexico Family Section at Mexico Destination Club #DJ08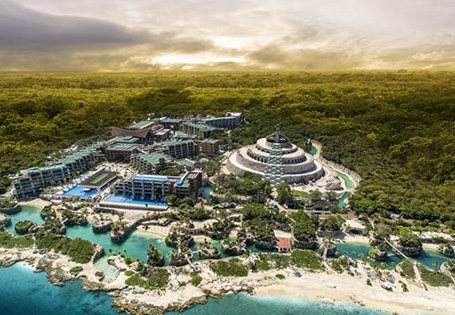 Hotel Xcaret Arte: Artistically Artisan
Like its sister hotel, the Hotel Xcaret Arte is an exquisitely elegant, large beachfront resort offering the same palette of all-inclusive benefits. It is also of similar size to the neighboring Hotel Xcaret Mexico, featuring 900 suites and nine onsite culinary experiences. The design concept of this remarkable resort is a strikingly beautiful fusion of Mexico's nature and art, celebrating Mexico's best artists and artisans with its architecture, decor, workshops, and cuisine. The suites are furnished in a handmade way, with artisan Mexican decor and a variety of locally made organic amenities. Relax at the Muluk Spa, and enjoy a personalized experience designed to curate a total rest for your mind and senses. A unique all-inclusive benefit is the inclusion of five artistic workshops: dancing, pottery, weaving, painting, and literature - all facilitated from a traditional Mexican cultural perspective. Hotel Xcaret Arte is an adults only resort - all guests must be age 16 or older, supporting a naturally quiet, restful atmosphere.
Accommodations: Hotel Xcaret Arte Young Adults #DW30
Xcaret's Eco-Parks: Xclusive, Xciting, and Xcellent
Each of the Xcaret Group's eight eco-parks is distinctly unique - and each offers exclusive, not-to-be-missed attractions and experiences that are sure to delight. From water adventures and wildlife encounters to jungle exploration and cultural experiences, these eight parks are jam-packed with excitement that is sure to leave you thirsty for more. And the added bonus is that as a guest at a Hotel Xcaret resort, transportation to and entrance into each of the following eco-parks is an all-inclusive benefit.
Xcaret
As the premier park of the bunch, Xcaret is the crown jewel and favorite of many. It's an eco-archaeological park, located on the edge of the Mayan jungle facing the Caribbean. Like so many of the Xcaret Group's holdings, this park was created to celebrate Mexico's past and present traditions, culture, and folklore. Although its name, Xcaret, means "small inlet," there is nothing small about it. It is home to more than 50 attractions, offering visitors the opportunity to snorkel in underground rivers, the ocean, a lagoon, natural seawater pools, and cenotes (more on cenotes later). In addition to snorkeling, visitors have the option of parasailing, snuba, and sea-trekking (walking underwater wearing an airtight helmet with an air hose). It is home to a coral reef museum, sea turtle center, butterfly garden, aviary, rainforest trail, and living orchid museum. Guests can see jaguars, manatees, flamingos, spider and black howler monkeys, bats, deer, and tapirs, or swim with dolphins, nurse sharks, and stingrays. Xcaret's cultural experiences are resplendent, including an equestrian show, Mayan village, Hispanic dances, a Mexican folk art museum, traditional Mexican cemetery, and a hacienda. Make sure to take time to watch the Xcaret Mexico Espectacular, a vibrant live Mexican cultural presentation with a cast of more than 300.     
Xel-ha
It's name means "where water is born," which is perfect because Xel-ha is right on the waters of the Caribbean. It's an ideal place to experience the natural beauty of the Riviera Maya with its unsullied jungle landscapes and crystal clear waters. Enjoy 360 degree-views from the top of the 131 foot-tall lighthouse, snorkel in a coastal river filled with mangroves, or hike an exciting jungle trail. Join a river tour group and either float on an inner tube or swim down the river's warm waters to the Cliff of Courage and somehow summon the backbone to free jump from the 16 foot-high cliff into the pristine water. Get an adrenaline rush on the ziplines, high swings, or parallel ropes course. Explore the park's gardens and learn about the fascinating world of the Melipona bee, a native-Mexican species that doesn't have a stinger.
Xplor
This park's name needs no explanation. Visitors to Xplor will get the chance to explore the most-visited zipline park in the world. Soar through the jungle canopy on the area's highest ziplines and see all the beauty of the jungle from up high. Drive an amphibious vehicle through the Mayan jungle down a twisting, turning forest path. Choose to walk, swim, or raft through an underground cave filled with stalactites and stalagmites and be awed by the unusual underground geology. You won't want to miss all the extreme adventure Xplor has to offer.
Xenses
As perhaps the most unusual park of the bunch, Xenses is more of a sensory experience designed to beguile your perception with more than 50 astonishing sensory encounters. Walk through a slanted village and test your sense of balance, explore a variety of different ecosystems under the complete cover of darkness and test your sensory ability, or fly like a bird on a zipline and test your sense of adventure. Each of Xenses' experiences are designed to help open up your senses, in order to relax and reconnect with your inner sense of self. Nothing is quite as it seems at Xenses.  
Xplor Fuego
When the sun goes down, experience the nocturnal adventure of Xplor Fuego - a nighttime jungle exploration experience. The jungle never sleeps, and after nightfall you'll get a rare glimpse of the late-night jungle coming to life. Illuminated by torchlight, glide through the jungle canopy under a starry night's sky on the Riviera Maya's only nighttime ziplines. Drive an amphibious vehicle through hanging bridges and flooded caverns, lit only by the vehicle's headlights. Explore an underground river and experience the spectacular scenery of the massive stalactites and stalagmites. Everything looks different when the sun goes down, and Xplor Fuego is your chance to see it all. Bonus - it includes an all-you-can-eat barbecue ribs buffet.
Xavage
Your savage inner self can come to light at Xavage, featuring one-of-a-kind activities that can't be found elsewhere in the area. Paddle a kayak down the only canals in the Riviera Maya, raft down the area's only whitewater rapids, or take a jet boat ride that performs daring 360 degree-turns. Get behind the wheel and tromp through the park's monster truck circuit of rocky roads, or test your endurance on the many obstacles of the aerial ropes course or horizontal zipline. This park will give you an adrenaline rush for days.   
Xenotes
Xenotes, or more scientifically, cenotes, are sinkholes that have opened up in underground chambers or caves, that contain permanent water. Cenotes are a unique geological phenomenon that are found throughout the world, but the world's largest concentration of cenotes is on the Yucatan Peninsula. Xenotes gives visitors the option to explore four different types of cenotes, for four very different experiences. Descend into the depths of a cenote via assisted rappel, zipline, or cliff jump. Once inside, kayak, swim, or snorkel and explore the underwater depths to experience all the intrigue of these natural wonders.
Xoximilko
Last (but not least) is Xoximilko, a lively floating Mexican party. Drift on calm waters through the Mayan jungle on a picturesque Mexican gondola and once again experience the heart of local culture, folklore, and traditions. Each boat is emceed by a spirited host who's sure to keep you entertained with amusing anecdotes and witty banter, amidst the lively tempo of traditional Mexican music. Dance and sing along with the sounds of mariachi, banda, marimba, jarana, and norteño music, enjoy a wide array of regional Mexican cuisine from different parts of the country, and partake of the boat's open tequila and beer bar. Live it up while you're floating down the river, party-style.