By Daniel Betancourt
If you want to take a break from Orlando and its abundance of theme parks, look no further than Winter Park, Florida.
Chartered in 1887, the city was originally developed as a retreat for those seeking refuge from the frosty northern winter months. With year-round warm temperatures, inviting brick-lined roads, and an abundance of Florida foliage and lakes, Winter Park has made a name for itself as a premier Central Florida vacation destination.
The natural beauty and allure of the area continues to draw visitors to its iconic downtown area today. From former U.S. presidents to American philanthropists and pioneers, historic Winter Park has served as a subtropical paradise for generations of vacationers.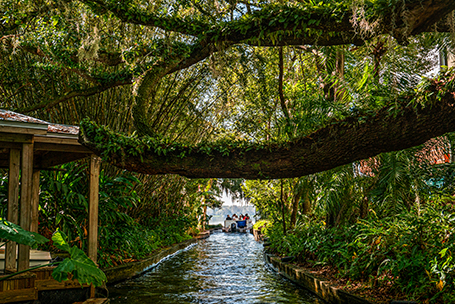 Winter Park Scenic Boat Tour
The Winter Park Scenic Boat Tour has been in continuous operation since 1938 and is one of Central Florida's longest-running attractions. It is also one of the most popular things to do in Winter Park.
The hour-long trip invites passengers to cruise the Winter Park chain of lakes — including Virginia and Osceola — aboard an 18-passenger pontoon boat. Travelers can expect to enjoy stunning views of waterfront homes and estates, Rollins College campus, and Kraft Azalea Garden, just to name a few.
Nature lovers will revel in the natural splendor of the local wildlife and majestic cypress trees. Guided boat tours run hourly every day starting at 10 a.m., with the last boat tour leaving at 4 p.m.
Need a ride from the theme parks to Winter Park? With RCI, you can score deals from all major car rental companies. Head to RCI-Travel.com for more info.
Park Avenue Shopping District
No matter how you choose to spend your day in Winter Park, be sure to explore the vibrant Park Avenue District. Delighting tourists and locals alike since 1887, this eclectic promenade is one of the top Winter Park attractions and a staple of the downtown area.
A mix of locally-owned shops and chain stores offers something for everyone. Hidden gardens, unique eateries, and an abundance of noteworthy wine and coffee bars give way to a perfect afternoon or evening stroll.
Most of the shopping district faces Central Park, an 11-acre, oak-lined public park featuring rose gardens, fountains, and the Winter Park train station. A variety of events and concerts are held in the park throughout the year, including the Sidewalk Art Festival and the Olde Fashioned 4th of July Celebration.
RCI members receive special pricing on 345,000 activities, tours, excursions, shows, and more. See what's possible at RCI-Travel.com.
Winter Park Golf Course
Set aside some time for a nine-hole round of golf at the Winter Park Golf Course, one of the foremost things to do in Winter Park.
Nestled in Winter Park's pleasant neighborhoods, the city's only public golf course is recognized as one of the best short-course experiences in the country. And while the course was built in 1914, it was remodeled in 2016, bringing the course up to par with today's standards.
Golf carts are available for rent, and tee times for the public can be made up to three days in advance.
Save at over 600,000 hotels* — and get a Best Price Guarantee.1 Start searching at RCI-Travel.com.
Farmers' Market & Hannibal Square
Adjacent to Central Park is the old Winter Park train depot which now houses another top Winter Park attraction, the Winter Park Farmers' Market. The impressive brick building is best known for the farmers' market, which is open to the public on most Saturdays. The venue is also a popular place for weddings and events.
Just west of Central Park is Hannibal Square. Officially founded in 1881, Hannibal Square features fine dining options, shopping, and some of the area's top skincare spas and hair salons. It's also home to the Hannibal Square Heritage Center, which pays tribute to the contributions of Winter Park's historic African American community.