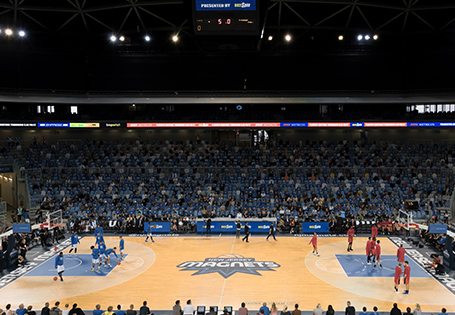 Sports are a favorite pastime of many, whether you're an active participant or an armchair warrior. The sports fans among you have your favorite teams, players, and coaches, for whom you rigorously cheer from the comfort of your sofa. Nothing beats seeing the action live, though, which is why most sports teams have giant stadiums they regularly fill with rabid fans sporting their team's attire and spending tons of moolah on memorabilia.
You may not have thought of this, but watching sports can be a great vacation activity as well. Sports tourism is becoming more and more common, as fans travel to cheer their favorite teams on in person. Just about every major city in the U.S. is home to at least one professional sports team, and often more. Next time you're looking for a fun thing to do on vacation, consider paying a visit to the court, field, diamond, or pitch and rooting for the home team like a local.
Seats On The 50-Yard Line
Professional football is intense and focused, and NFL (National Football League) fans are just as intense and focused as the teams and players they love. Watching an NFL game in person is much more satisfying than seeing it on a screen, complete with commercial breaks and all the interruptions of home. If watching a quarterback sneak or a Hail Mary play is your idea of a perfect Sunday afternoon, consider splurging on 50-yard line seats to a local NFL game on your next vacation. Bonus: Add a beer and a foam finger for the complete experience.
The Bases Are Loaded
Baseball is known as America's pastime, and the MLB (Major League Baseball) has a more than 100-year history of strike outs, home runs, and pop flies. Baseball fans are just as dedicated as football fans, but the baseball diamond tends to be a bit more family-friendly than the football field. If you and the kids or grandkids like hot dogs, hat tricks, and dancing mascots, make time to take in a ball game on your next vacation. Just make sure you're in your seats for the good old seventh inning stretch — it's always a fan favorite.
A Three-Point Buzzer Beater
Basketball is fast, tough, and physical. Many NBA (National Basketball Association) superstars grew up playing street ball on back alley courts, spurred on by determination, grit, and talent. Basketball is a fast sport, and watching a game in person is intense — if you leave your seat for a bathroom break, the score may be 10 points higher when you get back. If the fast pace of basketball is something you love, on your next vacation spring for courtside seats at an NBA game and treat your travel crew to a nailbiter where every basket could change the outcome of the game. Alley-oop!
Love, Game, Set, Match!
Tennis is a game unlike any other, where "love" means zero, and winning a game or two doesn't make you the winner. Tennis is well-mannered and refined (unless your last name is McEnroe), and watching a tennis match is generally something you dress up for. If watching a singles or doubles match where the players duke it out forehand and backhand is up your alley, the U.S. Open, Davis Cup, and even Wimbledon aren't out of reach of your next RCI vacation. It'll take a little advance planning, but it'll be an ace of a vacation activity.
From The Pitch To The Woodwork
Soccer (or football, to anyone from outside the U.S.), enjoys immense world-wide popularity, and is a beloved pastime for millions. On every (populated) continent, you'll find professional teams, leagues, and a host of devoted fans. From Germany's Bundesliga and Spain's LaLiga to England's Premier League and MLS (Major League Soccer) in the U.S., there are many worldwide soccer leagues to choose from. If headers, penalty kicks, and stoppage time make you giddy, no doubt you'll find a soccer shootout happening wherever you travel on your next vacation.