Sunny weather lures us outside, promoting an active lifestyle and providing a natural dose of mood-boosting vitamin D. The downside? Harmful ultraviolet (UV) rays, which are emitted all year long — yes, even during winter! For UV protection, consider these sun safety strategies.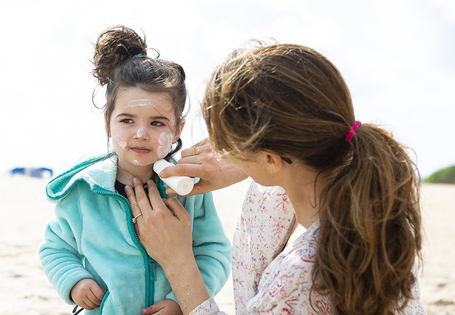 1. Apply Sunscreen
Sunscreens take one of two approaches: mineral or chemical. A mineral formula, often referred to as a physical block, is powered by zinc oxide or titanium dioxide and sits on the skin to bat away rays. A chemical sunscreen is absorbed into the skin, neutralizing damaging rays. There are pros and cons to consider, but the best formula is whichever you will remember to use. Note: Chemical sunscreen has been linked to coral reef deterioration, so if you're headed into the ocean, opt for a reef-friendly mineral formula.
2. Wear Lip Balm
Like other areas of the face, lips are at risk of developing cancer if left bare in the sun. According to sun safety experts, you should look for lip balm with a minimum SPF of 30. Apply regularly year-round, paying special attention to your lower lip, which is naturally more exposed.
3. Don A Hat
A broad-brimmed hat is a critical part of your tool kit to shade your face, neck, and ears. Unlike sunscreen, which requires repeated application, it offers nonstop protection until removed. But don't skip the sunscreen altogether. Experts recommend doubling up for optimum UV protection — hat plus sunscreen — because UV rays bounce off shiny surfaces, like water or snow.
4. Choose Light-Colored Clothing
Light-colored clothing reflects heat, keeping you cool when temperatures climb. Another sun safety tip is to select lightweight fabrics and loose-fitting styles.
Best Sunglasses For Every Vacation Activity
It's common to think of sunglasses as nothing more than eye candy. But in fact they play a critical role in sun safety and supporting eye health. For on-the-go travelers, here are five of the best unisex sunglasses that provide both protection and style.
1. Hiking & Biking
You'll forget you're even wearing shades while breaking a sweat. Zeal Optics' lightweight Incline sunglasses come fitted with rubber inlays on the nose and temple tips to keep them in place. They're also impact-resistant, making them great for outdoor activities.
2. Golfing
Golf is pricey enough without forking over hard-earned coin for the best sunglasses. Hulislem S1 sport frames receive a thumbs-up for durability at a tremendous value. The style guarantees complete UV protection plus a comfy fit.
3. Water Sports
Tree Tribe's floatable bamboo shades let you paddle down the river with zero fear of losing your sunglasses in the water. Bonus: When you snap up a pair of these eco-friendly, polarized sun specs, the company celebrates by planting a tree.
4. Snow Sports
Whether you're snowshoeing up a hill or skiing down a mountain, it's important to shield your eyes from the sun's glare. Oakley's rimless Flight Deck goggles maximize your field of view and feature discreet frame notches that are compatible with most prescription eyewear.
5. Sightseeing
Whoever or wherever you are, Goodr's Wayfarer-style sunglasses are a sun safety classic — a one-and-done pick for traveling. Available in a rainbow of colors, they fit the bill in just about every setting, from city parks to historic landmarks.