By Alissa Miller
If you're into thrill rides, big splashes, and amazing adventures, you're probably somebody who loves to vacation near a park - not the kind with landscaped greenery, but a theme park, water park, or adventure park, that is. Some people prefer to vacation by a pool somewhere sunny, relaxing and not lifting a finger, while others prefer their vacations to be action-packed, on the go, and full of excitement.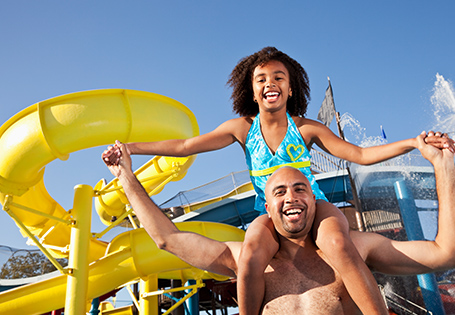 If you're the latter type of vacationer, then it's a safe bet that you've already explored Disneyland®, Six Flags, SeaWorld®, and Universal StudiosTM in all their glory. You might not know this, but there is a whole magical world of parks outside your run-of-the-mill park chains, and some of them are even rated higher than the mouse or Shamu. If you're in the market for a new park experience, these top-rated theme parks, water parks, and adventure parks just might make your vacation dreams come true.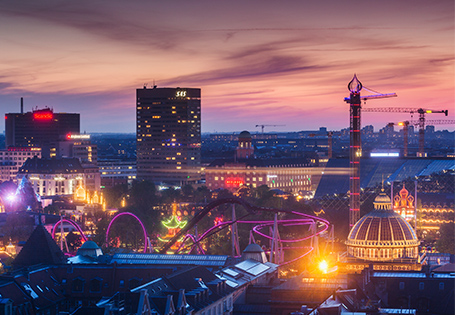 Thoroughly Thrilling Theme Parks
The difference between the old-fashioned amusement park and a modern-day theme park is the theme - it's the theme that makes the park unique, interesting, and worth visiting. You can ride a ferris wheel at any old county fair, but these four world-class theme parks bring themed rides and attractions to a whole new level of hoopla.
Tokyo DisneySea - Tokyo, Japan
Although this theme park is Disney, it isn't like any Disney park you've ever been to. It's catered more towards older children and adults, and the ambiance is unique in that many of its attractions aren't Disney-themed. At the park's center is the Mysterious Island, a Jules Verne-themed "land" where you can journey to the center of the earth through a massive replica volcano or go 20,000 leagues under the sea in one of Captain Nemo's submarines. Other lands include a Mediterranean harbor, mermaid lagoon, Arabian coast, and one called the Lost River Delta, which features an Indiana Jones adventure. Accommodations: Akasaka Excel Hotel Tokyu #RK54, Cerulean Tower Tokyu Hotel #RT22, Shibuya Tokyu REI Hotel #RL25
Tivoli Gardens - Copenhagen, Denmark
As the third-oldest theme park in the world, Tivoli Gardens has been delighting visitors since 1843. The park has changed a lot since its inception, but it stays true to its history by maintaining several rides and attractions that are more than a century old. The most famous is the Rutschebanen, a wooden roller coaster circa 1914 that reaches speeds upwards of 30 miles per hour - impressive for such an old girl. Themed in many ways after the fairy tales of Hans Christian Andersen, Tivoli's fairytale atmosphere was a source of inspiration for none other than Walt Disney himself!
Accommodations: Feriecentret Ra Geleje Klit #2056, Osterso Fargegard #2941
Dollywood - Pigeon Forge, Tennessee
Dollywood is Tennessee's largest ticketed attraction, bringing millions of guests through its gates every year. Owned by and themed after country music legend Dolly Parton, this theme park is as unique as they come. Of course the park has its illustrious thrill rides and coasters, like the Wild Eagle and the Lightning Rod, but it has much more than that to offer. It's full of Tennessee's Smoky Mountains culture and lore, which are near and dear to Dolly's heart. It's also home to the world's largest Dolly Parton museum, and offers more than 50 live musical performances daily - many of them performed by members of Dolly's own family! If you're lucky, you might actually see Dolly herself in the park - she pops in for her favorite snack, funnel cake, from time to time. 
Accommodations: Black Fox Lodge #RGJ5, Laurel Crest #5485, Oakmont Resort #2209, Sunrise Ridge Resort #3876
Alton Towers - Stoke-on-Trent, England
The grounds on which this theme park sits are the ancestral home of the Talbot family, a peerage ennobled with the title Earl of Shrewsbury. The estate was sold off by the 20th Lord Talbot in 1918, and by the 1950s it had begun its transformation from a nobleman's home to the theme park that it is today. Featuring Disney-like lands with themes like Katanga Canyon (an African village), Gloomy Wood (a haunted forest), Mutiny Bay (pirate-themed), and Forbidden Valley (a post-apocalyptic world), visitors can go on rides, see shows, and tour the ruins of the historic house (parts of which have been restored as attractions), as well as explore the former Earl's extensive gardens.
Accommodations: Wychnor Park Country Club by Diamond Resorts #2088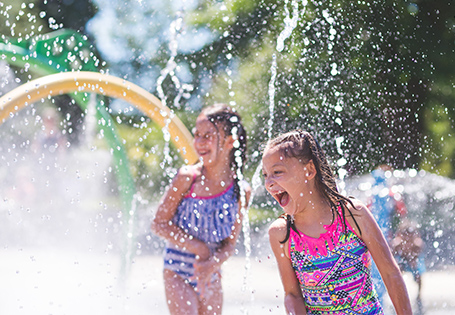 Wet and Wild Water Parks
Ready, set, get wet! There's no better way to cool off on a hot day than a rip-roarin' ride down a slip-slidin' waterslide. From wave pools and splash pads to lazy rivers and drop slides, these four top-of-the-line water parks are sure to put a smile on your face. Don't forget to bring a towel because you're not going home dry.
Siam Park - Costa Adeje, Tenerife, Canary Islands (Spain)
As the two-time winner of TripAdvisor's "World's Best Waterpark" award, Siam Park is definitely full of happening H₂O. The park's top adrenaline-fueled attraction is the Tower of Power, a drop slide that has you free-falling nearly 100 feet at more than 30 miles per hour, criss-crossing through a spectacular onsite aquarium full of sharks, stingrays, and fish. Other noteworthy attractions include a waterslide laser light show, the world's longest lazy river, and the highest waves of any wave pool in the world (on which you can take private surfing lessons). Originally owned and designed by the Princess of Thailand, Siam Park features a Siamese (Thai) theme and uses desalinated sea water in all its attractions.  
Accommodations: WimPen Sueño Azul #1856, Pearly Grey Ocean Club #1786, Club Olympus at Garden City #1608, Hotel Tropical Park #2403
Beach Park - Fortaleza, Brazil
Beach Park is one of South America's most popular water parks, and for good reason. Its beachside location and year-round warm weather make it absolutely perfect for outdoor waterventures. The Insano is one of the world's tallest water slides, at 135 feet tall (the equivalent of a 14-story building), and its daring riders descend at 65 miles per hour. The Skybox is even more extraordinary - it's a transparent capsule perched 80 feet above the ground, and the floor drops out when the rider pushes a button, speedily descending down a nearly-vertical slide to the waves at the bottom. With other unique attraction themed after Treasure Island, Atlantis, and Noah's Ark, this water park has something for everyone.
Accommodations: Beach Class Fortaleza #D784, Brasil Tropical Residence #6343, Crocobeach Hotel #DG11, Dom Pedro Laguna Beach Villas & Golf Resort #D073
WetSide Water Park - Hervey Bay, Queensland, Australia
This aquatic adventure zone is unique among its brethren for the simple reason that it offers free entry. The only attractions that have a cost are the large waterslides; all of the smaller slides and family activities are free, including a weekly fountain lights show that is famous for its spectacular combination of music, colored lights, and dazzling water fountains. WetSide is perfect for families with small children, as it features many smaller slides, an extensive zero-depth splash pad area, and a special section for kids under 5 called Totside. Add to that a wave pool and a simulated surfing experience called the Flipside Boatrider, and you've got yourself an awesome water park vacation.  
Accommodations: Arlia Sands #7677, Breakfree Great Sandy Straits #R956, Mantra Hervey Bay #R636
Aquatica Water Park - Orlando, Florida
This park is another award winner, and is the recipient of local, national, and international accolades for its amazing attractions. With its South Pacific theme, Aquatica features cultural activities and attractions focused on Australia and New Zealand. Riptide Race is the world's tallest dueling race water slide, Taumata Racer is a high-speed slide where racers slide head first, and the Reef Plunge is a translucent tunnel slide that twists and turns through an underwater habitat featuring dolphins, sharks, and fish. With its dozens of unique water experiences, Aquatica is fun for all ages. Bonus - it's right next door to SeaWorld in sunny Orlando, the theme park capital of the world.
Accommodations: Cypress Pointe Grande Villas Resort #3996, Bryan's Spanish Cove #1613, Grande Villas #8080, Club Wyndham Bonnet Creek #6369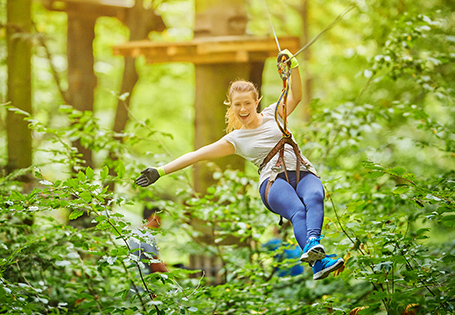 Absolutely Amazing Adventure Parks
In case you're not familiar with this type of park, an adventure park is a place where you can test your physical endurance, skill, and pluck on a multitude of activities, such as obstacle courses, rope climbing, ziplining, bouldering, rock climbing, and more. If you're interested in putting your prowess to the test, these four adventure parks are perfect for the dauntless adventurer in you.  
Ontree Fun and Adventure Park - Windsor, Nova Scotia, Canada
This adventure park is Canada's largest, and it's certainly not for the faint of heart. Ontree features 16 adult ropes courses and 2 children's courses, and one course that is wheelchair accessible. Additionally, there are 175 platforms that connect a total of 152 challenges, including 53 ziplines, a Tarzan swing, spider web, 45-foot base jump, and climbing wall. With options for every age (starting at age 5) and a variety of skill levels, Ontree offers excitement and adventure for everyone.
Accommodations: White Point Vacation Club #6148
Gravityz - George Town, Penang, Malaysia
Gravityz is located on the 65th floor of a city skyscraper, and the obstacles start at 780 feet above ground. It's comprised of six challenges, each one more death-defying than the last. Walk around a narrow exterior platform that circles the building. Cross an even narrower bridge (without railings or handholds) from one wing to another. Zipline from one ledge to the next. Sit on an air bench or relax (yeah right) on an air-dangling lounge chair. The extreme height of this adventure park makes it highly susceptible to wind, and on windy days these hair-raising obstacles sometimes transform from nail-biters into pants-wetters, even for the bravest among us. 
Accommodations: Leisure Cove #3957
Area 47 - Tyrol, Austria
This park's tagline is "enter as a human, leave as a hero or heroine." As one of Europe's premier adventure parks, Area 47 will push you to the max. Explore dangerous gorges and deep caves, navigate wild white-water rapids, and even be transformed into a human cannonball (don't ask how). Add to that super-steep slides, oversize freefall swings, indoor motocross races, and the highest ropes course in Austria, and your day just got action-packed, locked and loaded, and ready to rumble.
Accommodations: Ferienclub Schloesslhof (Mondi) #1536, Siesta Ferienclub Scharnitz (Mondi) #1534
Shepherd's Adventure Park - Branson, Missouri
Branson is known for its many attractions, and this aerial adventure park ranks among the area's top thrills. Take a zipline canopy tour and enjoy the scenic beauty of the Ozark Mountains. Climb to the top of the 230 foot-tall Inspiration Tower and enjoy 360-degree views of Branson and the Ozarks, and then zip down on the Vigilante Extreme ZipRider, side by side with 3 of your travel companions. Snake through loops, drops, and curves through the Ozarks on the downhill Copperhead Mountain Coaster. Finish the adventure with the Sky Trek Challenge Ropes Course, including a little tikes course for those under 4 feet tall. You'll dream of being up high in the sky when this day is done.  
Accommodations: Club Wyndham Mountain Vista #C490, The Lodges at Timber Ridge #WLK5, The Suites at Fall Creek #3037, WorldMark Branson #6385