Colorado has a little something for everyone. From hiking and skiing in the Rocky Mountains to shopping and sightseeing in downtown Denver, the opportunities for fun in Colorado never cease. But when is the best time to visit Colorado? The best time of year to visit Colorado varies greatly depending on what you want to do while you're there. Each season and month of the year brings its own activities and special events, and what's on tap can vary from one month to the next.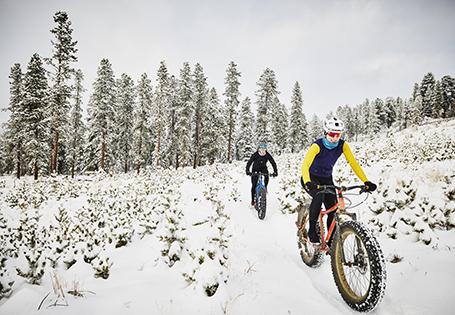 Winter and summer are peak times to visit the Centennial State, with parts of fall and spring settling into shoulder and off-peak seasons. There are three main activities that bring people flocking to Colorado (and a whole bunch of smaller ones that fit nicely into the bigger three) — skiing, exploring a national park, and visiting the city. A little research and advance planning will help make sure you pick the best time to go to Colorado to ensure you'll be able to enjoy your activity of choice.   
The Best Time To Visit Colorado For Seasonal Snow Sports
The best time to visit Colorado if snow is on your mind is obviously winter. Hundreds of thousands of cold-hardened snow junkies pay a visit to the snow mecca of the Midwest each year (aka Colorado) seeking its pristine powder and the thrill of the chill. The longest mountain range in the U.S., the Rocky Mountains, runs right through the heart of the state, and it is home to more 14ers (mountains that peak at more than 14,000 feet) than any other state — 54, to be precise. There are more than 30 ski resorts to choose from in Colorado, the most popular and well-known being Aspen, Vail, Breckenridge, Telluride, Steamboat, and Keystone.
Ski season in Colorado tends to run late November through early April, but that is naturally dependent on the weather. Early or late season snow may find certain ski resorts open as early as October, or as late as May, from time to time. Early in the season the crowds tend to be lower, as seasoned skiers prefer to wait for more packed-down snow, usually January and beyond. January is the coldest month, with February and March being the months with the most snowfall (and generally the busiest on the slopes). Skiers and snowboarders alike agree that it's hard to beat Colorado's white powdery slopes.
Skiing and snowboarding aren't the only fun snow activities to be found on or near the slopes. In various parts of the mountains you'll find a wide range of snow-centric fun, like snowshoeing, ice fishing, sledding, cross-country skiing, snowmobiling, and ice skating, to name a few. Winter also brings a whole onslaught of snow-themed events and festivals throughout the state.
In January the Breckenridge International Snow Sculpture Championships brings dozens of snow sculptors from around the world to carve 20-ton blocks of snow into beautiful works of art, Aspen hosts the Winter X Games sports competition, and the Ouray Ice Festival turns the mountain town of Ouray into an ice climbing extravaganza. In February the Steamboat Winter Carnival features things like skiers jumping through fiery hoops and a marching band on skis, the Durango Snowdown is a snowy celebration of "fun and frivolity," and the Cripple Creek Ice Festival showcases hundreds of hand-carved ice sculptures of massive proportions. Winter is definitely the best time to visit Colorado if snow is your thing. 
Visit the Featured Destinations page to explore additional RCI vacation spots.
The Best Time To Visit Colorado To Play In Mother Nature's Backyard
The best time to go to Colorado if you're looking for warm-weather outdoor activities will vary depending on the activity. Colorado is home to four national parks — Rocky Mountain National Park, Mesa Verde National Park, Great Sand Dunes National Park, and Black Canyon Of The Gunnison National Park — plus 42 state parks, all of which offer amazing opportunities for outdoor recreation. Each park is home to singular geographical features, unique wildlife, and stunning foliage, and different features are best experienced at different times of the year.
Hiking is one of the most popular outdoor activities in Colorado, and once the snow melts the state's countless backcountry trails are accessible for foot traffic. June through late September is the best time for hiking, as the trails should be snow-free and the weather cooperative. If you're looking to see a waterfall, May is peak season, as the snow-melt creates winter runoff that surges the rivers and waterfalls and makes them at their most magnificent. Late spring is also peak fishing season.
As the weather warms the fish become more active, making them hungrier and looking for their next meal. Rafting is a popular outdoor activity in Colorado, as the state offers a wide variety of class rapids. June through August is rafting season, with the best rapids occurring late spring through early summer because of the snow-melt surging the rivers. Mid to late summer rafting tends to bring folks looking for a lazier, less intense float. Summer is wildflower season, and hikers looking to see columbines or bluebells will want to set out in July or August. Bugling elk are most common in September and October, which coincides with leaf-peeping season — the nickname for admiring the beautiful fall colors.
If you're looking for unique events to coincide with your outdoor exploration, summer is full of fun throughout the state. In June, the Telluride Balloon Festival showcases hot air balloons en masse floating over Telluride Valley, and the Greeley Stampede is a long-running event that includes concerts, rodeos, a demolition derby, and a carnival. In July, the Crested Butte Wildflower Festival is a 10-day event that highlights the area's many stunning wildflowers, including guided hikes to the best wildflower viewing areas. In August, the Colorado State Fair kicks off in Pueblo, playing host to a whole slew of good old-fashioned family-friendly fun. Summer really is the best time to go to Colorado for warm-weather outdoor recreation.
Find additional travel inspiration by browsing RCI interests and activities.
The Best Time To Visit Colorado To Experience Urban Delights
Although Colorado is known for its skiing, hiking, and other rural outdoor activities, the state has some sensational urban areas to explore too. Denver is the state's capital and largest city, and is home to numerous sights and attractions well worth visiting. Nicknamed the Mile High City because of its high elevation, Denver has a lot to offer travelers of all ages and interests. Naturally, the best time to visit Denver varies depending on what you're looking to do while you're there.  
Denver is home to four professional sports teams — the Broncos (NFL), the Rockies (MLB), the Nuggets (NBA), and the Avalanche (NHL) — so if you're looking to take in a home game, you'll have to visit in the corresponding season. Many other attractions are available year-round, from museums to restaurants and more. The Denver Botanic Gardens is one of the city's top sites — it's 23 acres of pristine urban greenspace. Denver is home to one of only four U.S. Mints, and educational tours showcase how coins are made.
For a taste of Colorado's past, the History Colorado Center is an interactive, high-tech experience detailing the history of the Centennial State, and the Larimer Square historic district is a restored 19th-century thoroughfare with unique shops and restaurants. Denver is saturated with breweries, and a craft or micro-brewery tour is a must-do for hops lovers.
Denver is home to a number of annual events that keep visitors returning year after year. January kicks off the year with the National Western Stock Show, the world's largest stock show which includes a western trade show, rodeo, and numerous large horse shows. In March, Denver's St. Patrick's Day Parade is massive, and is second only to the parade in the Big Apple. When summer harkens, the Colorado Renaissance Festival begins. Located just outside the city, the renaissance festival is set in a recreated 16th-century English village, and runs on weekends June through August.
September brings A Taste of Colorado, an event showcasing the best and most unique food the state has to offer, and the Great American Beer Festival, an annual celebration of Colorado's best beer. Towards year's end, the holiday season in Denver is full of amazing things to see and do. The Christkindlmarket in Civic Center Park is a recreated Christmas-themed Bavarian village, full of fun things to see, do, and eat; and the Parade of Lights is one of the largest lighted parades in the country, featuring brightly illuminated floats and balloons. As you can see, the best time to visit Denver is whenever something fun is going on.  
Colorado's world-class skiing, beautiful mountains, amazing national parks, stunning geography, unique flora and fauna, and cool urban sights make it the perfect place to vacation. The best time to visit Colorado really is anytime — just make sure to pick the time that is right for the things you most want to see and do. 
With RCI, you have access to over 4,000 resorts, in more than 110 countries — including Colorado! And, with Exchange+ you can use your timeshare to unlock big discounts on additional high-demand destinations. Book your stay today.