Gatlinburg, Tennessee and its next-door neighbor Pigeon Forge are some of the best places for outdoor adventures and unique experiences for adults. Whether you're traveling with your significant other or plan to enjoy the area with friends, here are the top 10 things to do in Gatlinburg and Pigeon Forge for adults.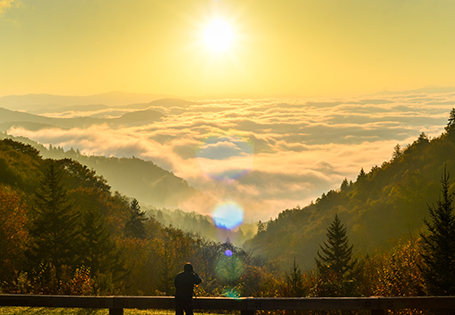 Dollywood
As Tennessee's most popular tourist attraction, Dollywood is a massive, 160-acre park that summons visitors from around the world. With thrilling rides, incredible shows, and unique charm, this attraction is one you can't miss. Skip past the children's rides section and visit the shows and museum. If you're interested in the craftsmanship of the Appalachian people, stop by the Craftsman's Valley to learn about local trades, including a blacksmith's forge, glassworks, candle makers, and more. Have you ever wanted to see a bald eagle? Well you can see one of the rare birds at the aviary! Although everything is family-friendly, Dolly Parton's Stampede is a great show, featuring special effects, musical productions, and a four-course meal. Dollywood is one of the coolest things to do in Pigeon Forge for adults (and kids too).
Ober Gatlinburg
At Ober Gatlinburg you can experience year-round fun, but winter is the most popular season of all. During the winter months ice skate, ski, snowboard, and tube at Tennessee's top snow destination. In the fall, hop on the Aerial Tramway in Downtown Gatlinburg and ride the lift to the top of Ober Mountain for unbelievable views of the Smoky Mountains. From riding the Ski Mountain Coaster to experiencing wildlife encounters, fall, summer, and spring are also great times to visit the Pigeon Forge and Gatlinburg area.
Roaring Fork Motor Trail
This free, historic trail is a 5.5-mile loop with incredible views and historic buildings. The Roaring Fork Motor Trail is named after the "roaring" mountain steam you see surrounding the mountains. This part of the Great Smoky Mountains is covered in beautiful forests and stunning waterfalls. You start the hike at the Noah "Bud" Ogle Trail, with some unique historic buildings. Then, follow the Rainbow Falls Trail for a three-mile hike to a huge, 80-foot waterfall. Continue on to the other trails and come across unparalleled sights and views of nature's beauty.
Elvis & The Superstars
At Elvis & The Superstars, you can listen to some of your favorite music as performed by tribute artists — it's one of the most unique things to do in Pigeon Forge. Let the music move you as you let loose to top hits from the music industry. Whether you know all of the lyrics to the songs or simply enjoy the beats and atmosphere, the unique shows will bring out the fun in you! You'll hear a wide variety of artists, from Elvis and Frankie Valli to Dolly Parton and Willie Nelson, just to name a few.
Visit the Featured Destinations page to explore additional RCI vacation spots.
Sugarlands Distilling Company
The locally owned Sugarlands Distilling Company offers tastings, behind the scenes tours, and local events to enjoy. They make award-winning moonshine and whiskey, as well as canned cocktails. No matter what you're looking for to quench your thirst, Sugarlands has it. Each drink is uniquely crafted and you can stop by the Cocktail Kitchen to taste their specialty cocktail recipes. Sugarlands is one of the neatest things to do in Gatlinburg and Pigeon Forge for adults.
Ole Smoky Moonshine Distillery
Another one of the most unique things to do in Pigeon Forge, Ole Smoky turns any drink into a hit, and is now recognizable throughout the country. They have several distillery locations in the area and some offer tastings and guided tours, including the Barn, Holler, the Barrelhouse, and a Nashville location. With new seasonal delights and old favorites, Ole Smoky has an incredible list of moonshine flavors. You can try strawberry, butter pecan, butterscotch, Key lime, and so many more. You can also indulge in moonshine pickles, cherries, peaches, and pineapples. Which flavor would you start with?
Great Smoky Mountains National Park
Great Smoky Mountains National Park offers an incredible range of wildlife, plant life, and mountain culture. Take a hike throughout the park on Cades Cove, a 11-mile loop featuring historic churches and breathtaking scenery, and you may have the opportunity to spot black bears or fireflies. Newfound Gap, Clingmans Dome, and Deep Creek are among the other trails where you'll find powerful waterfalls and historic buildings. The beauty of Great Smoky Mountains National Park makes it one of the best things to do in Gatlinburg and Pigeon Forge for adults.
Find additional travel inspiration by browsing RCI interests and activities.
Five Oaks Riding Stables
With 3.5 miles of streams, mountain views, and a moonshine still, Five Oaks Riding Stables is a premier horseback riding experience you'll never forget. Your knowledgeable guide will let you in on some mountain secrets and point out unique facts about the area along the way. The 70-acre park is off the hidden path, but close enough to the city for your convenience. So what are you waiting for? Saddle up!
White-Water Rafting
Whether you're a white-water rafting newbie or connoisseur, it's an outdoor adventure you should try here in the Smoky Mountains. Although white-water rafting is a family-friendly activity, it's also perfect for your adult group of friends or even a day date. The guides lead you on the Pigeon River through large waves and exhilarating drops, as well as relaxing, calmer waters.
Anakeesta
Anakeesta, Tennessee's award-winning theme park, has year-round fun for all. For the adventurous ones, zip line through towering trees, walk the Treetop Skywalk, try your hand at gem mining, and find tons of other excitement. If you're looking for that perfect souvenir, walk through Firefly Village and discover local candles, jewelry, mugs, décor, and more. For food lovers, Cliff Top offers specialty steaks, gourmet burgers, and fresh flatbreads, just to name a few. And if you're coming to the mountains for that ultimate relaxation experience, sit and enjoy the scenic views, the Vista Gardens, and the Memorial Forest Walk. Be sure to allow enough time to do it all.
As you can see, there are many amazing things to do in Gatlinburg and Pigeon Forge for adults.
All of these 10 unique attractions across Pigeon Forge and Gatlinburg make for a perfect vacation with friends, loved ones, or yourself! There's something for everyone in the area and this is just the beginning of your vacation. Start planning your next trip today.
Where To Stay:
With RCI, say hello to a travel network where the little things pay off big. Get up to 60% off more than 600,000 hotels and resorts around the world — and enjoy deeper hotel discounts by applying Deposit Trading Power or Points to your hotel stay.