Everybody knows that Las Vegas is no kiddie theme park — they don't call it Sin City for nothing. But if you look beyond the city's 18-and-up attractions, the truth is that much of what happens in Vegas is rated G for general audiences (meaning it's as kid-friendly as Bambi).
From thrill rides and animal exhibits to museums and outdoor adventures, there are all kinds of family-friendly things to do in Las Vegas. You just have to stick together — unaccompanied children are not allowed in many areas of the Strip — and stay far away from the city's lustier landmarks. To help with planning your family's next Vegas getaway, here is your guide to the top family activities in Las Vegas.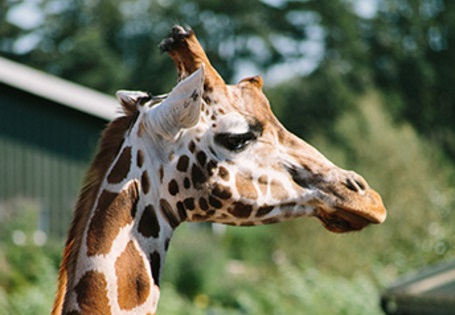 See The (Parent-Approved) Sights Of The Strip
You don't have to shell out a lot of money to enjoy the Strip when you have little ones in tow. Some of the most child-captivating sights are free, including the choreographed Fountains of Bellagio and the fire-blowing Mirage Volcano. And both of these big-name resorts also offer family-friendly fun inside their doors as well. At the Bellagio Conservatory & Botanical Gardens, a team of 140 horticulturalists transforms the nearly 14,000-square-foot space into a spectacular garden with tens of thousands of flowers every season, and entry is free of charge. The garden's spring display typically includes a butterfly house. And at the Mirage, check out the 53-foot 20,000-gallon aquarium — one of the largest hotel aquariums in the world. Home to a simulated coral reef and nearly 500 fish from a variety of colorful reef species, the Mirage's aquarium is one of the most-recognized animal exhibits in Las Vegas.
Another great stop for animal lovers is the Wildlife Habitat at the Flamingo, an oasis of koi ponds, burbling streams, waterfalls and — you guessed it — pink flamingos, as well as Chinese pheasants, pelicans, and other birds. Farther down the Strip, Shark Reef Aquarium at Mandalay Bay houses more than 2,000 creatures in 1.6 million gallons of water, including many different kinds of sharks. Watch for the 9-foot nurse shark — she's a biggie.
If your kiddos (or yourself) love chocolate, head to M&M's World. Though entry is free, your wallet will take at least a little hit when the kids start begging for candy and souvenirs. Still, not everything has a price tag — watch the free 3-D movie about the adventures of M&M's characters and snap a family portrait next to the M&M's-sponsored Camry race car. You'll find more retail adventure at the Venetian's Grand Canal Shoppes, known for its "streetmosphere" of dancers, opera singers, and live "statues." Strolling the center's cobblestone streets is free, but the gondola rides along the Venetian's canals (and the gondolier serenades that come with the rides) are well worth the fee.
Whether you're a daredevil or prefer more leisurely rides, the Adventuredome theme park at Circus Circus will keep you and your family occupied all day, no matter the weather. This 5-acre indoor amusement park has a ton of family-friendly attractions, like bumper cars, climbing walls, a Ferris wheel, and the world's only indoor double-loop, double-corkscrew roller coaster. If you're traveling with very small children, you can still have fun at some of Adventuredome's more peaceful attractions, including an 18-hole miniature golf course, mini bowling, a virtual reality zone, and 4D theater. Head to the food tent to fill up on kid favorites like pizza, burgers, and ice cream. The entire Adventuredome experience is one of the top family things to do in Las Vegas.
Serious daredevils make for the thrill rides at the Strat (fka the Stratosphere Casino), at the north end of the Strip. At 112 stories, its Big Shot ride is the tallest ride in the world and shoots passengers 160 feet into the air at 45 miles per hour, and the X Scream teeter-totter plunges riders headfirst over the tower's vertiginous edge. Many visitors are happy just to take in the view from the observation deck and watch helicopters buzz by at eye level.
Caped crusaders will enjoy a trip to the Marvel Avengers S.T.A.T.I.O.N. — it's a bit on the spendy side, but worth it if your kiddos love Marvel. The Marvel Avengers S.T.A.T.I.O.N. is an interactive and educational exhibit designed to delight Marvel fans of all ages. You'll be able to get a close look at an extensive range of authentic movie props, costumes, and memorabilia from the Marvel Avengers movie series. See Captain America's uniform and shield, Black Widow's weapons, see artifacts from Hulk, Thor, Iron Man, and much more. Bonus: Marvel Avengers S.T.A.T.I.O.N. is located at Treasure Island Hotel & Casino, which has two full-scale realistic pirate ships on display in a lagoon located in front of the hotel — the kiddos will love it.
Discover Kid-Friendly Downtown
Just north of the Strip is downtown — the once down-and-out "Glitter Gulch" and now a lively playground for all ages. Recent additions include the Discovery Children's Museum, whose goal is to encourage creative logical thinking by prompting kids to answer questions and solve problems through a series of educational interactive exhibits. The museum's 70-foot 12-level tower, aka the Summit, has slides and climbing tubes to entertain those with restless bodies as well as restless minds.
No downtown excursion is complete without a spin through the Fremont Street Experience. The pedestrian mall and entertainment extravaganza's slot-machine-themed zip line, SlotZilla, propels riders from a 108-foot "coin tray" through the heart of the Experience. Terra firma tours are exhilarating also — LED lights dance across the street's barrel-vault-canopy cover, and free concerts are easy to find on many a street corner.
You'll spot numerous flashy signs on and around Fremont Street that will give the kiddos a thrill. Keep an eye out for the waving "Vegas Vic" and the sparkling, high-heeled shoe of the Silver Slipper Gambling Hall, but it's the Neon Museum that delivers the ultimate display of iconic Vegas signage. Its outdoor Boneyard exhibit contains more than 150 glitzy treasures, including signs from Vegas's long-closed golden era hotels like the Golden Nugget and the Stardust. The Neon Museum is one of the coolest family-friendly things to do in Las Vegas.
Aspiring crime busters will love the Mob Museum. Located in the former courthouse where the famous Kefauver mob trials were held, the museum has exhibits that cover everything there is to know about organized crime in the States, from past to present. Exhibits explore topics such as how law enforcement has fought and defeated mobsters over the years, and the museum's floors are packed with riveting artifacts.
Pack The Fam On A Nature Break
One of the great things about Las Vegas is that you don't have to go far for a little fresh air — or fresh chocolate. Drive 15 minutes south of the Strip to the Ethel M. Chocolates store, where you'll find a 3-acre botanical cactus garden (amblers welcome) and a fanciful chocolate factory that offers free tours. A 10-minute drive west of the Strip leads to the Springs Preserve, home of the recently relocated Nevada State Museum — and a dino-mite kid-approved 36-foot ichthyosaur skeleton.
If big cats strike your fancy, head 25 miles south to the city of Henderson and visit the Lion Habitat Ranch, a safe, kid-friendly opportunity to observe exotic animals up close. The animals that call this park home were once part of shows on the Vegas strip. Here you will find dozens of lions, a three-year-old giraffe, ostriches, emus, and other exotic birds. Visitors can even safely take a photo with a lion prowling in the background. Children under the age of 4 receive free admission, and kids between the ages of 5 and 14 are free when accompanied by an adult.
For serious hiking, head 35 miles northwest of the Strip, where some 50 miles of trails thread the flanks of 12,000-foot Mount Charleston. If you go on a Sunday afternoon, you may catch a performance by the lederhosen-clad polka band at Mt. Charleston Lodge. Nearby Red Rock Canyon also has family-friendly hikes, including beautiful geologic features paired with bubbling creeks and cascading waterfalls.
To stay cool in the Vegas heat, head to Cowabunga Bay, a 25-acre waterpark booming with wet-and-wild waterslides and other thrill rides the whole family will enjoy. This colorful, clean, and well-maintained park is a short drive from Las Vegas and even features a "Kids Cove" where the water is very shallow and kept at a comfortable 80 degrees. There's no need to pack a picnic lunch because at the park you can enjoy hand-squeezed lemonade, funnel cakes, and Dole Whip — a frozen pineapple-flavored treat that was once only available at Disneyland. Cowabunga Bay is one of the best family activities in Las Vegas to stay cool in the heat.
Options For Getting Around Without A Car
Many families prefer the monorail for traveling up and down the Strip. The Las Vegas Monorail operates seven days a week and arrives every 4-8 minutes at seven stations. Prices are comparable with other forms of public transportation (meaning they're budget-friendly), but the best thing about the monorail is that children age 5 and under ride free!
In Vegas, even the city buses are a step up from the norm, and the Deuce is no exception. It's a 24-hour double-decker city bus that travels from the Fremont Street area to the south end of the Strip and back again. It's a great way to sightsee while hitting all the essential spots along the Strip, and like the monorail, it's a budget-friendly option.
Depending on where and what time you need a lift, getting a cab or using a ride-sharing service may be the best option. On occasions where ride-sharing prices may surge (post-concert, for instance), a taxi is a bit easier on the budget. However you can't hail one from the side of the road; the taxi must pick you up at a designated location, which your hotel or venue will provide.
Family Fun Beyond Vegas
If humongous structures wow your little ones, a day trip to the Hoover Dam will not disappoint. Towering 725 feet above the Colorado River, the dam powers one of the largest hydroelectric facilities in the country. If you sign up for a tour of the dam (children under age 8 are not permitted), you can explore the inspection tunnels, take a 500-foot elevator ride down to the power plant generators, and stand atop a 30-foot pipe while the mighty Colorado races through it.
A Grand Canyon day trip is well worth the drive and is a perfect way to make memories with the whole family. This natural wonder brings in a whopping 6.3 million visitors a year, and experiencing the canyon's dramatic views, dusty trails, and history is something everyone should do at least once. Budding geologists and history buffs alike will love the Trail of Time, a 2.5-mile paved walking path that acts as a geologic timeline of the Grand Canyon. You'll find a series of exhibits along the trail that educate on how the canyons were formed. There are also a multitude of options for family-friendly hikes, guided tours, and even mule trips through the Grand Canyon's prettiest sites.
Where To Stay With RCI
RCI offers you access to more than 50 resorts in the Las Vegas area, many of them in prime locations near the attractions listed above. Here is a selection of the top RCI Gold Crown rated resorts located in and around Sin City. To see the full list of Vegas resorts, check out this page on RCI.com.
Elara, a Hilton Grand Vacations Club
Flamingo, a Hilton Grand Vacations Club
Hilton Grand Vacations Club at Trump International Hotel Las Vegas
Holiday Inn Club Vacations At Desert Club Resort
Paradise, a Hilton Grand Vacations Club