With peak flower season on the calendar, spring offers the perfect time to visit some of the country's amazing botanical gardens — some of which you can even visit for free! Check out these local beauties in RCI vacation destinations.
1. Botanical Gardens At Asheville In North Carolina
As a nonprofit, Botanical Gardens at Asheville is an intimate, 10-acre property near central Asheville and operates year-round, providing free admission and parking to guests. Home to more than 600 species of Appalachian wildflowers and flowering trees and shrubs, this wooded enclave simply bursts with color during its peak blooming season: mid-April and mid-August.
In particular, the gardens showcase wildflower blooms from April through May, with flower-covered slopes including blossoms of Trilliums, Spring-beauties, Crested Dwarf Iris, Green and Gold, Wild Geranium, and Foamflower.
Stroll through the Asheville botanical garden's half-mile trail, then pop in the gift shop or the Cole Library, which boasts a robust collection of botany, horticulture, and ecology books. Complete your visit with a picnic at one of the benches or tables in the gardens.
2. Berkshire Botanical Garden In Stockbridge, Massachusetts
As one of the Northeast's older public display gardens, this Western Massachusetts property (established in 1934) beckons you with its lovely springtime blooms. The Berkshire Botanical Garden begins its season opening on May 1 with Roy Boutard Day — a free event that includes a traditional Maie Bowl reception and special art exhibit. 
Encompassing 24 acres, Berkshire showcases more than 3,000 species and varieties of herbaceous and woody plants in themed areas, including an historic 1937 Herb Garden, the Fitzpatrick Conservatory, a tranquil Pond Garden, and unique topiary collection. Meander along the Primrose Walk, where you'll find a patchwork of Spring color.
Explore the Children's Discovery Garden where little ones can get their hands dirty while learning about flowers and food crops. Don't miss seasonal special events such as horticultural lectures, plant sales, and Music Mondays. General admission is $15 per adult but Berkshire offers free admission on Tuesdays.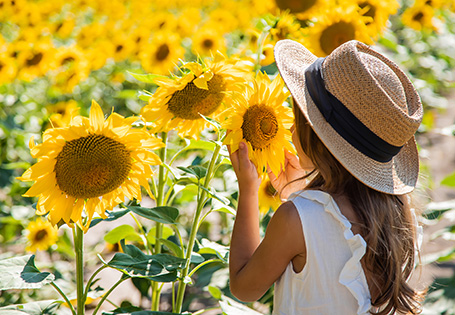 3. San Francisco Japanese Tea Garden In California
Located in the heart of Golden Gate Park, this five-acre botanical garden in San Francisco blends natural beauty, tranquility, and harmony into a stunning Japanese garden dotted with cherry blossom trees in March and April.
As the oldest public Japanese garden in the country, the San Francisco Japanese Tea Garden invites you to explore classic elements such as historic pagodas, koi ponds, stone lanterns, a high-arched drum bridge, stepping-stone paths, native Japanese plants, and serene Zen garden.
Stop in for a cup of tea at the newly refurbished Tea House, nestled in the garden's center and overlooking the picturesque landscape. Admission during its spring/summer season (March-September) is $12 per adult.
4. Goodwood Museum & Gardens In Tallahassee, Florida
Step back in time to explore this gorgeous gem of a botanical garden in Florida (established in the mid-19th century) for a taste of Old Florida splendor. At Goodwood Museum & Gardens, you can learn the historical background in the Old Kitchen Visitors Center, check out 16 historic structures, and visit the 170-year-old, antique-filled Main House.
Stroll through the sprawling grounds and gardens surrounded by moss-draped oaks and azaleas. As a former plantation, Goodwood is creating a memorial to all people enslaved on the property between 1832-1865. 
Sitting on 21 acres, Goodwood serves as both a community museum and green space, with special events throughout the year such as live music, theatrical screenings, heirloom rose sales, and wine tastings. The grounds are free to enjoy, with a general admission of $12 per adult to tour the museum.