When it comes to luck, everyone has their own superstitions. Athletes have pre-game rituals, hotels skip the 13th floor, and actors never say the name of Shakespeare's Scottish play. Some of the most famous tourist destinations are also good luck landmarks. People travel from all over the world to kiss the Blarney Stone or toss a coin in the Trevi Fountain.
In America, statue burnishing is a popular tradition — from Lincoln's nose to the Wall Street Bull. But 2021 may not be the luckiest year for kissing stones and rubbing statues. Instead, check out these four locations that you can visit for a good time and maybe even some good luck.
1. Las Vegas, Nevada
With all of its world-class casinos, people flock to Las Vegas in hopes of good fortune. But beyond the slots, there are other way to get a little luck in Vegas. Flip a coin into the Fountains of Bellagio. This tradition is so popular that the fountains accumulate thousands of dollars each month, which the Bellagio Hotel collects and donates to charitable foundations, like Habitat for Humanity. Plus, treat yourself to the Good Luck Ritual at The Spa at Wynn. Based on the five Chinese elements, the spa's signature treatment includes a massage, peppermint foot treatment, hand therapy, and a botanical scalp treatment, designed to promote happiness, luck, and prosperity.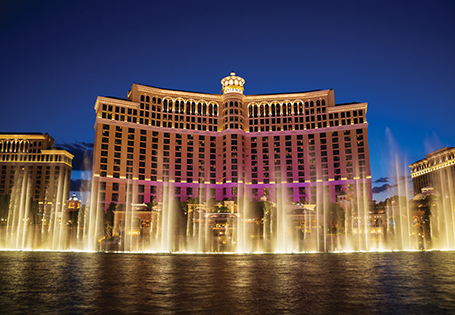 2. Boston, Massachusetts
Boston's population boasts the highest percentage of Irish heritage. The luck of the Irish may be with you during your visit, especially if you stop in for a Guinness or Full Irish Breakfast at The Black Rose, Boston's premier Irish pub and restaurant. The Black Rose serves up authentic Irish fare to the sounds of live music that will transport you to the Emerald Isle. Less than an hour south of Boston is the coastal town of Scituate, designated as the most Irish town in America. Enjoy a famous espresso and brunch at the award-winning Lucky Finn Cafe. Then, head over to the Scituate Lighthouse and hear the tale of the lighthouse keeper's daughters, who drove off a British attack with quick thinking and little luck.
3. Louisville, Kentucky
Louisville boasts two museums filled with lucky artifacts. At the Louisville Slugger Museum & Factory, baseball fans can hold bona fide lucky bats used by baseball legends of past and present, like Babe Ruth, Mickey Mantle, David Ortiz, and more. Another of America's most recognized symbols of good luck is the horseshoe. You can surround yourself with horseshoes worn by some of America's luckiest horses at the Kentucky Derby Museum. Learn about the craft and profession of horseshoeing while observing the work of horseshoe hall-of-famers.
4. Fitchburg, Wisconsin
This suburb of Madison, Wisconsin, holds the Guinness World Record for the most four-leaf clovers collected in an hour. Fitchburg local Gabriella Gerhardt found 451 four-leaf clovers in a single hour, securing the world record. When you're not busy hunting for lucky clovers, there's plenty of fun to be had in Madison. Explore seven blocks of shopping and dining at bustling State Street in Downtown Madison. Enjoy free admission (donations are appreciated) to the Henry Vilas Zoo. Tour the Wisconsin State Capitol. Stroll the inspiring Olbrich Botanical Gardens and visit the only Thai Pavilion in the continental United States.
NOTE: Information may have changed since publication. Please confirm key details before planning your trip.