Hit the trails or the slopes. Descend caverns or scale mountain peaks. However you choose to answer the call of adventure, these four vacation destinations offer extraordinary ways to explore the great outdoors all year long. So, no matter when you visit, filling your itinerary with nature-filled fun will be a breeze.
1. Asheville, North Carolina
Surrounded by thousands of miles of hiking trails and the dramatic backdrop of the Blue Ridge Mountains, Asheville boasts a picture-perfect setting for outdoor activities in all four seasons.
Nature Hikes
Whether you embark on the leisurely one-mile Craggy Pinnacle Trail or a trek on the Appalachian Trail, you can find the perfect hiking trip for waterfall photo ops and epic mountain vistas. Check out the Asheville Hike Finder for trail suggestions by length and challenge level. Or take a scenic drive on the famous Blue Ridge Parkway for a breathtaking mountain experience — no hiking boots needed.
Garden Strolls
The North Carolina Arboretum features 65 acres of enchanting gardens and botanical exhibits, including the world-renowned Bonsai Exhibition Garden. During the winter holiday, you can enjoy Winter Lights, a nighttime walk-through experience that transforms the arboretum with one million lights. For a more intimate locale, head to the Botanical Gardens at Asheville, a 10-acre non-profit botanical garden that showcases native plants and environments of the Southern Appalachians.
2. Florida Panhandle
Home to playful bottlenose dolphins and sprightly seabirds, the Florida Panhandle is teeming with vibrant ecosystems to discover. From tropical coral reefs and coastal dunes to mangroves and salt marshes, nature lovers will find themselves in paradise.
Ecotourism
Journey through a limestone cave system at Florida Caverns State Park, the only park in the sunshine state that offers dry cave tours to the public. Go birdwatching on Panama City Beach for sightings of black-bellied plovers, sanderlings, dunlins, and other coastal avifauna. Spot dolphins and search for sand dollars on a Shelling Tour with Destin Snorkel. Sign up for a free Nighttime Educational Beach Walk with Emerald Coast Turtle Watch and learn how to protect Destin's resident sea turtles.
Beaches and Boardwalks
Head to the sugar-white sand and aquamarine water of Pensacola Beach for the Footprints in the Sand Eco-Trail, an 8.5-mile shore-to-shore exploration of Florida's island ecology. In Panama City, catch the Shell Island Shuttle to the beloved barrier island where Florida's iconic sand dunes, coastal scrub forest, and inland lake provide a haven for endangered Florida species. Panama City Beach's 2,900-acre Conservation Park offers 24 miles of trails and over a mile of boardwalks through Cypress domes, perfect for hiking, cycling, and wildlife watching.
3. Breckenridge, Colorado
A snow-capped wonderland in the winter months and a balmy 70-degrees in the summer, Colorado is an ideal playground for outdoor enthusiasts, no matter the month.
Ski Season
World-class skiing and other winter sports await at Breckenridge Ski Resort. Slice across powdery snow on a High Alpine skiing adventure, snowshoe through picturesque woods, or plunge 2,500 feet down the mountain on the Gold Runner Alpine Coaster. Experience a Snowcat Adventure with the Breckenridge Nordic Center on a 90 minute tour of cross country trails and the Cucumber Gulch Wildlife preserve from the comfort of a heated, glass cabin.
Animal Lover Activities
Explore the Ten Mile range by horseback on a trail ride or winter sleigh ride with Breckenridge Stables, including stunning panoramic views of the Continental Divide. Mush with your own team of Siberian huskies on an exhilarating Dog Sledding Tour through the Rocky Mountains.
4. Central California
Marvel at the Sierra Mountains' awe-inspiring natural wonders in Central California, your gateway to some of the state's most impressive displays of Mother Nature.
Yosemite National Park
Walk beneath ancient giants at Yosemite National Park, where towering sequoias stretch nearly 400 feet tall. Hike the Half Dome, the park's most popular trail to encounter both Vernal Falls and Nevada Falls and El Capitan, Yosemite's iconic rock face.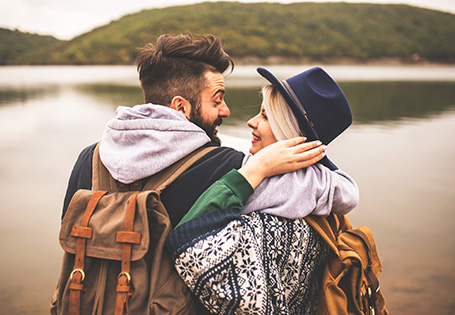 Mammoth Lakes
Enjoy year-round adventures in Mammoth Lakes, from snow sports on Mammoth Mountain to sightseeing at Mammoth Lakes Basin. Take a day trip to visit the majestic 101-foot Rainbow Falls or encounter the oldest trees in the world at the Ancient Bristlecone Pine Forest.