For a unique outdoor experience (and great photo ops!), gaze at a rainbow of hot air balloons taking flight at festivals across the country. Most hot air balloon festivals include additional local highlights, such as competitions, demonstrations, music, carnival games, food, and craft vendors. Whether you're up for a thrilling ride, or just looking to admire the colorful display, check out these popular hot air balloon festivals in RCI vacation destinations.
1. Colorado Springs Labor Day Lift Off
Where: Colorado Springs, Colorado
When: September 4-6, 2021 (Labor Day weekend)
Stay Here: Valdoro Mountain Lodge
Let your Labor Day weekend soar to new heights at this free hot air balloon festival in Colorado, now in its 45th year. With more than 40 hot air balloons rising against the backdrop of the Rocky Mountains for the morning launch, the Colorado Springs Labor Day Lift Off also features a can't-miss evening balloon glow. Additional offerings include live entertainment, local food and drink vendors, skydiving demonstrations, and more.
2. The Great Reno Balloon Race
Where: Reno, Nevada
When: September 10-12, 2021
Stay Here: Plaza Resort Club
As a beloved community tradition since 1982, the Great Reno Balloon Race regularly features up to 100 balloons and draws more than 120,000 attendees every year. Rise early for its trademark event — Dawn Patrol — for a glimpse of fly-in-the-dark balloons that ascend along to choreographed music. Stick around for events throughout the day, including a stroll down Balloon Boulevard filled with crafts, souvenirs, food, and drinks.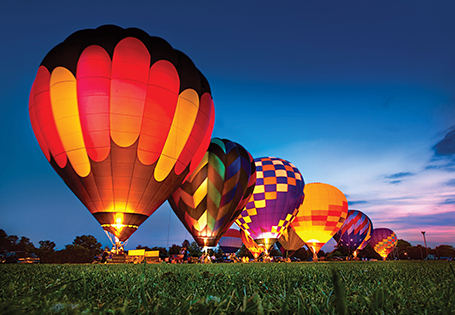 3. Plano Balloon Festival & Run
Where: Plano, Texas
When: Mid-September
Stay Here: Sonesta Suites Dallas Park Central
For more than 40 years, the Plano Balloon Festival continues to draw a family-friendly crowd. The attention-grabber is the majestic spectacle of 40+ hot air balloons (plus a dozen character balloons) floating up into the sky. But the young (and young at heart) will enjoy entertainment, skydiving events, art activities, inflatable rides, and obstacle courses, capped off by fireworks and nighttime balloon glow. There's a fee (typically $5-$10/day), but it's free for kids 36" and under.
4. Albuquerque International Balloon Fiesta
Where: Albuquerque, New Mexico
When: October 2-11, 2021
Stay Here: Best Western InnSuites Albuquerque Airport Hotel & Suites
As the largest hot air balloon festival in the U.S., the Albuquerque International Balloon Fiesta will celebrate its 50th year with more than 575 balloons dotting the skyline during this 10-day event. The mass lift-off and morning laser show occurs at the 78-acre Balloon Fiesta Park. You'll find lots of activities post-launch, from car shows, live music, and chainsaw carving exhibitions to the Balloon Discovery Center, fireworks, and skydiving show. General admission is $10 per person per session (morning or evening).
5. Carolina Balloon Fest
Where: Statesville, North Carolina
When: October 15-17, 2021
Stay Here: Chetola Resort
Now in its 48th year, the Carolina Balloon Fest takes a charitable twist with its hot air balloon festival, funneling a portion of the proceeds back to local nonprofits — in the last five years, the event raised over $500,000 for community organizations. Whether you take a tethered ride for a birds-eye view or keep your feet on the ground, you'll find plenty to do beyond the twice-a-day mass launches. Pop in the beer tent for a cold one, grab a bite on Eat Street, enjoy meet-and-greets with the pilots, and take the family to Kids Zone for rock-wall climbing and pint-sized bungee jumping. Tickets start at $15, with free admission for children 12 and under.