Slipping out of town for a long weekend might be just the recharge you need right now. To make the most of a brief getaway, save yourself the usual stress of trip prep by keeping it simple and knocking your packing list down to just the essentials you need. Whether you're headed to the mountains, beach, or city, streamlining what you bring along with you can lighten your mental load as much as your physical one. Not sure where to go? Check out these three short road trip ideas. Then read on for a few easy tips and tricks to help you pack like a pro for a long weekend away with RCI.
1. Use Packing Cubes
While hardly new, packing cubes are the secret packing weapon of frequent travelers. And they work a charm when it comes to keeping all your things organized in a small carry-on bag for a weekend away. Packing cubes are zippered bags made of a mix of fabric and mesh, and can be stuffed with far more than you'd think while saving space in your bag. Purchase them in different colors for keeping daytime clothes, evening wear, and underthings separated. That way, you can just grab what you want from your bag as you need it.
2. Keep Colors Neutral
Try to pack clothes that stick to a neutral color scheme — this makes it easy to mix and match what you wear while traveling. Using colors that pair well together allow you to Tetris together different clothing combinations, keeping your look fresh without having to bring along very many items. Opt for tops and bottoms in shades like white, black, grey, denim, navy, and khaki, which all interchange well. If you're craving a pop of color or pattern, add it with an accent scarf, a striped t-shirt, or colorful belt — or simply accessorize with a bold piece of jewelry or stylish sunglasses.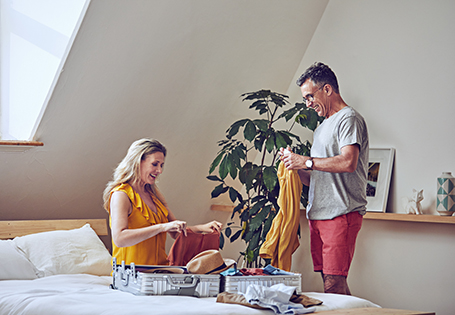 3. Layer, Layer, Layer
Clothes that layer well are the key to keeping warm as well as essential to a revolving look as you shed and add layers throughout your day. A tank top or golf shirt can be dressed up for dinner when you layer it with a polished cardigan, for example. When packing tops, think in terms of base layers, like t-shirts and polo-style shirts, as well as mid-layers such as lightweight sweaters and wraps. If you're traveling during cold weather, you'll need an outer layer like a trench coat or down puffer jacket, too, which you can wear in transit to save room in your carry-on (wear your bulkiest shoes, too, instead of packing them).
4. Don't Forget The Essentials
You know not to leave home without your wallet, keys, and driver's license. But on a quick weekend away, it can be easy to forget to pack other essentials you might need, including any regular prescription medicines you take, contact lenses, reading glasses, and the like. It's especially easy to forget to bring a bathing suit, too. So if you're going someplace you think you'll use one, remind yourself to pack it at the same time you pack your socks and underwear.
5. Streamline Toiletries & Electronics
You don't need as many toiletries as you'd think for a weekend away, especially if the basics like shampoo and conditioner are provided at your hotel or resort. A small travel-size toothpaste and shaving cream can also save space in your luggage. Likewise, aim to minimize the electronics you bring along for a weekend getaway. Ditch your laptop in favor of a tablet or, better yet, just your phone if you can manage it. And if you think you can't, remind yourself — you're on vacation. So pack light to go big on the fun.