Spring break is a great time of year to get your family outdoors and into the fresh air. It's the perfect opportunity to close your laptop, pack your bags, and hit the road for some refreshing outdoor experiences with the family. No matter where your travels take you, RCI has the perfect spot for you to put up your feet after a long day exploring the great outdoors. Bonus — with RCI, you'll can have access to a kitchen where you can cook your own meals and enjoy the privacy of your own bedroom. All of these kid-friendly vacation ideas will go a long way towards helping to develop a sense of wonder and awe of nature's majesty in your entire family. Where will you go for spring break?
The Amazing Northwest
1. Washington's Olympic Peninsula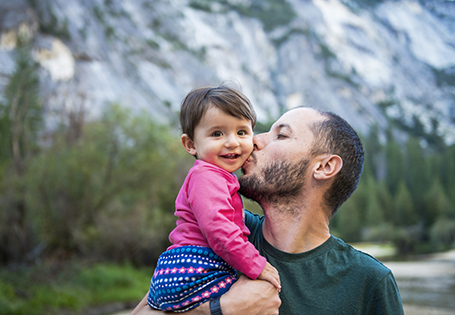 The peninsula is home to the Olympic National Park, which covers nearly a million acres of Pacific Northwest beauty. The park includes the Hoh Rainforest, which is one of the largest temperate rainforests in the United States.
2. Oregon's World-Class Beaches
With more than 50 beaches stretching from north to south, the Oregon coast's rocky coastline creates a stunning landscape and the native wildlife offers a unique view into the Pacific coast habitat. You won't want to miss Cannon Beach's Haystack Rock — a 235-foot monolith that is home to fascinating tide pools and many diverse bird species.
3. Yellowstone National Park
Touching the far corners of Idaho, Montana, and Wyoming, Yellowstone is a beacon for wildlife lovers and amateur geologists alike. From grizzly bears, buffalo, and elk, to geysers and hot springs, Yellowstone offers a wide variety of experiences for the whole family.
The Impressive Southwest
4. Yosemite National Park
California's Yosemite National Park is considered a national treasure. Known for its waterfalls and for its massive, ancient Sequoia trees, Yosemite offers more than 1,200 square miles of opportunities to explore California's beautiful landscape with the kids.
5. Utah Salt Flats
Located on the western edge of the Great Salt Lake, Utah's Bonneville Salt Flats are a 30,000-acre expanse of hard, crusted white salt — a rare geological marvel well-worth seeing. Salty and blindingly white as far as the eye can see, make sure to bring fresh water and your sunglasses.
6. The Grand Canyon
Arizona's Grand Canyon National Park is a classic travel idea and not a sight to be missed. Formed over millions of years, the Grand Canyon offers breathtaking views of the Colorado River, as well as a diverse landscape of layered rock and other rare geological phenomena.
The Majestic Midwest
7. The Rocky Mountains
Colorado is home to the Rocky Mountain National Park, which offers more than 400 square miles of breathtaking panoramic views. Famously, the park is home to more than 100 peaks that are 11,000 feet high or taller.
8. The Black Hills
Search for vacation gold in South Dakota's famous Black Hills. Inclusive of the Black Hills National Forest, this area is famous for the gold first discovered in the area in the 1800s, as well as Mount Rushmore and the Crazy Horse Memorial.
9. Lake of the Ozarks
Missouri's Lake of the Ozarks rests in the shadow of the area's magnificent Ozark Mountain Range. Lake of the Ozarks boasts more than 1,100 miles of shoreline and features public beaches, boating, fishing, and water recreation galore for the whole family.
The Gorgeous Northeast
10. Maine Coast's Stunning Shoreline
Boasting more coastline than California, the magnificent Maine Coast is a pristine paradise. Famous for its sandy beaches, lobster harvest, and plethora of lighthouses, Maine is a vacationer's dream come true.
11. The Green Mountain Byway
Vermont's Green Mountain National Forest is home to a variety of wildlife, including beaver, moose, black bear, and white-tailed deer. Containing three nationally designated trails and more than 900 miles of hiking and biking trails, you'll enjoy flora, fauna, and fresh air in abundance.
12. The New Jersey Shore
Sunshine, sandy beaches, and seafood are in abundance in New Jersey's beautiful coastal area. The New Jersey shore has a unique geographical shape, which enables vacationers to view both sunrise and sunset over the water from different vantage points in the area.
The Stunning Southeast
13. Everglades National Park
From bird watching and boating to fishing and hiking, the Florida Everglades offers a unique vacation opportunity for outdoorsmen and outdoorswomen alike. Home to several endangered species, including the leatherback turtle, West Indian manatee, American crocodile, and Florida panther, this 1.5 million-acre preserve is a vast configuration of marshes and mangroves.
14. Lake Marion
Known as South Carolina's inland sea, Lake Marion boasts 315 miles of shoreline and holds several records for the big fish who call the lake home. Water lovers and anglers alike will find this the perfect travel idea for some spring break fresh air.
15. Chattahoochee National Forest
Georgia's Chattahoochee National Forest is 106,000 acres of stunning wilderness. Offering 37 developed recreation areas, 200 picnic sites, 6 swimmable beaches, and 530 miles of hiking and walking trails, it's the perfect spot to pack a picnic lunch and hit the trails with the kids.
NOTE: Information may have changed since publication. Please confirm key details before planning your trip.