See million-dollar views for the modest price of a ferry ticket. Who needs a cruise? Most ships have seats indoors and out, plus transport you to a cool nearby destination that you can explore. On your next RCI vacation, take a day trip aboard one of these six ferry rides with scenic vistas that will have you saying, "Thank you ferry much."
1. Look For Lady Liberty
In New York City, a spin on the Staten Island Ferry is the bargain of the century, year after year. Price: $0. Make that $000. Up to 70,000 commuters per weekday use the vessels to reach work and home between lower Manhattan and nearby Staten Island. Many tourists board for the sole reason of riding right past the Statue of Liberty, which stands majestically, holding its torch in New York Harbor. No tickets, lines, or stairs … just a salute and, surely, a snapshot.
2. Cruise The Caribbean
Visit one U.S. Virgin Island from another by ferry, traversing over clear aquamarine waters between St. Thomas and St. John. The trip takes 10 minutes or 45, depending which dock you choose. Guaranteed: picturesque expanses of green hills. Three days a week, head to farther St. Croix for a few hours of quiet sightseeing. You'll be back at your RCI resort for dinner. Likewise, the British Virgin Islands have inter-island ferries from Tortola and other destinations.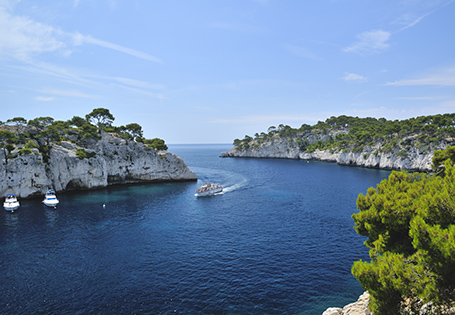 3. Venture Beyond Boston
Take a break from Boston's historical sites to get out on the water, with ease. Offshore, Boston Harbor Islands National and State Park has 34 peninsulas and islands, and ferries carry visitors to eight of them starting in May. Georges with its Fort Warren, Spectacle for boating, Bumpkin for shell beaches … close and captivating. Yet more Boston ferries will get you to artsy Provincetown, the Charleston Navy Yard, and even Salem.
4. Lock In A Lake Tour
Your warm-weather vacation in Wisconsin will be green and gorgeous. Make time to enjoy the water. From May through October, a 1953 steamship car ferry called S.S. Badger will carry you across Lake Michigan. The trip is four hours each way, and you'll have plenty to do besides gawk at the nature surrounding you. Visit the onboard museum, play Badger Bingo, have a meal, watch a movie, borrow a board game, even shop in the Boatique.
5. Go For The Gold
You can see San Francisco's legendary Golden Gate Bridge from land, air, or car. Skip 'em and get a great vantage point from the water instead. The Golden Gate Ferry passes right by several times a day en route to nearby Sausalito, 30 minutes away, or Larkspur, 45 minutes away. You'll pass the one-time prison-island Alcatraz, along with Angel Island State Park. Return at sunset for magnificent skyline views.
6. Move Around Mexico
Take a ferry trip from Cancun to Isla de Mujeres for a day of snorkeling from shore and zipping around on scooters or golf carts. To get there, start at any of Cancun's ferry terminals. You'll cross over crystal clear Caribbean-Gulf waters, then arrive at this serene destination 20 minutes later. Hop back on the ferry anytime; it runs every half hour.