British Columbia's coastal cities, linked by a scenic floatplane or ride in a ferry, come to life in the summer. Art and food festivals take over the streets, and there are water adventures galore, even a pub crawl by boat. Here's how to make the most of your time outdoors.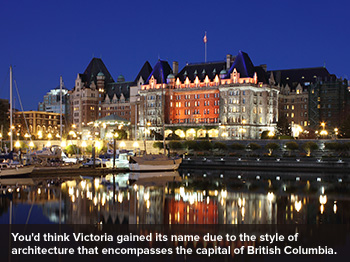 VICTORIA
Cobblestoned streets and Victorian architecture give the capital of British Columbia a genteel look befitting western Canada's second-oldest city. That same heritage has made afternoon tea, shopping for antiques on Fort Street and a stroll through Butchart Gardens, which hosts concerts and Saturday-night fireworks, traditional pursuits for a summer's day.
But lately a craft-beer craze has begun livening Victoria up. You can take in the scene with the Pickle Pub Crawl, a ferry service that lets you hop on and off at four venues, including the Canoe Brewpub and the Bard and the Banker. It departs from Victoria's Inner Harbour, where you'll also find Red Fish Blue Fish, an outdoor upcycled cargo container dishing out sustainable seafood, like wild salmon and fish-and-chips made with B.C. halibut. In August, Victoria Symphony Splash brings classical music to a stage moored in the harbor.
For a glimpse of how some of the locals live, head to Cook Street Village, a neighborhood of tree-lined streets, cheerful-hued historic homes and spots for a tasty brunch. Even here the water beckons: Dallas Road leads to Clover Point Park, a secluded beach where you can picnic among kite fliers, windsurfers and gorgeous views of Mount Baker and the Pacific.
VANCOUVER
Surrounded by mountains, forests and beaches, Vancouver wows with its natural good looks whatever the season. Still, summer is an enticing time to visit thanks to relatively mild days and a bevy of outdoor events. Theater lovers can head to the waterfront, where the Bard on the Beach Shakespeare festival sets up a tented theater in the warmer months. Venture away from the bay and you're bound to run into the Vancouver International Jazz Festival, which puts on alfresco shows across the city.
Inventive dining awaits at the Settlement Building, a converted warehouse in the emerging Railtown neighborhood. The industrial-chic space is home to the Belgard Kitchen, the Vancouver Urban Winery and Postmark Brewing—and those last two are just the tip of Vancouver's artisanal-brewery-and-distillery scene. Notably, Dogwood Brewing is the city's first organic option, while spirits are made by hand from 100% B.C. grain at the Liberty Distillery, on Granville Island.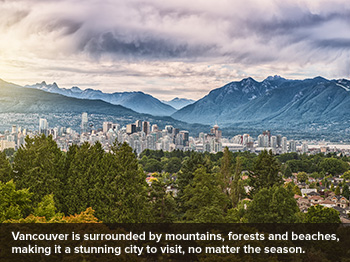 Be sure to check out the rest of the island after indulging in the Liberty's signature cocktails. Granville is famous for its public market, and you can also pick up artsy souvenirs at Delish General Store. Then end your trip below or above the water with Sea Dragon Charters' snorkeling excursion at the Pam Rocks seal colony or Ecomarine's stand-up-paddleboard tour along the shore of Stanley Park at sunset.
THE DETAILS
Bard on the Beach: 203–456 W. Broadway, Vancouver; 604.739.0559; bardonthebeach.org
Butchart Gardens: 800 Benvenuto Ave., Brentwood Bay; 250.652.5256; butchartgardens.com
Delish General Store: 1535 Johnston St. #108, Granville Island, Vancouver; delishgeneralstore.bigcartel.com
Dogwood Brewing: 8284 Sherbrooke St., Vancouver; 604.325.3693; dogwoodbrew.com
Ecomarine: 1668 Duranleau St., Vancouver; 604.689.7575; ecomarine.com
Liberty Distillery: 1494 Old Bridge Rd., Granville Island, Vancouver; 604.558.1998; thelibertydistillery.com
Red Fish Blue Fish: 1006 Wharf St., Victoria; 250.298.6877; redfish-bluefish.com
Sea Dragon Charters: Howe Sound, W. Vancouver; 604.329.3486; seadragoncharters.com
Settlement Building: 55 Dunlevy Ave., Vancouver; 604.566.9463; settlementbuilding.com
Vancouver International Jazz Festival: Coastal Jazz & Blues Society, 295 W. Seventh Ave., Vancouver; 604.872.5200; coastaljazz.ca
Victoria Symphony: Inner Harbour, Victoria; victoriasymphony.ca
NOTE: Information may have changed since publication. Please confirm key details before planning your trip.