It takes perspective to fully appreciate Lake Tahoe, the grand dame of mountain lakes that straddles the California-Nevada border more than a mile above sea level. That's where the Tahoe Rim Trail comes in handy: The 165-mile footpath traces a high ridgeline all the way around the lake, a cobalt beauty ringed by the chiseled granite peaks of the Sierras.
Though the trail winds through 2 states, 3 wilderness areas, 4 national forests and 6 counties, it's easily broken up into manageable day hikes. (There are also beaches, boat marinas and restaurants to visit, too.) In autumn, summer crowds have fled and the quaking aspens glow gold against a backdrop of pines, firs and the spectacular lake, with its gin-clear water as pale blue as a bottle of Bombay Sapphire.
NORTH SHORE
Visitors arriving from Reno—an easy 45-minute drive—catch their first glimpse of Lake Tahoe from this scalloped shoreline of friendly resort towns and the upscale community of Incline Village. Since lake temperatures rarely are much warmer than 60 degrees, most visitors are content with a quick dip. They're likely to spend more time lounging on the sand or on the decks of waterfront restaurants along Highway 28.
Within 15 minutes, you can be hiking in serene Tahoe Meadows, 8 miles up Highway 431 toward Mt. Rose. This diverse section of the Tahoe Rim Trail rewards hikers with trickling creeks, grassy meadows and a gentle climb through lodgepole pines and over slabs of granite. After about an hour, you'll emerge on a ridge to see Lake Tahoe spilling out to the southwest, hemmed in by the serrated horizon of the Sierra crest. Hike as far as you can before turning back; the lake views just keep getting better.
WEST SHORE
Since the toothy peaks of the Sierras rise to nearly 10,000 feet here, they're usually buried under a deep mantle of snow. That's ideal for nearby ski resorts like Squaw Valley and Alpine Meadows, and for cool, high-alpine hiking in the height of summer. These trails aren't snow-free until mid-July and are accessible until the snows return as early as mid-October.
South of Tahoe City, a trailhead at Barker Pass (elevation 7,650 feet) begins a trek rich with streams, a riot of wildflowers whose bloom extends into autumn, and lake views framed by expansive Blackwood Canyon. Moving north, you'll cross beneath the rocky spires of two volcanic plugs that lurch up above the fir and hemlock forest.
Hikers can stop to enjoy Tahoe City, an appealing waterfront village on the lake's northwestern shore. Fanny Bridge in the middle of town spans the Truckee River, the only natural outlet for Lake Tahoe.
SOUTH SHORE
From Emerald Bay, the drive east on Highway 89 is a showstopper, winding over a narrow spine with sweeping Tahoe views on the left and glimpses of placid inland lakes among pines and aspens to the right. The road then drifts down and enters an entirely different world: South Lake Tahoe, a busy commercial jumble that merges into big-name casinos and large hotels in Stateline, just over the Nevada border.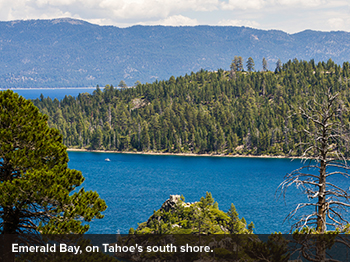 The Tahoe Rim Trail wanders south here, weaving among a scatter of mountain lakes in the 63,960-acre Desolation Wilderness. Sample it with a day hike from Echo Lake off Highway 50. To start, take a pleasant ride in a water taxi that deposits you 2½ miles down the trail at Upper Echo Lake. From here you'll hike west under ragged Sierra peaks until, roughly 3 miles later, you can soothe your feet in the sun-warmed waters of Lake Aloha.
EAST SHORE
South of Incline Village, stop to poke around the water's edge at Memorial Point, Sand Harbor or Chimney Beach, where smooth white boulders rise out of the water like breaching whales. Just inland, the Tahoe Rim Trail traverses the length of Lake Tahoe–Nevada State Park, which is bathed in afternoon sun on the cooler days of spring and fall. At Spooner Summit, the trail leads north under tall stands of ponderosa and jeffrey pines. Fat pinecones litter the forest floor, filling the air with their spicy scent.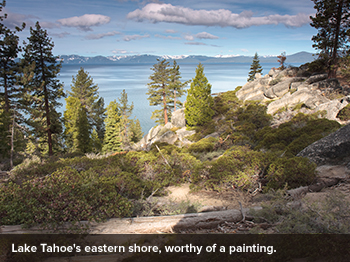 The iconic Western scenery fits the area's Wild West history. In the 1850s, miners tapped into a 3-mile vein of silver and gold just east of the lake. Over the next few decades the Comstock Lode produced more than $300 million of ore, making the area one of the wealthiest places on earth. But the trail taps more enduring riches: enchanting views of America's grandest lake, a swirl of blue fading into the lavender horizons.
NOTE: Information may have changed since publication. Please confirm key details before planning your trip.