Here's a geographical riddle: How do you explore a 100-mile-long glacier-carved chasm filled with water more than 900 feet deep? Hint: Find yourself some big boats, high bridges and maybe a kayak or two.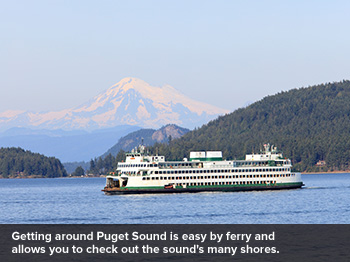 Fortunately, Washington State's Puget Sound has all of these. It would take weeks, maybe months, to properly visit every hidden cove, maritime hamlet and picnic-worthy inlet around this estuarine playground. But you can discover many of the gems in a long weekend car trip from Seattle. Just expect to move around a bit.
SOUND CROSSING
Start by getting to know the Washington State Ferries (WSF) system (wsdot.wa.gov/ferries), whose cat's cradle of routes connects the sound's many shores. Because Puget Sound's width spans only a few miles, trips aboard these 28 green-and-white vessels—most of them car ferries—average no more than a half hour.
Your first ride leaves from Seattle's downtown waterfront, at Pier 52 on Alaskan Way, where both visitors and commuters drive onto either the jumbo-size Tacoma or Wenatchee. The destination: Bainbridge Island, 35 minutes away. By the time you've parked your car, climbed upstairs and found a railing to lean on, Seattle's compact skyline will be fading off the stern.
Keep your eyes peeled for fins. Although whales generally roam these waters in winter, come summer orcas aren't uncommon. More likely, you'll glimpse one of the ubiquitous harbor seals, the blubbery, big-eyed bane of the sport-fishing boats dodging the ferry's path. (The seals' favorite free meal: hooked, but not landed, king and coho salmon.) Be sure to stay up top as the vessel makes its final approach—a giant S-curve that swings alarmingly close to Bainbridge's easterly shore before lumbering left into Eagle Harbor.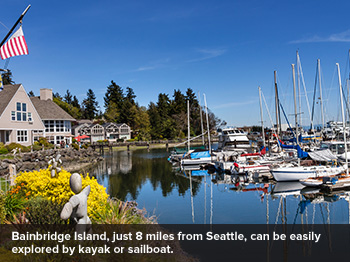 Once you're on Bainbridge Island, it's hard to remember that a major metropolitan center lies just 8 miles due east. Protected by a long shoal at its entrance, placid Eagle Harbor might as well be across the ocean from Seattle. The sparkling cove filled with lazy kayak traffic and buoyed sailboats is lined with beach houses tucked under towering stands of Douglas fir, western red cedar and orange-tinged Madrone trees.
After you drive off the ferry, veer left at Winslow Way East and breeze into Winslow itself, a vibrant waterside town with shops like Island Gallery, which sells one-of-a-kind furniture made of Northwest woods. Fortify your strolling with a croissant-like Vanilla Downtowner from the organically minded Blackbird Bakery, beloved by visitors and locals alike.
Lunch is a tougher decision. Chef Kevin Warren's acclaimed Café Nola serves up Euro-style bistro fare with Northwest ingredients. Alternatively, it's just a 2-minute walk to the harbor's edge and a marina-side table at the casual Doc's Marina Grill or at Harbour Public House.
On the way back to the car, swing by the Eleven Winery tasting room to pick up a few bottles of their superb Washington Syrah or Pinot Gris. (Everything here is "carbon-neutral"—corks, labels and bottles are all 100-percent recyclable.) Then head for the island's backdoor, a short bridge that spans the narrow, swirling waters of Agate Passage, about 15 minutes to the north.
OLD WORLD
Once over the bridge and back on terra firma, take a left turn into Norway. Well, not exactly Norway, but it'll be hard to tell the difference as you roll into Poulsbo, on the shores of Liberty Bay. In the 19th and early 20th centuries, thousands of Scandinavians migrated into the Puget Sound region, and a pocket of Norwegian loggers ended up in this forested inlet. As the town grew, their old-world customs remained intact. Norwegian was most residents' first language as late as World War II, and Scandinavian-style architecture—steeples, rough wood siding, flowery trim—is still in evidence.
A raised waterfront boardwalk on Poulsbo's western side winds along a wooded hill for about 600 feet. It's a good place to enjoy chocolates or ice cream from Boehm's on Front Street. For a fine Northwest dinner—think fried oysters and fresh Dungeness crab—take a table at MorMor Bistro.
Finally, top off your day with a sunset kayak tour from the Olympic Outdoor Center.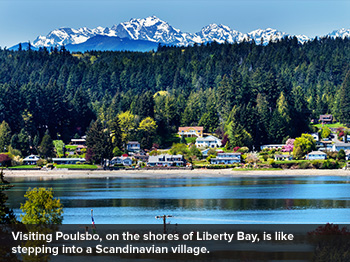 TO THE LIGHTHOUSES
The next destination, Port Townsend, lies about an hour north. It's just over the headwaters of Hood Canal, which is easily forded via a two-lane floating bridge. Though you might want to linger along the way at the clam-filled beaches (Shine Tidelands State Park!), picnic spots (Point No Point!) and semi-hidden coves (Port Hadlock!), you'll be happy to arrive in this amiable Victorian town at the end of the bucolic Chimacum Valley.
Port Townsend oozes maritime tradition. It sits on the northeast corner of the Olympic Peninsula, which pokes out into Admiralty Inlet—by some definitions, the main entrance to Puget Sound. A decommissioned lighthouse stands sentinel on the bluff above town, and schooner-watching from one of the many waterside restaurants is a favorite pastime. Try the deck at Fins Coastal Cuisine, where it's easy to lose a few hours sipping Chet's Gold Golden Ale (from the nearby Port Townsend Brewing Co.) while you take in the shifting seascape.
Then get to the beach. Just north of town, Fort Worden State Park fronts the Sound with a long, sandy crescent, much of it below an eroding bluff. Close to the main access point, the beach is a hive of activity—scuba divers, beachcombers, even annual Native American gatherings all converge here in high summer. But the farther you walk north toward the lighthouse at Point Wilson, the more isolated the shore becomes. Here, nothing beats a picnic among the salt-bleached driftwood, scrubby beach grasses and westerly Pacific breezes.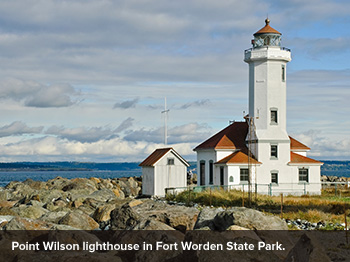 ISLAND LIFE, PART II
It's boat time again. For your final leg, book passage on WSF's Steilacoom II, a smaller car ferry that connects Port Townsend to Whidbey Island, about a 35-minute crossing. The other side opens up into typical "Sunday drive" country: Beyond the bluffs of Whidbey's rugged western shore are acres of gentle, undulating farmland. It's no surprise that Whidbey is home to half a dozen farmers markets and countless roadside stands selling fresh produce, local honey, organic Northwest cheeses and more.
For a dramatic exit back to Puget Sound's eastern shore, head north to Deception Pass, where a pair of twin bridges—each fastened to rocky cliffs—connect Whidbey Island with neighboring Fidalgo Island and the mainland. The thrill lies beneath: one of the most treacherous and breathtaking saltwater channels in the western United States. Here, the tidal flow narrows to a tight gorge, just a few feet across, causing roiling eddies and turbulent whirlpools.
Park on the Whidbey Island side, where a footpath leads to a prime viewing point. You'll see daring pleasure boaters waiting to thread the needle on their way north to the San Juan Islands—or, like you, south to Seattle.
NOTE: Information may have changed since publication. Please confirm key details before planning your trip.