Ever since Marco Polo hit the caravan road and headed east, travelers have dreamed of reaching the fabled shores of Asia. Replacing camels with jumbo jets has made that journey much easier, but it's still a challenge to take in a continent that's home to 60 percent of the human race—unless you make your initial tour aboard a cruise ship!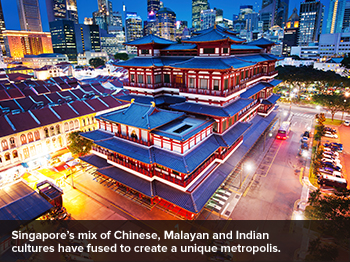 Many of the best-known lines offer itineraries that stop in a half-dozen ports during a 2-week cruise. As you float from city to city, you'll only have to unpack your bags once. While you won't be able to immerse yourself in any one port, you can treat the expedition as a scouting mission, and return later for an in-depth visit to your favorites. Here are some of the best attractions in the 6 cities you're most likely to see on an Asian cruise.
SINGAPORE
Established as a British trading post in 1819, Singapore is a busy, business-minded, English-speaking city with a reputation for squeaky-clean living—chewing gum is banned. But this island of 4.6 million does have a colorful side: The population is descended from a mixture of Chinese, Malayan and Indian, and all three culinary traditions have fused to create a gastronomic paradise. Experience the riches at one of Singapore's numerous hawker centers, where open-air food stalls, operating under strict health-department supervision, sell a huge range of local favorites, from laksa (rice noodles and seafood in coconut broth) to grilled stingray with sambal chili paste.
BANGKOK
Once a sleepy backwater best known for its sensuous silks (as well as other pleasures), Thailand's capital has become the most vibrant and sophisticated city in Indochina. Its longtime traffic jams have been eased by both a new subway system and a monorail. For a taste of the country's burgeoning art scene, get off at the Surasak monorail station and walk down Silom Road, Bangkok's gallery row, where you'll find works by the finest contemporary Thai painters on display.
HO CHI MINH CITY
Decades ago, foreign correspondents went to seed amid the faded French colonial splendor of creaky old hotels like the Rex and the Continental. Thirty-three years after this city fell to Communism, those hotels have been renovated and re-opened as shinier, glitzier versions of themselves. Should it be so surprising? Vietnam's largest city has always exhibited more entrepreneurial swagger than Hanoi, the country's capital. Go poke around the famous Ben Thanh Market, a sprawling, roofed collection of vendors where everything under the sun has been vigorously offered for sale since 1914. That enterprising instinct is transforming the city with ever greater velocity.
HONG KONG
After Hong Kong's 1997 handover from Britain to China, the world wondered if the change would undermine the region's famous cosmopolitan verve. By now, the answer is clear: Gaudy, brash Hong Kong is still a city where consumption can never be too conspicuous, and glitter is never gauche. Shopping and nightlife are more over-the-top than ever. Causeway Bay on Hong Kong Island is now an epicenter of chic.
SHANGHAI
Once a drowsy colonial outpost, Shanghai today is a forest of skyscrapers, including some of the tallest in the world. The ambitions of 20 million people, all seemingly struggling to get rich as quickly as possible, create an almost unfathomable electricity. The best place to start is at the heart of it all, the Bund, the famous waterfront promenade that has always served as the centerpoint of Shanghai. Still lined with colonial era buildings that predate the Communist revolution of 1949, the Bund is currently in the process of a major redevelopment to restore its former glory.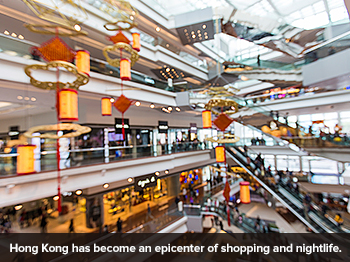 TOKYO
For nearly 300 years, the Japanese were cut off from foreign trade and travelers by the xenophobic Tokugawa shoguns (1603–1868). Some of that sense of separateness still remains, as Japan continues to hew its own distinct path. To get a sense of typical Japanese style, visit the Omotesando district—it might be the world's most artistically inspiring retail environment.
NOTE: Information may have changed since publication. Please confirm key details before planning your trip.