Until recently, Austin's shops didn't command the same attention as its live-music roots or creative food scene. That's understandable: Locals here are notoriously, almost proudly, casual, and for years jeans and a tee could have passed as the city's unofficial uniform. Today, though, Austin is growing—and fast. An average 115 people move to the state capital every day, diversifying its rhythm, character and, yes, fashion sense. The result? One-off boutiques are sprouting in every neighborhood, and independent shops are thriving.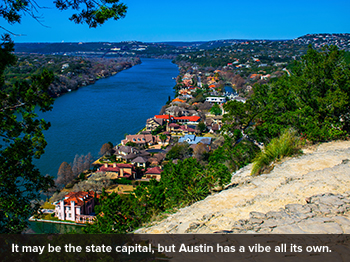 SOULFUL SOUTH LAMAR
It's hard to drive down this central-Austin corridor without spotting something new, such as neighboring stores Sunroom and Headdress. At the first you'll find New York transplant Lucy Jolis's collection of clothes, home-decor items and—her personal favorite—jewelry, including works by bicoastal designers, such as Rila and Gunnard. Stop in Headdress if you're after a full-on hippie look; affordable finds include bell-bottom jeans and leather purses with beaded tassels. Get acquainted with Christian Dior, Alexander McQueen and Tory Burch for half the price at Moss; there's also a large men's department at this thrift store. Mockingbird Domestics is known best for its made-in-Austin furnishings, but you'll also spot suitcase-worthy souvenirs, like beautifully illustrated calendars and framed black-and-white photos. Further north, JM Dry Goods and Spartan achieve a hip Marfa aesthetic—think artsy Brooklyn meets Coen Brothers film—with desert-cool displays. Paired-down collections include furnishings and leather goods by Silla, for example, as well as woven ponchos, hammocks and embroidered fabrics from Mexico. If you like to shop for artisanal foods (like locally roasted Cuvée Coffee), head to the Wheatsville Food Co-op—another cult grocery store in the birthplace of Whole Foods.
SOUTH CONGRESS COOL
Pedestrian-friendly South Congress Avenue (nicknamed SoCo) is an ideal street to stroll with credit card in hand. Many a fashionisto gets his wares at Stag; the store carries great T-shirts, messenger bags, flasks and cozy plaid button downs. The Southern charm is on the mark at the Impeccable Pig (which also has stores in Dallas and Houston). Pick up breezy summer dresses and statement jewelry at great prices. A loop through Uncommon Objects, loaded with antiques and vintage items, is like a trip to a jackpot estate sale. You can get ranch ready at Allens Boots, where cowboy hats, pearl-snap shirts and embroidered kicks line old wooden shelves.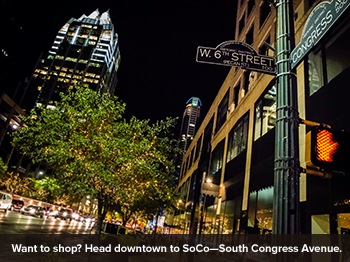 DOWNTOWN DISTRACTIONS
In the heart of Austin, you'll find vendor veterans, such as By George, which just celebrated its 36th year in business. While products are a mix of high and low price points—two locations carry global brands, like Marni, as well as works by local designers, such as Cambria Handmade—husband-and-wife team Katy and Matthew Culmo run it with a hands-on approach. For dresses ranging from casual to cocktail, skip on down to Kick Pleat, near House Park. You can also walk to BookPeople; the independent bookstore opened in 1970 and hosts author readings. Try on distinctive jewelry (such as gold works by Austin designer Shaesby) at Eliza Page, located among the skyscrapers in Austin's Second Street District. Down the sidewalk, Wee sells fashionable baby clothes and furnishings.
NORTH AUSTIN NICETIES
Unless you're looking for Longhorns-related paraphernalia, skip the shops on the University of Texas campus and head farther north. When you walk into Breed & Co., turn right if you need a hammer and nails; on the left you'll see thoughtful gifts, like English stuffed animals and scented candles. Fine jewelry beckons from locked display cases in The Menagerie, where the signature peach-colored gift boxes get knowing smiles from the faithful clientele. You could spend a bundle at Wendow Fine Living, which sells owner Shannon Dyer Dowell's Southern California–inspired furniture and home decor. Close by—but at the other end of the spectrum—Top Drawer Thrift is one of the best consignment stores in town.
THE DETAILS
Sunroom: 2324 S. Lamar Blvd.; 512.326.1499; sunroomaustin.com
Headdress: 2324 S. Lamar Blvd.; 512.326.2656; shopheaddress.com
Moss: 705 B S. Lamar Blvd.; 512.916.9961; mossaustin.com
Mockingbird Domestics: 2151 S. Lamar Blvd.; 512.677.4004; mockingbirddomestics.com
JM Dry Goods: 215 S. Lamar Blvd.; 917.548.7606; jmdrygoods.com
Spartan: 215 S. Lamar Blvd., Suites C and D; 512.579.0303; spartan-shop.com
Wheatsville Food Co-op: 4001 S. Lamar Blvd.; 512.814.2888; wheatsville.coop
Stag: 1423 S. Congress Ave.; 512.373.7824; stagaustin.com
The Impeccable Pig: 1400 S. Congress Ave.; 512.383.8833; theimpeccablepig.com
Uncommon Objects: 1512 S. Congress Ave.; 512.442.4000; uncommonobjects.com
Allens Boots: 1522 S. Congress Ave.; 512.447.1413; allensboots.com
By George: 524 N. Lamar Blvd. 103; 512.472.5951; bygeorgeaustin.com
Kick Pleat: 918 W. 12th St.; 512.445.4500; kickpleat.com
BookPeople: 603 N. Lamar Blvd.; 512.472.5050; bookpeople.com
Eliza Page: 229 W. Second St.; 512.474.6500; elizapage.com
Wee: 213 W Second St.; 512.236.1338
Breed & Co.: 718 W. 29th St.; 512.474.6679; breedandco.com
The Menagerie: 1601 W. 38th St.; 512.453.4644; themenagerie.com
Wendow Fine Living: 1512 W 35th St.; 512.284.9732; wendowfineliving.com
Top Drawer Thrift: 4902 Burnet Rd.; 512.454.5161; projecttransitions.org
NOTE: Information may have changed since publication. Please confirm key details before planning your trip.