If you find yourself on one of the many beaches on Florianópolis, there's a good chance you'll hear a smattering of Spanish. Don't be surprised—you're still in Brazil; the national language is still Portuguese. It's just that this low-key island attracts quite a few Argentines, who, it should be noted, have plenty of great vacation spots in their own country. So what's the draw? For starters, there are no fewer than 42 beaches, ranging from remote surf breaks to wide, sandy swaths lined with high-rise hotels. Then there's the dining. The island's historic fishing villages mean stellar seafood. Add good roads and easy access (it's a 90-minute flight from Rio), and it's no wonder so many South Americans take refuge here.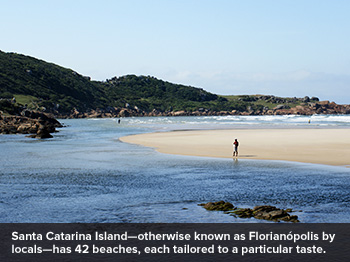 The official name is actually Santa Catarina Island, but everyone calls it Florianópolis, after the island's city—which also happens to be the capital of the southern state of Santa Catarina. Just use its nickname, "Floripa," and focus on remembering the names of all the great beaches, or praias. The busy tourist season begins in December—high summer, south of the equator—but if you go in November (or March) you'll avoid the crowds and still get great weather. Renting a car is recommended, as good roads make it easy to explore everything this thin, 42-mile-long island has to offer.
BEACH BY BEACH
How to choose from Floripa's abundant options
Each of the island's 42 beaches seems tailored for a particular taste, and all are open to the public. You probably won't have time to get to every one, so here's a cheat sheet.
The warmest beaches lie on the more urbanized northern shore. For family-friendly options, the calm water off Praia dos Ingleses is ideal. As you move toward the less populated southern end of the island, fishing villages replace high-rise resorts. At Praia do Moçambique, on the east coast, the untracked sand stretches for 8 miles. And if you want a break from the heavy surf, you can trek into the adjacent pine forest. A 10-minute drive south, Praia Mole, or Soft Beach, earns its name with sand so forgiving that you sink in a few inches with each step. It's still surprisingly undeveloped, in part because of big waves and a steep drop-off shortly after you wade in. (Of course, the dedicated surfers who flock here couldn't be happier.)
Sun worshippers flock to Praia da Joaquina. Here, big-time wave-riders compete for your attention with land-lubbing surfers who ride their boards down the white sand dunes. As you drive south from Moçambique to Joaquina, the road parallels Lagoa da Conceição (pronounced CON-say-SOWN), a mammoth lagoon surrounded by tall dunes. If you have time, hike the trail from Canto dos Araçás (near the community at the lagoon's southern end) to Costa da Lagoa. The 2-hour trip follows the lagoon's forested shore and offers stunning views. To return, just catch one of the small boats that regularly stop between fishing villages. The fare won't cost more than a few dollars, and the ride will make you wish your work commute was half as fun.
On the island's rugged southern end, hike-in beaches like Matadeiro and Naufragados are almost deserted in the offseason. The gentle, 2.5-mile walk from the town of Caieiras to Praia dos Naufragados ends beside a lighthouse with a stunning ocean view. To reach Praia Matadeiro, expect a rocky climb from Armação—ask a friendly local to direct you toward the starting point.
FRESH SEAFOOD, AZOREAN STYLE
Island restaurants make the most of their location
After exploring the natural beauty of Florianópolis, it's time to take in its other great attraction: seafood. In rustic fishing villages you'll feast on fresh-caught linguado (sole), shrimp, oysters and squid. Many dishes blend Mediterranean style with local ingredients like coriander, coconut milk and peppers. This rich culinary mix comes courtesy of the Azores, a string of Portuguese islands in the Atlantic. During the 1700s, thousands of Azorean immigrants moved to Florianópolis, setting up whaling outposts at Armação, Pântano do Sul and elsewhere. Whaling is now prohibited, but these sleepy villages continue to thrive on the sea's bounty.
The best-preserved reminders of Floripa's Azorean fishing heritage are Ribeirão da Ilha and Santo Antônio de Lisboa, two towns on the west coast. Go in the early afternoon so you have time to stroll the cobblestone streets lined with pastel-hued buildings. On the calm waterfront, bobbing white buoys mark the oyster farms. End your walk at the main plaza, with its Portugese-style Catholic church built in the 19th century, and then head to Ostradamus, one of the island's best oyster houses. From an ocean-view table, you can watch the sun set over the distant blue mountains on the mainland as you begin your oyster blowout.
In Pântano do Sul you'll find the beachfront restaurant Arante. Inside, a blizzard of handwritten notes left by customers covers the walls and ceiling. The only unadorned surface? Windows with views of anchored fishing boats and islets that sit on the horizon like brilliant green emeralds. The real show begins with the arrival of dinner: huge clay bowls of moqueca de garoupa (a Brazilian stew with grouper, herbs and vegetables) and plates piled high with mariscos refogados (shellfish, squid and other seafood, cooked in olive oil). It wouldn't be a meal in Brazil without a strong café puro to finish things off. If you're not driving, consider a shot of cachaça, the de facto national liquor, made from fermented sugar-cane juice. You might even be inspired to ask the waiter for pen and paper so you can leave your own note.
NOTE: Information may have changed since publication. Please confirm key details before planning your trip.