The swath of the Appalachian Mountains that runs north to south in Western Massachusetts has served as an idyllic playground for weekenders from Boston and New York City for more than a century. The Berkshire Hills, as they're called here, roll lazily southward from Mount Greylock, at the northern end, down through the towns of Pittsfield, Lenox and Great Barrington. It's no wonder the business tycoons of the Gilded Age chose this area, with its hilltop views, to build grand summer cottages in the late 1800s. But while those houses and the region's many other weekend residences are geared toward summer use, visitors have started to take advantage of all that the area has to offer in winter, from snowshoeing and cross-country skiing to skating on frozen ponds. The scenery—softly peaked hills robed in sparkling white snowdrifts, tree limbs luminously bathed in crystals of ice—is breathtaking, especially from the window seat of a fire-lit inn. If you've never experienced the magic of winter in the Berkshires, it's time to grab your parka and head this way.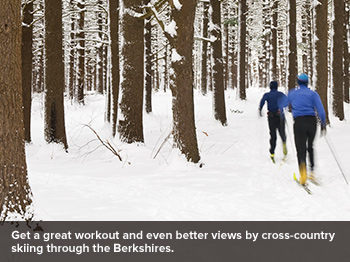 BY SKI OR SHOE
The region's gentle slopes might not provide the face-numbing downhill thrills found in nearby Vermont or New Hampshire, but there's a surprising number of places to lay tracks on fresh powder. The most notable downhill skiing is at Jiminy Peak, in Hancock, where nine lifts and 45 trails (including a handful of glade and mogul runs) cover a rather large chunk of mountain. After a morning on the slopes, take a ride on the Mountain Coaster, a 3,600-foot-long raised track through the snowy woods. Strapped into a seated, single-person sled, you can control your own speed, topping out around 25 mph. Finish the day with twilight skiing or wind down with a beer and burger at John Harvard's Restaurant & Brewery.
Families will find easier runs—and an expansive kid's program and ski school—at Butternut Basin, just east of Great Barrington. Gradual inclines and plenty of cruising trails provide soft cushioning for beginners; sign the kids up for a half- or full-day group lesson before taking off on your own leisurely run.
Across the heart of this bumpy range, high-elevation forests flatten into long meandering stretches where you'll find family-run outdoor activity centers, including Canterbury Farm, which offers an alternative to the nearby corporate resorts. Up a gravelly road in Becket, Canterbury sprawls across 176 acres, with 12 miles of cross-country ski and snowshoe trails. Owners Linda and Dave Bacon run the wooded trails (hiking is popular in warmer months) as well as a B&B in a 220-year-old farmhouse. Their trail fee is $15 per day; for an additional $15, you can take a moonlight snowshoe tour. A pond at the foot of a hill behind the house serves as an ice skating rink, where they also offer lessons.
Several miles west of Lenox, right on the New York border, Hilltop Orchards is open during the growing season for tours of its winery and cider orchard. In winter, visitors come to glide along the cross-country ski trails or take guided moonlight snowshoe tours, heading out just after dusk for an exhilarating two-hour trek. Snowshoers return to the warmth of the winery for cider and tunes played by a duo of acoustic guitarists by the fireplace. (The tours take place only when the moon is full, so call ahead for details.)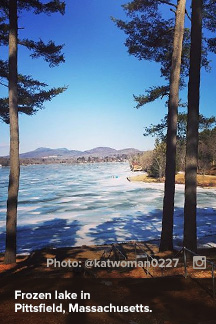 If the winds are howling, you can still connect with nature in the small, state-of-the-art Hopkins Observatory at Williams College, in Williamstown. The country's oldest observatory, it presents nighttime shows all winter. Get there earlier in the afternoon to visit the neighboring Williams College Museum of Art, where you'll find rotating exhibitions of contemporary art, before the Observatory's evening show.
TAKING IT INDOORS
After some outdoor fun, there's nothing better than indulging at one of the area's many spas and retreats. Lenox serves as the Berkshires apex of mind/body wellness, welcoming thousands of Zen-seeking guests every month.
A day pass at the Kripalu Center for Yoga & Health, the Northeast's best-known yoga retreat, gives access to classes, meals from the Kripalu Kitchen (white bean and rosemary soup, wild rice pilaf and cod Provençal), as well as the sauna and whirlpool and the center's many meditation programs. Overnight stays are also available at the retreat; request a private room in the newly built, environmentally friendly Annex, which houses five floors of guest rooms and a yoga studio.
For a half-day of pampering, head over to ultra-luxe Canyon Ranch, a striking all-inclusive destination spa. While the spa is reserved for hotel guests, the salon is open to nonguests and provides a restorative spot to unwind while gazing out over the snowy hills. Sink into a plush salon chair for a "radiance peel" manicure, a warming canyon stone pedicure or a massaging hair and scalp treatment.
RELAX AND REFUEL
There are plenty of places in the Berkshires to find sustenance, a warm fire and a top-notch wine list. Because of the area's many small family farms, restaurants tend to take a local approach to ingredients. Mezze Bistro & Bar, just outside Williamstown, exemplifies that effort: In 2010 the restaurant moved from town to a 3-acre farm a few miles away. The farmhouse feeling and proximity to food grown on-site have solidified Mezze's farm-to-table commitment. It's a fine place to dig in for a hearty winter meal of New England rib eye with red potatoes and hen-of-the-woods mushrooms, or a ricotta cavatelli with andouille sausage and kale.
Mezze's sister restaurant Allium, in Great Barrington, is funkier and more urbane but offers the same locavore sensibility—and a vast selection of pâtés and charcuterie. And if you're in Great Barrington at lunchtime, stop by Rubi's, a tiny café in the back of cheesemonger Rubiner's, for sandwiches made to order with high-end prosciutto, sausages and cheeses.
Memorable meals can also be found in the hills. Dream Away Lodge in Becket (a few miles from Canterbury Farm) is a legend in the music and culinary communities. Owned by former local actor Daniel Osman, the ancient farmhouse is accented with neon beer signs and other whimsical decor. The menu lists soul-warming food (meat loaf, pulled pork, burgers) and music is performed most nights.
Lenox has great restaurants on almost every downtown block. For a night of refined food and atmosphere, there's Bistro Zinc, which offers a stellar wine list as well as hearty entrees like coq au vin and swordfish au poivre. Just down the street, Alta Restaurant & Wine Bar is a bit more rustic, with its faded wood walls, but serves as an oenophile's answer to the après-ski scene. More than a dozen wines are served by the glass, including sipping flights for both casual drinkers and educated palates.
Across the street, Nudel is a modern, spare café that showcases paintings and photography by Berkshire artists. The specialty is handmade pasta, but don't pass up such playful appetizers as fried oyster tacos and beef tongue confit. They make a fine starter for heartier fare like orecchietti with mussels and saffron cream. Or simply try a few bites at each stop as you stroll Lenox's snowy streets on a progressive dinner and drinking tour. It'll make a filling and adventurous finale to your wintertime feast in the Berkshires.
NOTE: Information may have changed since publication. Please confirm key details before planning your trip.