Cities are all about skyscrapers and sophistication, sure, yet you'll find fresh-air fun in many metropolises, too. Here are six pretty, leafy, and free places for urban hikes — away from high-rises.
1. Forest Park — Portland, Oregon
Forest Park feels like a venture to the northwest mountain ranges. Sandwiched between Portland's residential city neighborhoods, this urban forest is loaded with lush, tree-topped hills — 5,200 acres along the Tualatin Mountains, where 100 types of birds come and go.
Bring the kids for the mile-long hike from Lower Macleay to the historic Stone House, a one-time public restroom also known as Witch's Castle, or challenge yourself to one of the other 79 urban trails. Seek out wildflowers, giant tree stumps, or Willamette River views.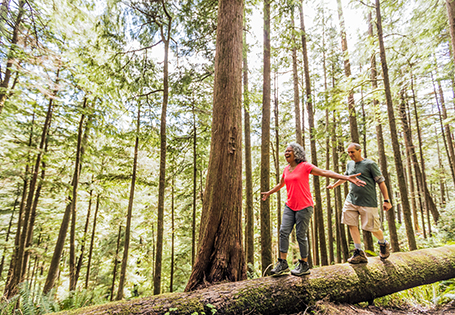 2. Jackson Park — Chicago, Illinois
Wind your way through nature in the Windy City at Jackson Park, a long-ago marsh that was the Chicago lakefront site of a massive world's fair in 1893.
Take it easy with a 0.8-mile hike in Bobolink Meadow, named after a native Illinois bird. Or opt for an urban trail twice that long into the 551-acre park's Wooded Island area, home to the Japanese-style Osaka Garden and the Sky Landing statue — created by pop icon Yoko Ono to symbolize peace.
Among the miles of crushed-stone trails are nine water's-edge overlooks. In spring, make it a priority to see the 160 cherry blossom trees near the Columbia Basin. The Obama Presidential Center is under construction within the park.
3. Beaman Park — Nashville, Tennessee
You'll rethink your definition of city after a city hike on the trails at Beaman Park in Nashville. They're part of a 2,256-acre expanse long known as Paradise Ridge and once private hunting grounds.
You'll feel miles away from Music City's song-centered attractions as you pass slopes covered with hardwood forest, creeks, springs, and rust-hued mudstone. In spring, look for fire pinks, lady's slipper orchids, and other wildflowers. Stop into the Nature Center for environmental education and outdoor recreation programs. 
4. Kirkwood Urban Forest — Atlanta, Georgia
Neighbors created Kirkwood Urban Forest in Atlanta more than a dozen years ago, planting 300 trees, installing a community garden, and forging urban trails over seven acres of what had been an illegal construction dump, turning it into an urban nature preserve.
Hike the trails to see fruit trees and a butterfly meadow as well as owls, hawks, woodpeckers, herons, and many other native birds in this Audubon Sanctuary — plus the occasional fox. A frog pond and a spring-fed creek are also on-site.
5. McAllister Park — San Antonio, Texas
Set out for a city hike to wildflowers, open-air exercise equipment, leafy trees, or picnic areas. Whatever your choice, you'll find it amid the 976 acres of McAllister Park.
Choose soil, asphalt, or a mixed-terrain trail, then lace up for a quick 300-yard jaunt, a lengthy 6-mile trek, or a choice in between. Called Northeast Preserve when it debuted in 1968, this San Antonio park has baseball diamonds, soccer fields, and barbecue pits, too.
6. Allandale Woods — Boston, Massachusetts
It's tough to justify time away from the historic buildings and A+ universities in Boston, yet the green mass of pines, maples, and oaks at Allandale Woods provides 86 acres of opportunity for outdoor immersion and urban hikes.
Follow the meandering wooded trails and you might come upon a cattail marsh, a vernal pool, or a stone wall built during the Great Depression. Bussey Brook crosses some sections, while other trails lead to a duck pond, rock pond, or springhouse.