Offering a huge boon to vacationers, many cities have stepped up their game to accommodate and encourage biking. You'll find dedicated biking lanes crisscrossing urban grids as well as miles of meandering paths beautifully connecting districts and neighborhoods. Biking is a great way to explore city vacation destinations, allowing you to more intimately experience places and bonus, get a little fresh air and exercise as well on your next biking trip! 
1. New York City, New York
Take your relationship with the Big Apple to the next level by hopping on a bike using New York City's bikeshare program Citi Bike. The scenic 12-mile long Hudson River Greenway on the west side of Manhattan is a must-visit. This well-marked, paved, dedicated bike path on the river offers iconic views of Brooklyn, the Statue of Liberty, and New Jersey. If you're up for a challenge, continue to the east side of the island using the East River Greenway to complete the entire 32-mile loop known as the Manhattan Waterfront Greenway.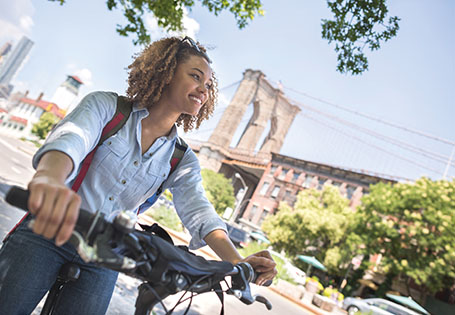 2. Palm Springs, California
Palm Springs makes biking their posh city effortless by providing a detailed biking map, available for pickup if you prefer a paper copy. And if you're worried about breaking a sweat or mussing up your fashion-forward California sundress-sneakers-sunhat ensemble, an electric bike rental could be just the thing. The bucolic Deepwell Tour features the serene palm tree-lined neighborhoods the city is known for and the mid-century architectural tour winds through the glassy angular structures of famous 40s-50s-60s era architects. But if you'd like to turn things up a notch, book a guided tour such as the Earthquake Canyon Express Bicycle Tour.
3. Portland, Oregon
Explore Portland's art and culture better on two-wheels under the guidance of a local who knows the ins and outs of this legendary American city. If booking an organized tour isn't your flavor of fun, try these self-guided biking routes using the bikeshare program BIKETOWN to explore the City of Roses. You'll fit in with the locals because Portlanders love biking to work. Known for its storied biking culture, Portland offers a staggering 385-miles of bikeways which makes cycling a preferred way to genuinely experience the city intent on preserving its quirky "weird" identity.
4. Stowe, Vermont
The fairytale mountain resort town of Stowe in Vermont sits nestled in the shadow of Mount Mansfield, offering an idyllic setting for slow, meandering bike adventures. While there are biking routes for every skill level, for those who wish to take it easy (think: comfort cruiser bikes) and stop in at quaint historic village shops and restaurants, choose the Stowe Recreation Path. The 5.3-mile path allows you to combine your love of exploring on wheels with your love of eating and shopping, a perfect win-win! Mountain bikers will be helplessly drawn to Stowe, referred to as the mountain biking mecca with its 50+ miles of free, well-kept trails.
5. Washington, D.C.
Capital Bikeshare Washington, D.C. makes exploring all the national park sights in the center of the capital city easy-peasy. The possibilities are enormous, with a web of paths throughout the National Mall (2 miles long, 1/3 mile wide) allowing you to visit iconic monuments Lincoln Memorial, Jefferson Memorial, World War II Memorial, and Martin Luther King, Jr. Memorial among others. For a longer ride, explore the Mount Vernon Trail and the historic C&O Canal Trail using the Capital Crescent Trail, a satisfying way to appreciate the capital city afresh.