Everyone knows that Niagara Falls is way more spectacular when viewed from the Canadian side. But that's not the only natural wonder that's best experienced in the Great White North. Whether you're looking to commune with polar bears, walk on the ocean floor or have your back massaged by a hot-springs waterfall, there's no better place to get acquainted with some of Mother Nature's finest work.
Moraine Lake, Banff National Park, Alberta
If you use an Android* smartphone, you're probably already familiar with Moraine Lake, in Banff National Park: It's one of the operating system's main background images. Of all the scenic lakes on Earth, there's no question why Google chose this one. Set at 6,100 feet in the Canadian Rockies, it has brilliant blue water and the stunning Valley of the Ten Peaks for a backdrop. Visitors tempted to try a refreshing swim should dip a finger in first. The lake's almost tropical hue comes from sediment carried in glacial runoff. Even on the warmest summer day, it's frigid! pc.gc.ca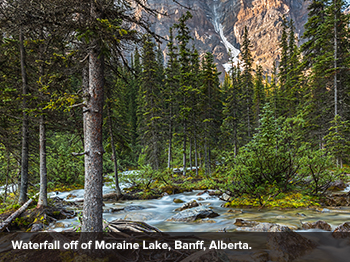 Indian Head Cove and the Grotto, Bruce Peninsula National Park, Ontario
The shoreline of Bruce Peninsula National Park is marked by steep sculptured cliffs that overhang the clear waters of Lake Huron's Georgian Bay. In some areas, millennia of wave action have eroded caves in the limestone. A 30-minute hike will get you to Indian Head Cove, where you'll find the Grotto, tucked beneath towering cliffs. Inside this giant sea cave is a deep, clear swimming hole that's a surreal spot for a dip. Adventurous types like swimming through the underwater tunnel that leads from the cave into the sunshine. (Take a deep breath: It's farther than it looks.) pc.gc.ca
Dinosaur Provincial Park, Alberta
Wherever there's a museum dinosaur exhibit, chances are good that it contains some of the extraordinary fossils found in central Alberta's wildly eroded badlands. Today the region's arid landscape is speckled with cottonwoods and sagebrush, but 75 million years ago it was a subtropical jungle teeming with an exceptional diversity of dinosaur life. More than 35 species have been discovered in the park, and hundreds of specimens unearthed here are on display at major museums around the world. Visitors can even participate in a paleontological dig. albertaparks.ca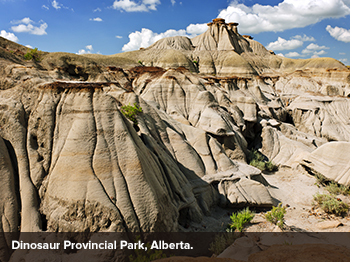 Hot Springs Cove, Maquinna Marine Provincial Park, British Columbia
Sit back and let the rhythmic waves and the water's warmth treat your shoulders to nature's version of a hot stone massage. These hot-springs waterfalls, at a constant temperature of 120 degrees, pour from mossy cliffs into pools worn into Vancouver Island's coastline by the ceaseless dripping of the springs. As you soak away the afternoon, the falling water will soothe any muscle aches you may have acquired while craning your neck at humpback whales on the boat ride to this enchanted rainforest hideaway.  env.gov.bc.ca
Prince Edward Island National Park
Streams run red when it rains in Prince Edward Island, and the fragile crimson cliffs crumble slowly into the North Atlantic. After an especially heavy downpour, the island can appear to be bleeding its iron-rich sandstone away. That steady erosion gives visitors broad pink sand beaches and undulating dunes to explore. The waters off this island province are known to be relatively warm for swimming, but the sand is the real charm of PEI National Park. Take a stroll on one of its beaches at twilight and watch the setting sun paint sky, soil and sand in innumerable hues of red. pc.gc.ca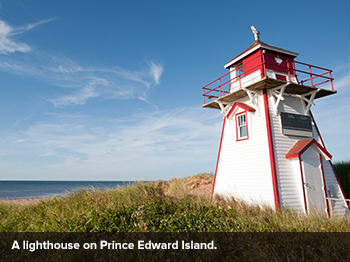 Hopewell Rocks, New Brunswick
Gaze at the Bay of Fundy too long from Hopewell Cape and it'll disappear on you. The bay's tides can vary by 53 vertical feet—nearly twice the height of their nearest competitor's. And perhaps the best place to see them in action is at the Hopewell Rocks. As the tide recedes from the coastline, it leaves behind a group of towering, pine-topped islands known as the Flowerpots, along with a bizarrely eroded landscape of shallow caves, seashells and an ocean floor just begging to be explored. thehopewellrocks.ca
Percé Rock and Bonaventure Island, Quebec
From a distance, the silhouette of Percé Rock could pass for that of an ocean liner heading dangerously close to shore. In fact, this monolith is far larger than any ship. To appreciate its scale, you have to see the rock up close. Accessible by a narrow strip of land at low tide, Percé Rock is almost twice the length of the Titanic. While you're there, take a ferry ride to Bonaventure Island, home to the world's largest colony of northern  gannets. Some 120,000 of the magnificent seabirds, which have wingspans as wide as six feet, cling to the rocky cliffs and can easily be viewed from land. quebecmaritime.ca
Western Brook Pond Gorge, Gros Morne National Park, Newfoundland
For geologists, this dramatic gorge in Canada's easternmost province provides evidence of plate tectonics. For the rest of us, it's proof that even in this age of mass tourism, there are hidden gems waiting to be discovered. Here 1,000-foot-tall waterfalls hurtle over sheer cliffs as the pond slices its way toward the Gulf of St. Lawrence. The scenery of Gros Morne dazzles even the most seasoned travelers, who feel as if they'd arrived at the edge of the Earth. In Newfoundland, there is no beaten path. pc.gc.ca
The Polar Bears of Churchill, Manitoba
They may look adorable, but polar bears are fierce predators, and safely getting near them in the wild is almost impossible. But tiny Churchill, Manitoba, which is close to one of the world's largest polar bear populations, offers a unique opportunity to see the charismatic critters in their natural environment. To do that, it uses a little local ingenuity. Back in the late 1970s, Len Smith cobbled together a prototype of the first tundra buggy (there are now 16) in a Churchill workshop. Part jacked-up lunar rover, part customized school bus, this Churchill original has been bringing people and polar bears together ever since. tundrabuggy.com
NOTE: Information may have changed since publication. Please confirm key details before planning your trip.